Hanging amidst the exhibitions of celebrated contemporary artists at SCAD Museum of Art is the work of 14-year-old Winter Jones.
I never would have suspected that I would have the chance to put one of my pieces inside of a museum as good as this.
Who better than Tim Rollins and K.O.S. to introduce Winter and his 7th and 8th grade classmates from Garrison School of Visual and Performing Arts to the art world. The collaboration between Winter's class and the New York-based artists was a condition of sorts that Tim set for bringing the exhibition Rivers (Feb. 1 - June 8, 2014) to SCAD Museum of Art. Because, quite naturally, he wanted to interact with the community.
And so, among staples of the Tim Rollins and K.O.S. collection inspired by literature like Harriet Jacbos' Incidents in the Life of a Slave Girl and Mark Twain's Adventures of Huckleberry Finn, is the piece that bears the untested marks of middle school students like Winter, Darkwater III (after W.E.B. Du Bois).


The students saw their work - first edition pages of the text "Darkwater" dipped in watercolor and gold acrylic - displayed on museum walls for the first time this week during deFINE ART.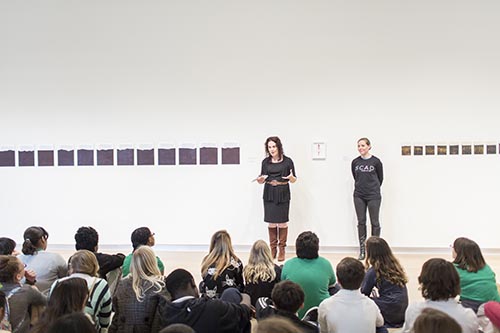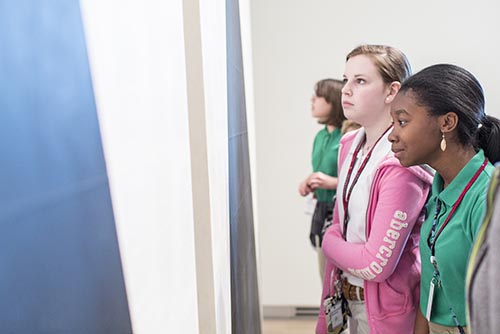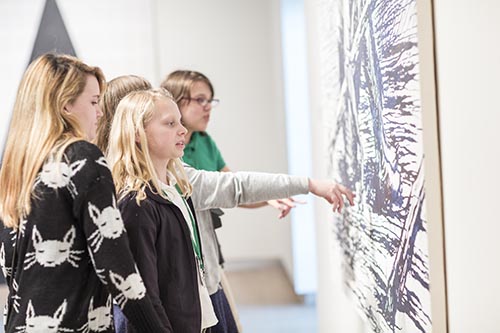 Judging from their reactions, the students' encounter with Tim and K.O.S. was one opportunity that made their possibilities seem endless.