In a conventional Atlanta parking deck, Savannah College of Art and Design has launched an unconventional solution to explosive urban population growth and the accompanying demand for flexible housing. If you missed the live unveiling of SCADpad® here on Thread, watch it now and take a virtual tour below.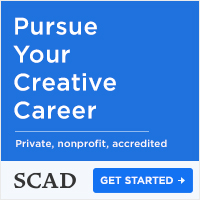 SCAD's experimental and experiential contribution to the micro-house movement, SCADpad pushes the boundaries of urban living and the parking deck that hosts three models of the 135 square-foot semi-permanent dwelling, SCADpad Asia, SCADpad Europe and SCADpad North America.
The SCADpad project also pushed emerging artists and designers, representing 12 academic programs, to the limits of innovation in areas like adaptive reuse, sustainable living, furniture design, intelligent home systems and more.
So, is it liveable? We'll answer that question when the first round of SCADpad's student-residents moves in next week. Follow their experiences on Twitter using #SCADpad.