In a world of devices and screens of every variety, it's easy to wonder, do we really need paper? Hewlett Packard recently turned to students and the Collaborative Learning Center at Savannah College of Art and Design to help them answer that question in the affirmative.
On the first day of fall quarter, Hewlett Packard came to Savannah to invite the help of the very demographic that's using less and less paper in their every day lives. Rather than fear these millennials, HP asked students from SCAD's advertising, graphic design and illustration programs, among others, to help them bring paper to life using their free augmented reality app, Aurasma.
In turn, the SCAD students enlisted a generation even younger than they - third and fifth graders from May Howard Elementary School - to test whether paper, spruced up with digital qualities, can win over young attention spans.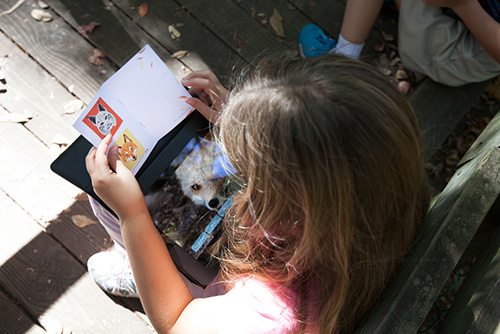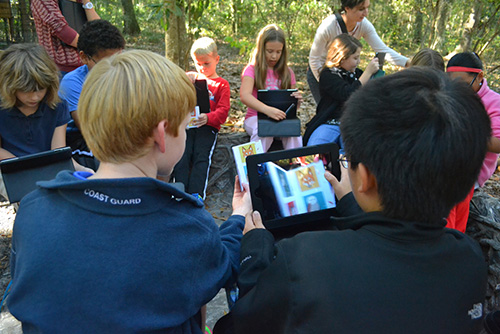 Using the Aurasma app, the SCAD students created the interactive Passport to Nature tour of animal exhibits at Oatland Island Wildlife Center. At each stop, the elementary students collected a stamp created by scientific illustrator and graphic designer Grace Washko (B.F.A., illustration) to put in a passport conceived and designed especially for this purpose by Shaun Oppedisano (B.A., advertising) and Brenna Kaplan (B.F.A., graphic design).
Once inside their passport, the students could scan the sticker with an iPad or other smart device to yield a digital experience called an Aura. Complete with videos, produced by Andrew Lainhart (B.F.A., film and television) and statistics about the animal's diet and habits, for example, the Aura contained information that the students might not have been able to gather from the exhibit itself.
What was the verdict?
Suffice it to say that the experience managed to impress the group, many of whom probably mastered a screen swipe before they could walk. According to one third grader, Aurasma made the trip to Oatland Island Wildlife Center, "more funner." Doesn't get more honest than that. They'll probably never look at a field trip the same way again. If only homework could be this cool.
Oatland Island Wildlife Center is researching how to implement the Passport to Nature Program permanently.