The Virtual and Augmented Reality panel at aTVfest, with Janet Arlotta and John Howell from North Carolina-based (n+1) designstudio, opened my eyes to how 3D and motion media are giving producers on live TV sets unlimited possibilities.
For a producer, a physical set is like home base. You block segments around the set. You visualize how the host will engage the audience and cameras. You know exactly where to perch to make eye contact with your talent while the make-up artist touches up their foundation.
A few of the sets I became cozy with over the years: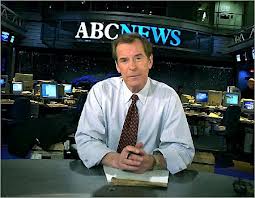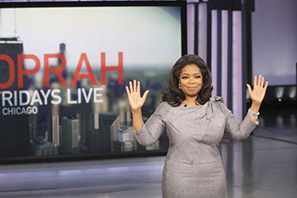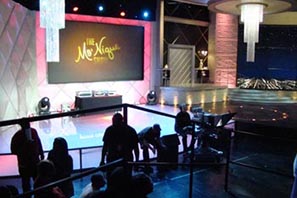 From that reference point, I assumed that a virtual set would be totally disorienting and cold. (Could an audience really relate to augmented reality over the cushiness of Oprah's coach?) But the case studies Janet and John presented demonstrate that these increasingly used and essential methods for engaging an audience create storytelling opportunities that vastly outweigh the temporary discomfort of operating outside of a traditional set.
With clients like Inside Edition, Food Network and Tennis Channel, some of the best work with virtual and augmented reality isn't happening in sci-fi, as I erroneously believed, but in nonfiction television, especially sports. And it's all done in real-time, not post-production.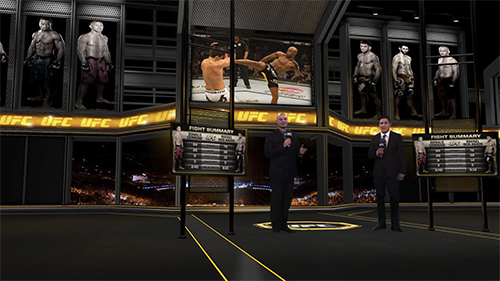 Virtual sets like, UFC's for example, have smaller space requirements but posses more specialized features, like 'baked-in' lighting and shadows, which mean less man hours needed for live broadcasts. For Tennis Channel, a virtual set offered a two-in-one for US Open coverage: one set for "US Open Tonight" and one for "Breakfast at the Open." That's two shows built around one desk, sitting on one green screen.
Probably the best known use of augmented reality in TV is the neon first down line, now ubiquitous in NFL games, along with the line of scrimmage and the world record marker that you've seen hovering above Olympic swimmers.


John Howell shows how ESPN diagrams a soccer play using augmented reality.
But AR also means ESPN can diagram plays using animated 3D players, and that CNBC's hosts can walk in and around the financial data they're reporting using corresponding infrared dots on their hands and Steadicam.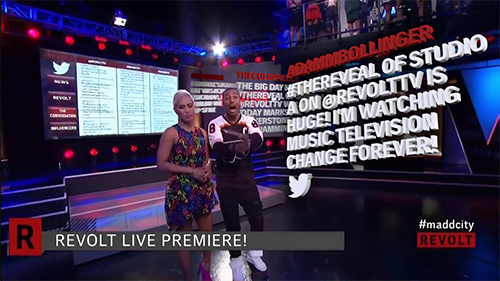 Then there's social media. No, not the kind that sits in a screen beside the talent on a set. That's so 2010. Sean "Diddy" Combs approached (n+1) designstudio for help with the set for his new music network REVOLT.  With social media interaction being a major player in REVOLT's mission, (n+1) took that traffic out of the screen and literally made live Tweets float in the air around the talent. Instead of a Twitter wall built into the set, AR enables those screens to move and fly around the hosts.
And you thought Oprah's coach was immersive.