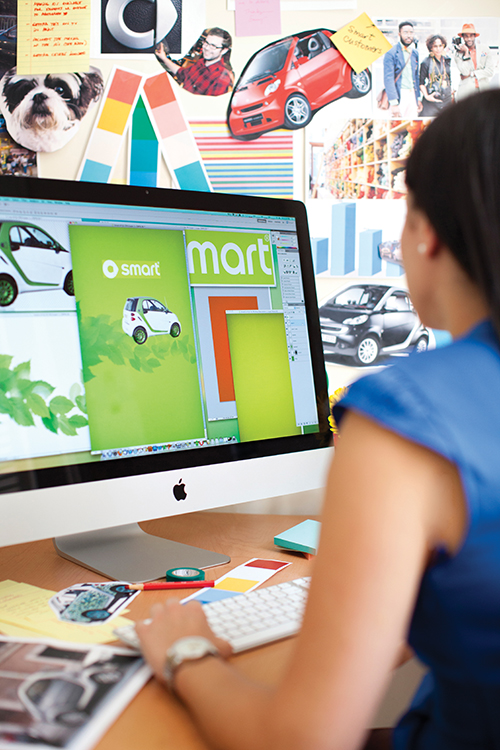 I've contemplated going back to school to pursue an M.F.A. in film and television. As a working mom, an online program makes a grad degree seem…doable.
All hope of achieving this personal goal disappeared, however, when I encountered the jibber jabber that many online degree programs proffer. "Join a Global Family." "Don't Stop Now." "Become More." "Gateway to your dream." Um, this is my professional reputation we're talking about, not my yoga practice.
    
Flustered by the fluff, I high tailed it to office hours with someone who could set me straight. Andy Fulp heads Savannah College of Art and Design's eLearning program. He's also a professor who has taught graphic design online and, my favorite part, he's a dad to a college student.
I tossed all of the unhelpful platitudes at him and he translated them into this real talk:
The Fluff: Join a global family
Andy's Real Talk: Our world is increasingly interconnected, so of course the more international in scope an online program is the better. Any program that promises to have a global reach should have an international footprint with actual buildings and people on the ground, not just exist in cyberspace. It's also important to know whether a program is known, even esteemed, around the world. What good is a 'global family' if that community doesn't have a reputation that resonates beyond the borders of its flagship location?
    
The Fluff: Don't stop now
Andy's Real Talk: That's easier said than done if you enroll in a program that's inconvenient, especially if you're holding down a job and getting a degree. To keep learning, find a program that allows rolling admissions and offers courses toward your degree each term, so you can start when you want and when you can. You're more likely to continue your education if a program gives you options for when and where you study, and with whom.
    
The Fluff: Become more
Andy's Real Talk: Become more what? Ask tough questions to figure out what exactly these programs are promising, such as "How will my academic progress be fostered and measured and by whom?" One way to figure out whether an online program will actually help you acquire skills that are relevant to industry is to compare them to an accredited program on the ground. Make sure there's an apples to apples comparison between grading structure, assignments and faculty. Also, you should be able to call and talk to a professor, even before you enroll. Make sure individualized contact and feedback from faculty will be staples of your growth once you're in the program, too.
    
The Fluff: Gateway to your dream
Andy's Real Talk: Dreams are great, but they're better when you're employed. Look at the employment rates of the institution's alumni and where these alumni are working. This will help you gauge both the name recognition of a degree from a particular institution and how easy it will be to turn your degree into a job when you graduate. That's why you're sacrificing to go back to school in the first place, right?
    
Right, Andy. And right on.
To learn more about getting an online education, join Andy for the Discover @SCADeLearning virtual open house on Friday, Nov. 8. Tours begin every hour on the hour between noon and 3 p.m. EST.