The acres of art and design on display at Art Basel Miami Beach was mind numbing. By day three, I'd slipped into a bit of an art coma until the news that Savannah College of Art and Design alumna Whitney Stansell (M.F.A., Painting) and her husband Micah Stansell hit a veritable ABMB lottery jarred me from my stupor. The $100K prize they pocketed, though, wasn't due to luck, but the barrel, yes, barrel, they tricked out for Herradura Tequila's Barrel Art Collection contest.
Hint: their winning entry proves the well quoted adage that 'what's on the inside matters more than what's on the outside.' Or, I might add, that the work matters more than the canvas.
To start, this was one of 80 plain oak barrels – used for aging tequila – that Herradura dispatched around the country to be transformed by local artists. A list of 77 participating artists was honed to 8 finalists, including Whitney and Micah, who were invited to Miami for a grand finale party created by Thrillist Media with the help of event producer Adrienne Wright (B.F.A., Fashion).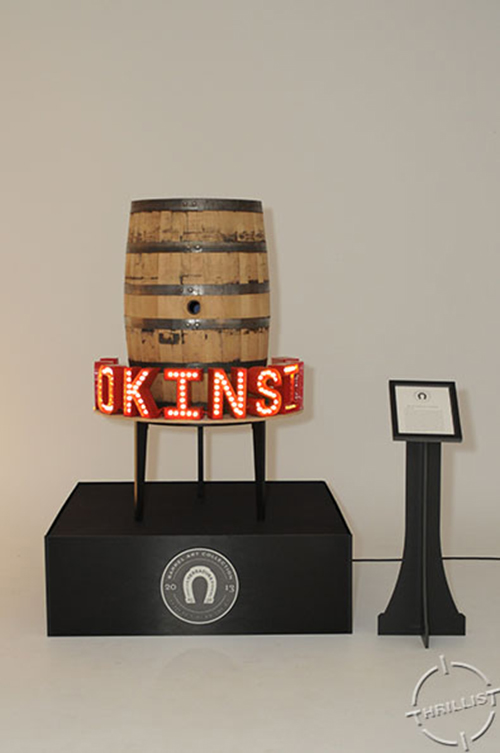 Here's the artist's statement on the barrel "Look Inside":
"Though a 150-pound tequila barrel is not our usual medium, we set about the process of 'making art' in our usual way; anthropologically. We considered the barrel not just as an aesthetic object, but as a utilitarian one; an object with a particular historical purpose. Here we struck upon the idea to use the inside of the barrel, leaving the outside of the barrel unchanged save for a marquee sign with a simple call to action: 'look inside'."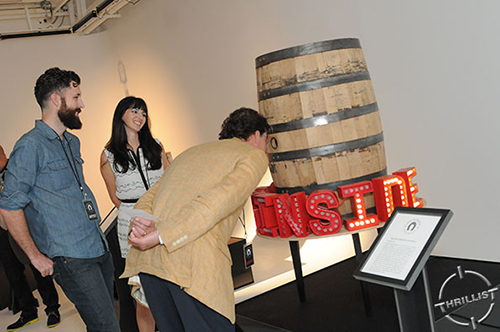 "We've created a zoetrope, an early 'cinema' device, inside the barrel. The running horse pays homage to Muybridge, a pioneer of the moving image, and the marquee sign and the act of peering into the barrel are a nod to the kinetoscope/mutoscope. Early alchemists believed the distilling of 'spirits' to be magic. In the same way, early cinema devices like the zoetrope were used to conjure spirits and were presented as magical objects. We think there's still something pretty magical about the inside of our Herradura barrel. Look inside and see for yourself."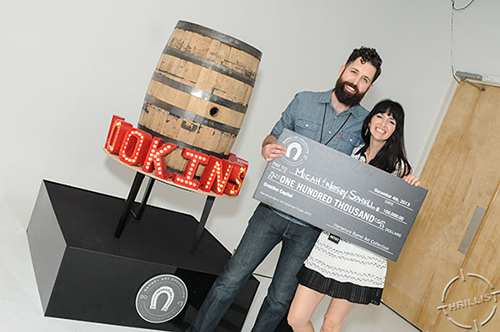 So what will they do with the money? Here's what Whitney had to say on bringing that fat check back to their home in Atlanta:
"It's hard to overstate what one hundred thousand dollars means to a working artist. I think more than anything it carries with it a feeling of freedom. The sense that we are free to continue making art on our own terms. Maybe the less-than-glamorous truth is that this prize, in a way, is a return on more than ten years of investing in our art (and much of it will go to servicing debt from many of those past projects and student loans!). Likewise, it's equally hard to overstate what it means for a company to invest in artists in this way. For Herradura to stand up and say, 'We think that art and artists are important and we're going to put a significant and substantial amount of money behind that belief,' is incredibly encouraging to a talented group of artists. A heartfel thank you to all of those involved in in administering this prize."
I think more than anything it carries with it a feeling of freedom. The sense that we are free to continue making art on our own terms.
I'd say that's enough incentive to always look a little closer, and not to be afraid to take a different approach.