It was a milestone for Savannah College of Art and Design's 35-year history when its first graduating class from Hong Kong walked across the commencement stage.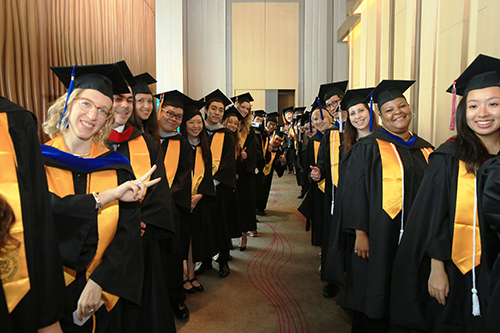 More than 60 graduates gathered at the W Hong Kong Hotel, which overlooks the West Kowloon waterfront, to celebrate the beginning of a long journey of achievements ahead. Nearly 300 families, professors and supporters of SCAD attended the ceremony in Hong Kong's new art and cultural quarter.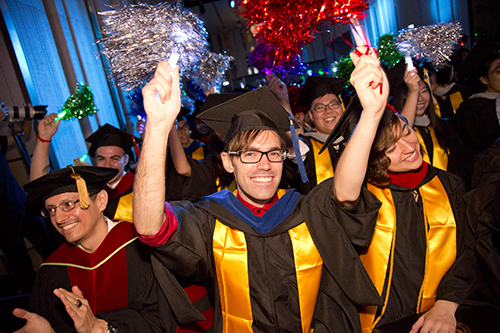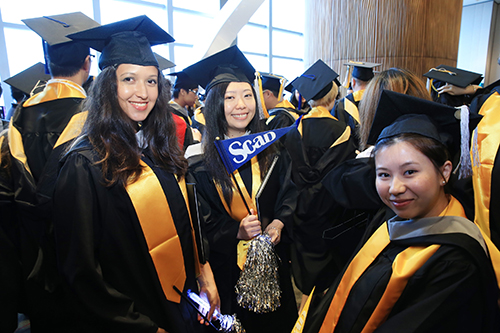 Valedictorian Katrina Teh (B.F.A., illustration, 2014) left her hometown of Manila to study at SCAD in 2011. This is the second diploma that she's earned. Before SCAD, Katrina graduated with honors from the most prestigious university in Manila. Still, she felt there was more she could do to make her passion dovetail with her career. She came to SCAD with a very clear goal of realising her dream of drawing for a living.
"I consciously chose SCAD because I wanted to be technically better as an artist. I came here finding that I was growing up – learning how to be a better person. SCAD opened my life to a world of creative people and great opportunity for growth. "
In her speech, Katrina also said that at SCAD she found "comrades in art," like minded students with the same passion for creating things who would go through critiques together, sleepless from tirelessly perfecting key frames, value contrasts, kerning or line quality.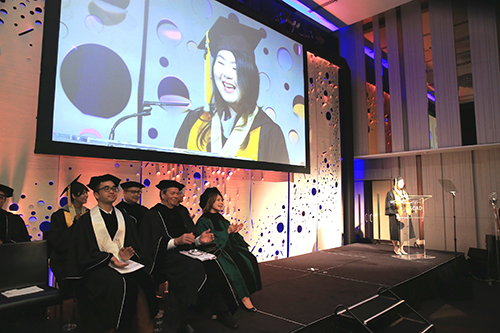 While at SCAD, Katrina exhibited her work widely, received coverage in the Philippine Star and The Hong Kong Economic Journal, and led a team from SCAD to win the 2012 Disney ImagiNations Hong Kong competition. Following her ImagiNations win, she was awarded a trip to Disney headquarters in Glendale, California and an internship at Hong Kong Disneyland. Recently, she accepted a position as a concept designer at Hong Kong Disneyland and will continue to work as an illustrator and painter, as well. Her advice for fellow graduates:
"There is no peak upon graduation, my friends, only an infinite sky of possibilities. Keep moving forward, and never give up."
Presiding over the commencement ceremony, SCAD president and co-founder Paula Wallace conferred degrees to the graduates. The new SCAD alumni were also addressed in a speech by interior designer Ken Hu (M.A., interior design, 1995), a partner at Chen Chung Design. Ken shared his experiences as a creative professional and told the group what they can look forward to after studying at SCAD.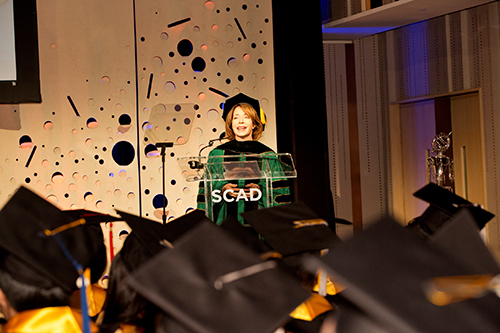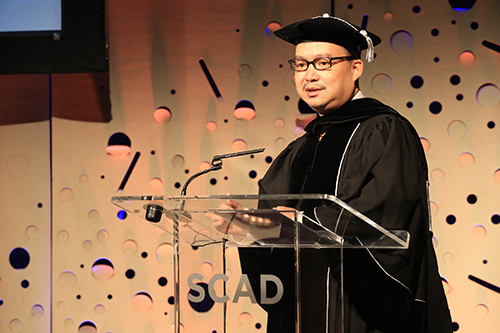 The first batch of graduates was also joined by Adrian Cheng Chi-kong, a cultural entrepreneur and advocate for art and education in Hong Kong and Asia, as well as co-founder and chairman of Arts in Heritage Research. SCAD awarded Adrian an honorary doctorate degree.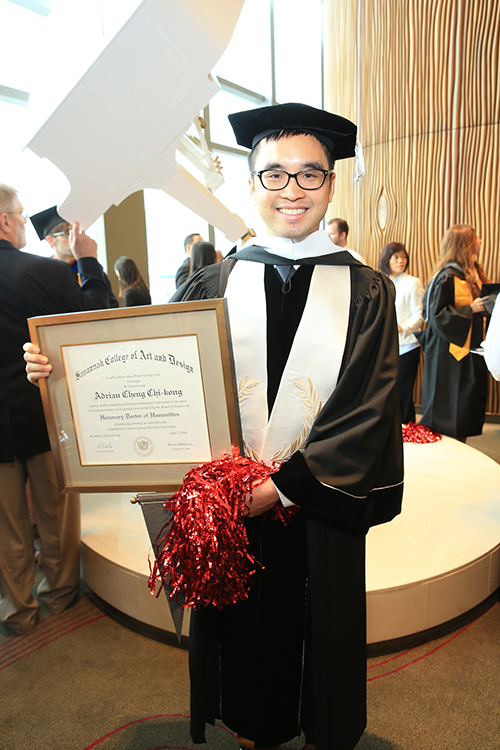 SCAD Board of Trustees chair Albie Whitaker III, board member Chan Lai Wa, Deputy Consul General of the U.S. Consulate in Hong Kong, Tom Cooney, and Raymond Chan, a representative from Hong Kong's office of the Commissioner for Heritage, were among some of the distinguished guests at the ceremony.
SCAD(香港):首屆學生行畢業禮
六月七日是SCAD(香港)舉行首屆畢業禮的大日子,見證了SCAD創校四年的一個重要里程碑。
六十多名畢業生懷著興奮心情出席了畢業禮,帶著全體師長的祝福,邁向人生下一段精彩旅程。畢業禮舉行的地點W酒店臨近西九龍海濱,亦即將發展為香港新的文化藝術區。
約三百名畢業生的親友、老師及支持SCAD的業界好友出席分享畢業生的喜悅,場面熱鬧。
  
插畫系學士課程學生Katrina Teh今年以優異成績畢業,並獲得代表畢業生在典禮上致告別辭的機會。Katrina熱愛創作和畫畫,於2011年由馬尼拉來港入讀SCAD。她先前在馬尼拉一所大學以優異成績畢業並取得第一個學士學位,但她仍感不足,希望進一步裝備自己,她入讀SCAD時懷著明確目標:將繪晝創作的興趣變成一生的事業。Katrina致辭時說:「我選擇入讀SCAD,因為我希望磨鍊技巧,成為一個更優秀的藝術家。在這裡我發現自己成長了,變成一個更優秀的人。SCAD創造了一個有利學習進步的空間,讓我可以與其他有創意的人連結交流。」
Katrina認識了不少志同道合、同樣熱衷創作的「戰友」同學,數年來一起捱夜、一起趕功課,奮力完善每個技術細節如動畫創作的關鍵幀 (key frame)、明度(value contracts) 、字距(kerning),甚至是線的質量。
在學期間,Katrina的作品有機會於Philippine Star及信報刊登,她並與三位同學組隊勇奪2012年迪士尼幻想工程香港挑戰賽冠軍。他們的奬品是免費參觀美國加州的迪士尼樂園,以及到香港迪士尼接受為期八周的實習生訓練。今年六月畢業後,Katrina將獲聘為香港迪士尼的概念設計師。
她勉勵同屆畢業班的同學:「畢業不是旅程的終結,反而是無盡機會的開端。努力向前,永不放棄。」
畢業典禮由SCAD校長Paula Wallace主持,她並向一眾畢業生頒贈學位和證書。
SCAD傑出校友、著名酒店設計師及鄭忠設計事務所合伙人胡偉堅在畢業禮上發表演講,鼓勵畢業生善用他們在學校獲取的知識,為創意產業及現代藝術作出貢獻。
藝術及古蹟資料研究的創辦人及主席鄭志剛獲頒發榮譽博士學位,以表揚他對推動香港藝術和文化的貢獻。其他出席的嘉賓包括SCAD董事會主席Alan B. Whitaker III及董事會成員陳麗華、美國領事館及發展局的代表。