Everyone likes balloons at a party. In the case of installation artist Jason Hackenwerth's (M.F.A., Painting) buoyant sculptures, balloons are the party. Miami's Art Basel, New York's Guggenheim and London's Victoria and Albert Museum have hosted Jason's stunning creations. Last night, he debuted his work in Atlanta at the Savannah College of Art and Design.
The city's botanical gardens have exhibited Dale Chihuly's blown glass sculptures but, floating from the sky, Jason's similar sea-like behemoth made those reveling beneath it feel as though they were sitting on the bottom of a prehistoric ocean. It's safe to say those in its shadow hadn't seen anything like Hegemonster's blue-green glow, which emanated from SCAD's terrace above Peachtree Street. Eighteen feet tall and 21 feet in diameter, Jason's sculpture was the envy of Midtown's rooftops.
In the exclusive one-night showing, Jason unveiled Hegemonster high over the heads of giants of a different kind: captains of interior design and architecture who gathered to celebrate the School of Buildings Arts' most recent honors.
For the second year in a row, DesignIntelligence ranked SCAD the No. 1 interior design program in its list of "America's Best Architecture and Design Schools." This summer, SCAD's Master of Architecture program became the first in Georgia, and one of the first in the U.S., to earn the new maximum 8-year term of reaccreditation by the National Architectural Accrediting Board (NAAB).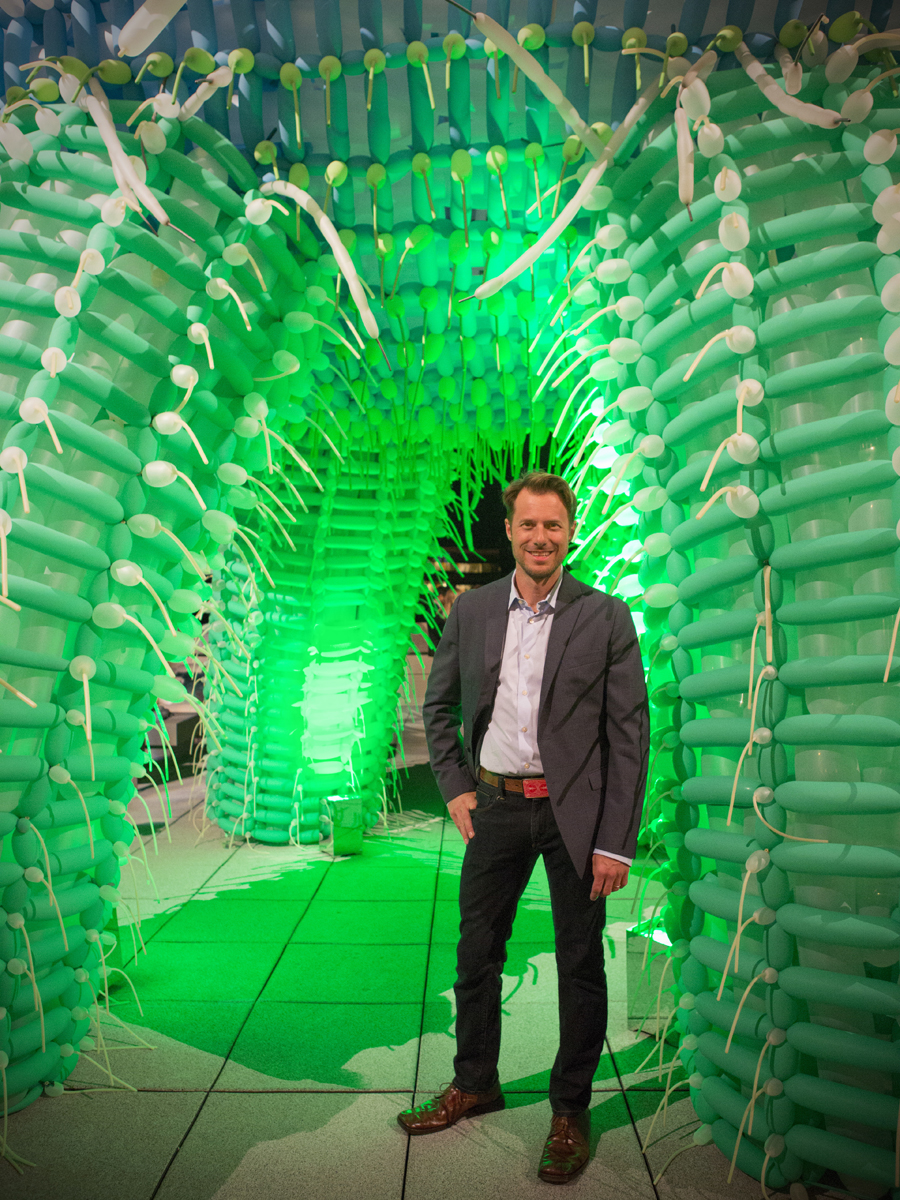 Jason Hackenwerth with his installation
Throughout the reception Hegemonster's audience couldn't take their eyes off the otherworldly form. In a nod to the company he kept, Jason reflected on the sculpture's construction and the design cues it takes from his alma mater.
"This towering sculpture stands on four strong legs which support a cavernous form," he noted. "These four legs could be compared to SCAD's four campuses and the supported body, the limitless potential of the students that come to SCAD to begin their careers."
Just like his sculptures, Jason keeps rising to the occasion.