"…riiiight, I'm supposed to be interjecting."
That's what I had to keep reminding myself as I sat on a panel at New York Comic Con 2013 listening to the other panelists speak. I couldn't help but get lost in what they had to say since, just like the audience, I'm a fan of their work. I love comics, always have, always will. So to be a panelist at the conference was thrilling.
One of the panels I participated in was called "Page 1 – Panel 1," a discussion about the process of making comics. As a professor of sequential art, I do this every day in one way or another, so I should have been able to handle this, right?
Comics writer Buddy Scalera moderated and told me in advance what the panel was about and who else would be there. Of course, once I sat there with comic industry super stars like Marc Silvestri, Jamal Igle and Jerry Ordway, it became a completely different thing. I was star struck.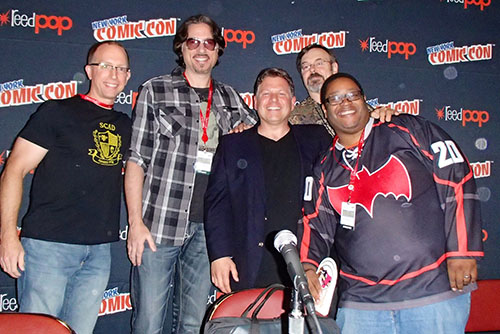 Photo courtesy of Buddy Scalera
Worry not, dear reader, my brain kicked in to gear and I was able to contribute to the discussion and break process down to basics for the crowd, whose goal was to grasp a better understanding of how comics are made. Whew.
I feel lucky to be in a position where I get to talk about the medium that I love and to find myself in situations like this. I get a charge from the "who" and the "what" of comics, and especially from knowing that the people I shared the stage with feel the exact same way.
That's the beauty of going to a comic convention: immersing yourself in the community and culture. Like hearing Professor Shawn Crystal speak on Marvel's "Breaking into Comics" panel, or seeing Professor Tom Lyle talk to alumni while drawing for fans. Picking up an advanced copy of student Luigi Anderson's first coloring job for Oni Press was another highlight, as was catching up with dozens of successful alumni, like Nick Dragotta and Andrew Robinson.
I'm sure next year's convention will be just as exciting. Hopefully, I won't be as star struck on the panel but, then again, I kinda hope that I will be.
Pat Quinn is an associate dean of Academic Services at Savannah College of Art and Design in Atlanta. His work has appeared in Marvel Comics and DC comics, among others. You can see Pat's art on his blog, Deviant Art page and on Twitter.