You may hear the famililar refrain of champions, "I'm going to Disneyland," ring out from your television on Sunday night after the big game. But four students from Savannah College of Art and Design programs in Interior Design, Animation, Illustration and Interactive Design and Game Development have the Super Bowl victors beat.
They're in Disneyland this week visiting the headquarters of Walt Disney Imagineering. The dream field trip and their eight-week internship at Hong Kong Disneyland, slated for June, are prizes for their first place finish in the Disney ImagiNations Hong Kong contest for emerging designers.
Click here to read more about students who are working to create the world's leading theme parks of the future.
The winning 2013 Disney ImagiNation's Hong Kong team took us inside their winning concept "Second Star to the Right" and what it took to be the third team in a row from SCAD to take home the grand prize.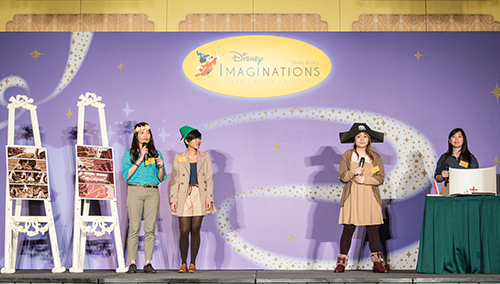 "Our team proposed to bring 'Neverland' to the Hong Kong audience. While famous as the setting for Peter Pan's adventures, we wanted Neverland to become a unique, personal experience for guests."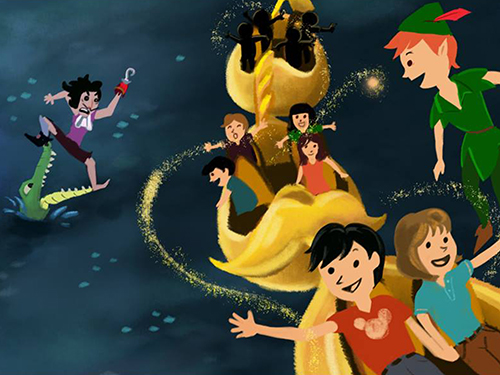 "Each aspect of the land is as immersive as it is diverse. It features interactive Pirate Bay and Mermaid Lagoon playgrounds, a fantastical Pixie Hollow restaurant, a thrilling gesture-activated dark ride in which guests help Peter save Tinkerbell, and a theater in the round showcasing the story of Peter's adventures with the Darling children through 360 degree projections."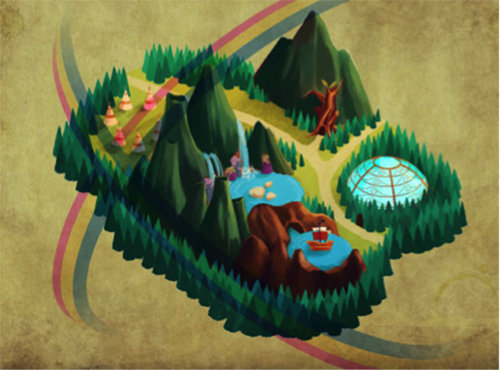 "Throughout each area of the land, guests can also document their adventures through Magic Mirror photo booths and pixie-powered light drawings. Guests are then able to weave their personal Neverland experience together through the creation of their very own storybook."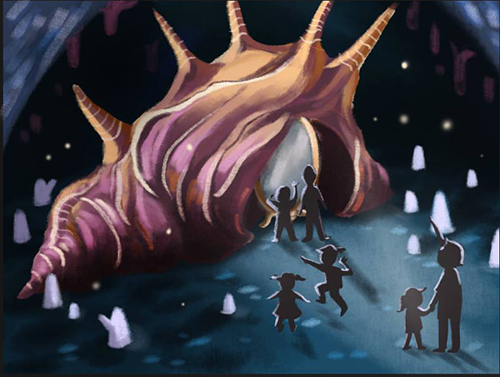 "There were many iterations of the Neverland concept, but we always knew that the land had to offer an experience that was both immersive and interactive. We realized that the land's uniqueness rested primarily on the guests' ability to feel a personal connection to Neverland. Keeping that in mind, we focused on building a unique hook for guests to experience. We also narrowed the attractions down to the ones that made the greatest cohesive impact."
A lot of the technology we use in Neverland is derived from technology already available in the market.
"In our dark ride below, for example, guests use gestures to interact with the environment. This is very similar to the technology they use for the Kinect, where special cameras detect specific body or hand gestures and use them as cues to trigger events. In our Magic Mirrors, guests can take photos of themselves and apply backgrounds and images to their photos, similar to that of a Purikura Photo Booth. In our Indian Brave Camp, guests can draw onto the walls of a special tent using a totem, using technology that is very similar to the wiimote.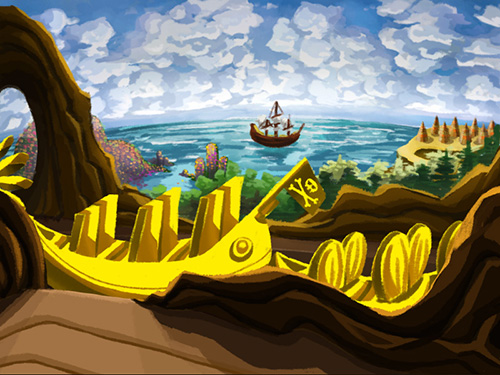 "In terms of conceptualizing and developing our ideas, we worked a lot with traditional sketches to flesh out our initial concepts. What's great is that the design process is iterative, and being able to quickly discuss things with your teammates and edit ideas on the fly is incredibly convenient. After everything had been figured out, we worked almost exclusively with Photoshop to create the final illustrations and slides you see above."