Updated June 12: Savannah College of Art and Design's team "Prisma" won the 2014 E3 College Game Competition. This is the second year in a row that SCAD has taken the top prize, awarded to them on the floor of the Electronic Entertainment Expo (E3) by president and CEO of the Electronic Entertainment Association (ESA), Michael Gallagher. A panel of industry professionals evaluated the five finalists and chose SCAD's 2.5-D, side-scrolling platformer as the winner.
Posted June 11: They may not have landed their dream jobs yet, but check again after they show their game "Prisma" at the Electronic Entertainment Expo (E3) as finalists in the 2014 E3 College Game Competition.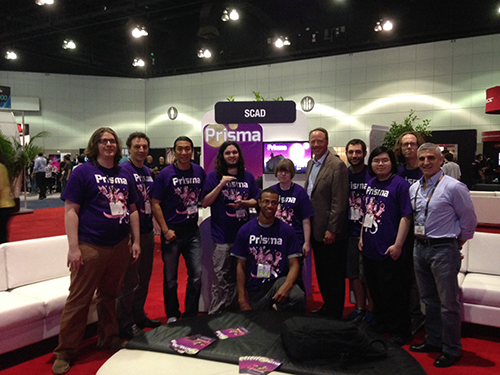 SCAD's E3 team with the ESA's Michael Gallagher, ITGM faculty, program chair Luis Cataldi and Professor Tony Tseng.
Members of team "Prisma" from Savannah College of Art and Design are in the thick of it. The booth where they're showing the game is surrounded by leading publishers and developers, and they're in the midst of searching for jobs where they can unleash the fundamentals they've acquired in SCAD's interactive design and game development program.
Who better to ask about this topic of getting a job in the video game industry than those who have done the research and have a completed game on their resumes to boot? Before we get to the advice from the student developers and recent grads, here's the interactive design and game development program coordinator from SCAD Atlanta, Professor Tony Tseng.
"Prisma" is the product of Professor Tseng's senior studio class, a three-quarter, nine-month process in which students work in teams to design and develop original games from scratch. On the topic of breaking into the industry and the demand for talent, Professor Tseng is quick to note that the surge in mobile devices and the direct digital distribution of content has pushed the game development industry into a 'new golden age.'
Game developers no longer need incredible amounts of money and a giant publisher to put their games in the market for general consumers. They can publish and sell their games with a very affordable budget. As a result, students have the option to 'go indie' and develop and sell their own games if they want to instead of working for an established game studio.
That's good news for those who want to make a career out of video games. But let's start at the beginning.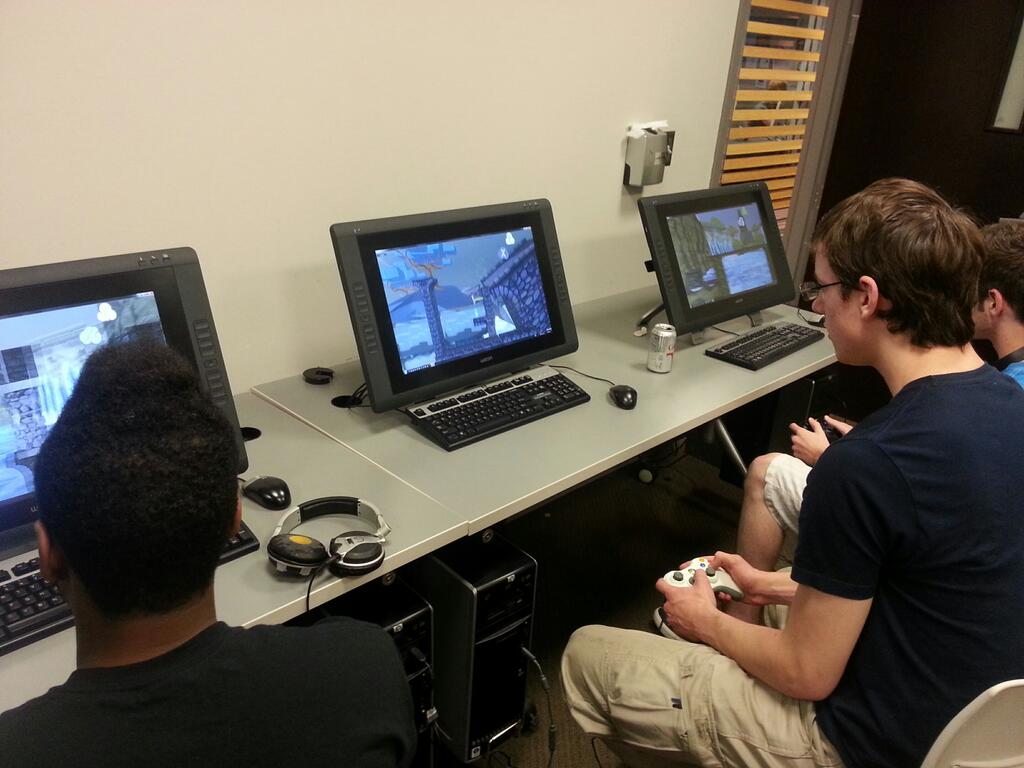 Playtesting of "Prisma" at SCAD Atlanta.
SCAD: How does having a degree in game development improve one's job prospects?
Prof. Tseng: In the broadest sense, game design refers to the idea behind a game. But it's come to mean a whole lot more than that. In large immersive games, game design refers to the central theme or point and the core gameplay mechanics, as well as the story and plot and the characters' back-stories. Having good ideas for a game is not enough, a game designer needs to present the ideas clearly and communicate with the production team effectively. In our program, the students learn how to construct clear game design documentations and level diagrams, build non-digital and digital prototypes and create and execute production plans. In our senior studio we simulate a real game studio environment and students work in a team to create fully playable games. This education and training gives our game design students the capability to take on any game project on day one of their job in the industry.
SCAD: What can one do to become more appealing to hiring managers in the industry?
PT: First, preparing a strong and professional looking portfolio is the most important thing. At SCAD, we offer a very hands-on education, as we want our students to be able to build what they have in mind (not just talk about). Students produce portfolio-quality projects by working in pretty much every studio class in our program starting their sophomore year. In their senior year, we have a dedicated portfolio class in which we teach our students how to construct specific portfolios to target their dream jobs. Next, getting internships with well known game studios is important. At SCAD, for example, we have established internship programs with many game studios in metro Atlanta for our students. Winning major game design and development competitions such as E3 is also a way for new talent to get noticed, as is networking at other major gaming conferences like GDC, SIEGE, IndieCade.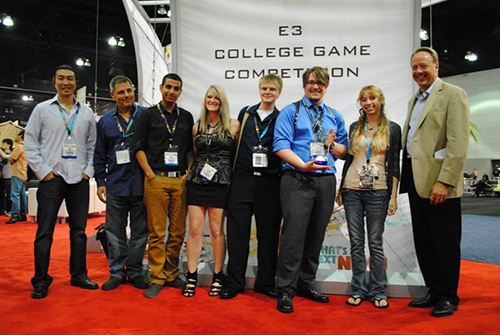 A team from SCAD was a co-winner of the 2013 E3 College Game Competition.
SCAD: What are different career paths in the industry?
PT: The industry recruits for game artists, animators, designers and programmers. Here's the path for each of these roles:
Game Art: Start as a 2d/3d character or environment artist building secondary/background/non-playable character and props -> senior 2d/3d character or environment artist building main characters and feature props = art director overseeing the entire art production and managing the art team.
Game Designer: Start as an associate game designer designing scenario/combat/event/dialogue -> game designer designing the core system of the game = creative director overseeing the game design team and developing original ideas for new titles.
Game Programmer: Start as junior programmer coding modular sections of a game like scenario/combat/event/dialogue/UI -> senior programmer designing and coding the main framework = technical director overseeing the entire technical production and managing the programming team
Now, back to some of the members of the E3 team who fulfilled these roles while making "Prisma" and what they've gleaned from their job searches.
Don't wait until college to learn how to program, or how to draw, or how to deconstruct a game's systems. Practice every day while you can.  Don't be afraid to show your work to people, and don't be discouraged when your work gets ripped apart. Pick up the pieces and keep trying.  We have a saying in the ITGM department, which is to 'Fail better.'
-Kyle Bolton, Prisma's project manager, designer and programmer
Current job: Independent contractor at Thrust Interactive
Try to get involved. Start a personal blog where people can see and critique your work. Go to Lynda.com or YouTube to learn programs. Go to Polycount Forum's Wiki for technique. Join a mod team (or the like) to have a shipped product on your resume.
-Hank Silman, Prisma's art director and environment artist
Dream job: Game artist at Naughty Dog
Employers want to be wowed.  They want to be so captured by your work that they want to see more and get you in for that interview. 
-Angelica Rodriguez-Vazquez, Prisma's environment artist
Dream job: 3D environment artist at Nintendo or Blizzard
Like every other industry, game development employers look for what you can do to contribute to the studio, from the hard skills needed to complete the tasks at hand, to the soft skills needed to promote a better and more productive work environment.  Since the game development pipeline incorporates many disciplines, what employers look for specifically will vary and every applicant should tailor what they demonstrate to the situation.
-Khoa Nguyen, Prisma's technical artist and programmer
Dream job: Technical artist at Blue Mammoth, Xaviant or Thrust
Whether or not "Prisma" lands in the hands of the 181 million Americans who play video games, it's fair to bet that with a start this strong, something these future industry leaders will work on will make it to the 21 billion dollar market. They'll meet you there.