Growing up, I regularly thumbed through family photo albums. This ritual of navigating the worn, yellowing pages of images, as if I were traversing history, was eye opening. The photos contextualized my place in that history. So I panic when I think that my daughter may not experience that same sense of belonging because these physical signposts do not exist for her to explore, at least not in a form that she can touch or feel, except to swipe at them on the screens of the devices behind which they're trapped.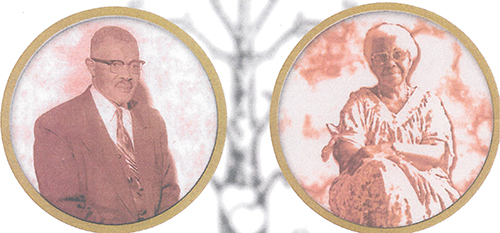 Photos of my great grandfather and grandmother from our family tree.
This angst I have over not being a better steward of our young family's growing photo collection makes me a preservationist. That's what a group of students from Savannah College of Art and Design helped me to understand. The last people you might associate with being champions for the old and non-digital, all younger than me, recently gathered to present their plan for engaging new generations in the pursuit of preservation. Their solution, a historic preservation patch for Girl Scouts, is a collaboration between SCAD's historic preservation department, the National Trust for Historic Preservation and the Girl Scouts of Historic Georgia.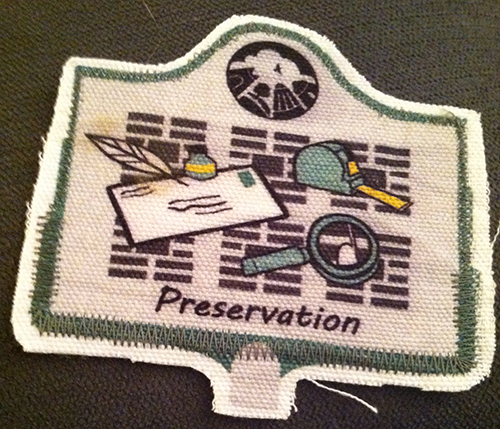 A prototype of the patch designed and created by SCAD students.
One of the first things the scouts needed to learn, they realized, is what exactly historic preservation is. It's a good question, actually, for adults and kids, one that promotes an awareness of our surroundings and the laying down of our devices in order to delve into community. As the SCAD students, ages 21 and up, teach in their guide for leaders and scouts, historic preservation goes beyond saving buildings to include protecting artifacts, culture and, yes, even family history and photos. Though Savannah, where the students are pursuing their degrees, is an epicenter of historic districts and preservation, their guide is intentionally broad enough to relate to any city in the U.S.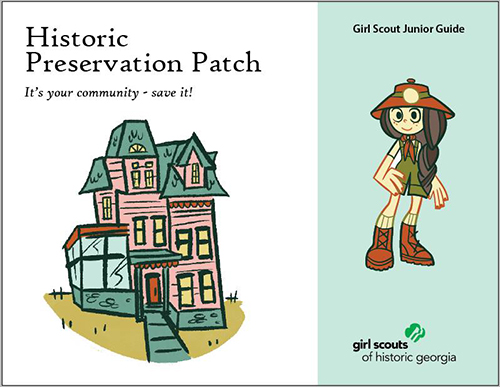 SCAD historic preservation students partnered with graphic design, dramatic writing, fibers and sequential art students to create the guide. To earn a patch, scouts must fulfill seven activities that fall under different categories of preservation, like personal history.
Any tool that promotes historic preservation to the next generation must be conducive to mass appeal, lest the fervor for 'saving places' dies with the present generation. One indicator that doesn't bode well for the future of preservation, for example, is the average age of those who read Preservation Magazine: 61.
The apparent apathy toward historic preservation among young people is something that keeps preservationists like SCAD professor Connie Pinkerton, who led the students in the creation of the Girl Scout patch, talking.
Connie, a former Girl Scout whose daughter is also a Girl Scout, notes that her millennial generation students must carry the torch or, more appropriately, an LED light in support of historic preservation. A quick survey of her students about what could possibly have sparked their interest in historic preservation as an area of study is a case study for hope.
Savannah's storied, historic buildings, many of them rehabilitated by SCAD, drew Bethany Emenhiser (M.F.A., historic preservation) to historic preservation. "People made things with their hands and those things and places are still standing. But today, even in our high-tech world, homes are being blown over by tornados," she said of her admiration for preservation.
"Going green and sustainability are so in, but preservation was the first sustainability."
That observation is astute for a student whose peers, by contrast, spend hours upon hours in a building near hers using the latest in 3D printing technologies.
Likewise, Jake Eichorn (B.F.A., historic preservation) became interested in preservation when studying at SCAD opened his eyes to the treasures of historic Savannah.  The 21-year-old, who will spend his summer helping a professor rehab a Victorian, gets starry-eyed talking about property record chains and a future career fixing up and flipping historic homes. For Jake, breaking down the fundamentals of historic preservation into a form that ten and 11-year-olds can understand was a rewarding challenge, just as the pursuit of the historic preservation patch will no doubt be also.
I'm glad my daughter, armed with our family photo album, will have the option to pursue this patch if she so chooses.
The historic preservation patch will be unveiled at the 2014 National Preservation Conference (Nov. 11-14) at SCAD Savannah.