What does it take to be considered a rising star in the fashion industry? Each year, the YMA gives us a glimpse into what the future of fashion holds when it crowns a new group of Fashion Scholarship Fund winners.
As the New Year got under way, the YMA awarded its coveted $5,000 scholarship and pinch-me-I'm-dreaming internships, with industry leaders like Neiman Marcus and Polo Ralph Lauren, to 100 fashion students to watch. Nine of them are Fashion or Fashion Marketing and Management students from Savannah College of Art and Design.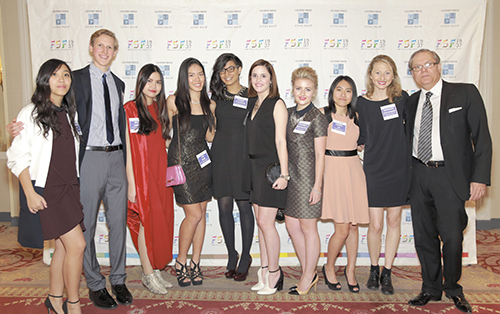 From left to right: Annalise Lao, Oliver Selby, My Dinh, Elva Jiang, Sania Tharani, Rachel Johnson, Chanelle Bertelsen, Linda La, Hannah Aylward, Prof. Daniel Green
Here's why their applications wowed the judges.
The challenge: Present a plan to help retailer JCPenney reach the Millennial customer.
My Dinh (B.F.A., Fashion, Junior)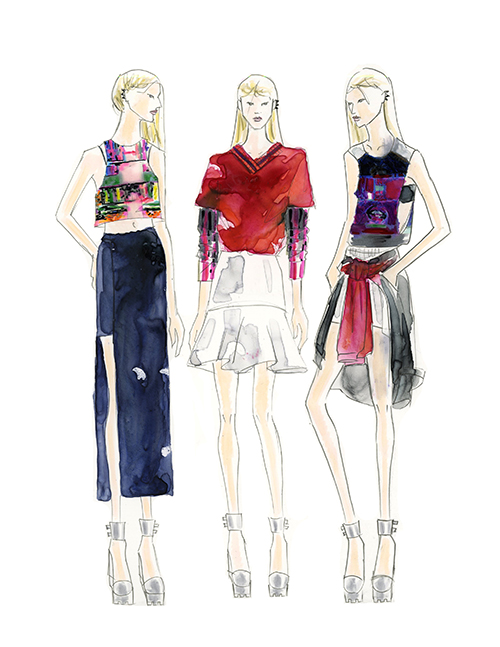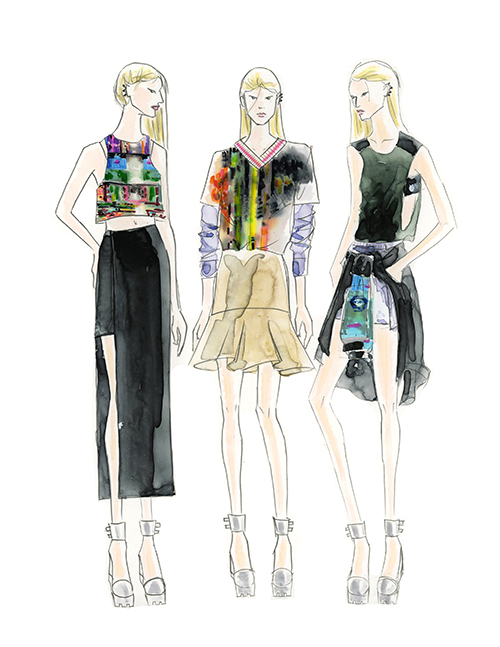 My solution for the YMA 2014 case study is a street wear clothing line for women named #neversleep. The hashtag is a manifestation of youth. Using social media to build a lifestyle around the brand name is the main strategy. The products of #neversleep are identified by its playfulness which is visualized by its bold silhouettes and whimsical prints. The brand has a much needed witty perspective on the harsh realities of modern fashion and life.
Oliver Selby (B.F.A., Fashion, Junior)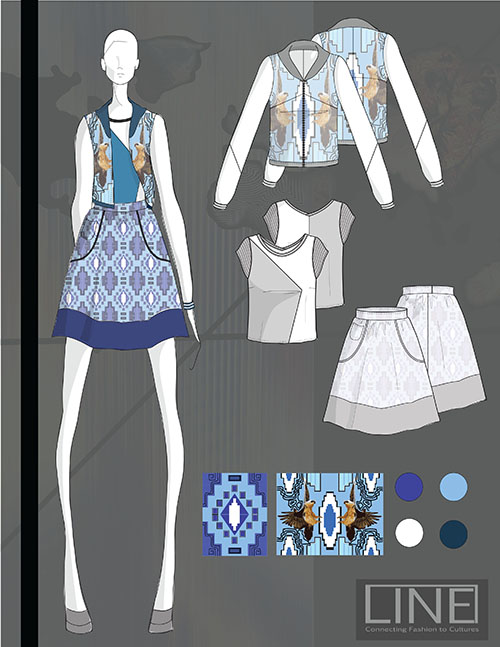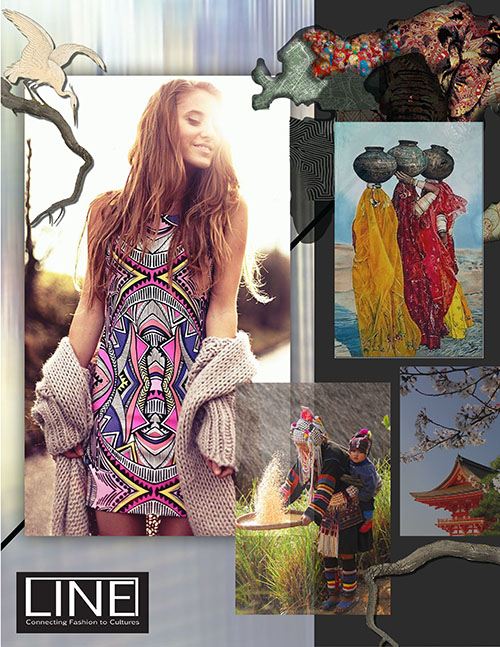 The brand that I created for JCP is LINE, connecting fashion to cultures. LINE connects the world of fashion to different cultures of the world, old and new, while creating a modern twist with the combination of print, fabric, and color blocking. Each piece of clothing is able to be matched with others in the collection, enabling the customer to combine different prints and colors, allowing them to connect different cultures of the world together.
Rachel Johnson (B.F.A., Fashion, Senior)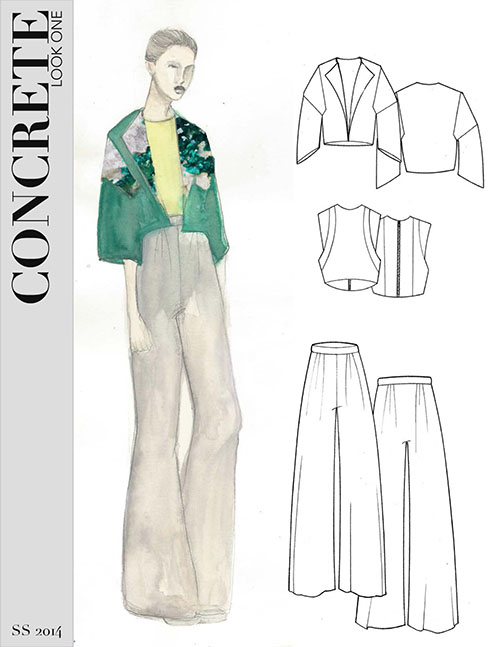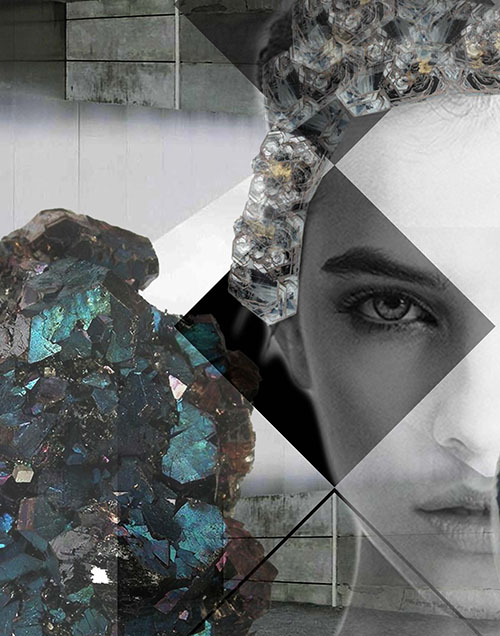 My concept was initially inspired by modern architecture and the lines found in the architecture for the garments themselves. I was extremely inspired by geode rocks and minerals for the prints and color stories I used for the line. My brand Concrete was created for a strong and confident woman and was to be a store-in-store at JCPenney.
Sania Tharani (B.F.A., Fashion Marketing and Management, Senior)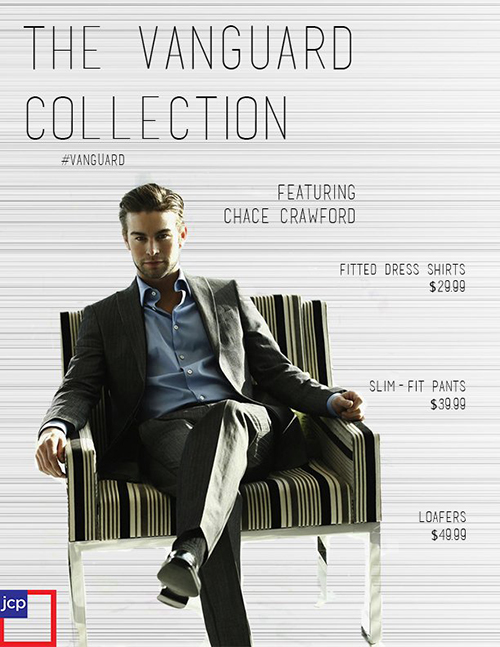 I proposed The Vanguard Collection, a hip menswear brand of distinctly branded apparel and accessories that appeal to the Millennial man with its slim-fit tailoring and fresh print and color combinations. A store-within-a-store layout and interactive social media marketing foster a seamless transition among all platforms, providing him with a pleasurable shopping experience catered to his every need.
Linda La (B.F.A., Fashion Marketing and Management, Senior)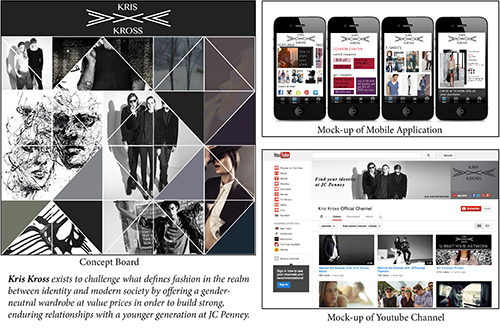 My vision was to create a contemporary, item-based clothing line that was genderless in nature. Having a gender-neutral line taps into the psychographics of the Millennial customer and goes along with their changing attitudes regarding social ideology. All in all Kris Kross exists to challenge what defines fashion in the realm between identity and modern society by offering a gender-neutral wardrobe at value prices in order to build strong, enduring relationships with a younger generation at JCPenney.
Chanelle Bertelsen (B.F.A., Fashion Marketing and Management, Junior)
I created a product line called 27 & Grand showcasing a powerful impact presentation of sneakers in a high tech shopping environment. JCPenney stands at the corner of a major intersection. This intersection is the place where the troubled past meets the opportunity the future holds for JCPenney. The launch of the brand "27 & Grand at JCPenney" will connect with the Millennial generation in a way that will create major business opportunities for the store and for its future.
Hannah Aylward (B.F.A., Fashion Marketing and Management, Junior)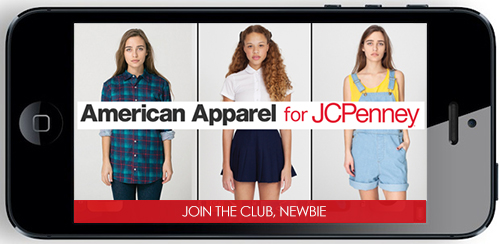 The main focus of my project was to partner with American Apparel and set up Miniature American Apparel stores within JCPenney locations in order to entice the Millennial customer. The American Apparel for JCPenney brand presents the right merchandise, at the right price, at the right time. The brand's well-established credibility and style are perfectly tailored for the lifestyle values of the Millennial customer.
Elva Jiang (B.F.A., Fashion, Senior)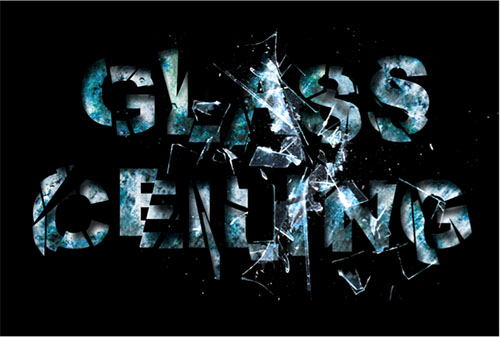 Glass Ceiling at JCPenney empowers the young, business-minded Millennial woman who strives to transcend economic and social boundaries to take over the "corner office" and become the top executive of a company. The sophisticated yet trendy selection of styles allows our customer to present herself professionally in all business occasions while expressing confidence and individuality.