Updated Jan. 31: Get a peek at the final Super Bowl project here.
What does art have to do with football and football have to do with art?
NFL Network's documentary on the late Steve Sabol, filmmaker and president of NFL Films, answers this question eloquently. The film enlightened me on how the seemingly disparate worlds of art and football complement one another. After all, Steve, who is largely responsible for how we experience the modern era of football, got his start as an art student. Throughout his career, he spent as much time on the gridiron and in testosterone-laden locker rooms as he did in his studio creating his trademark collages. That blend of art and sport, which Steve embodied, resulted in dozens of Emmy Awards and acclaim for days.
That context makes it easy to understand why FOX Sports has enlisted a team of art students to help it pull off its coverage of the Super Bowl in February.
As football season got under way, FOX Sports visited Savannah College of Art and Design to ask motion media, illustration and animation students to design the introduction to the Super Bowl. The project is a partnership between SCAD's Collaborative Learning Center, which gives students course credit for real world assignments, and FOX's Creative University Program. Inside the kickoff presentation, the mood wasn't all business, though. Laughter erupted when FOX Sports creative director Gary Hartley told the students,
"You want to impress the old grizzled veterans who have covered a lot of Super Bowls. If they turn to me and say 'that was cool' I will personally call you."
FOX Sports senior motion graphics designer Jon Kaczmarski (B.F.A., Visual Effects) was also in the meeting to explain the role he plays in game day coverage. The passion these designers exude for creating the thematic art that makes 'the big dance' shine rivals NFL Fandom. I can see why they get such a charge out of their jobs. Their genius contributes to the fans' fury. It's their work, along with the commentators', that's responsible for transporting fans through the television screen and into the stadium.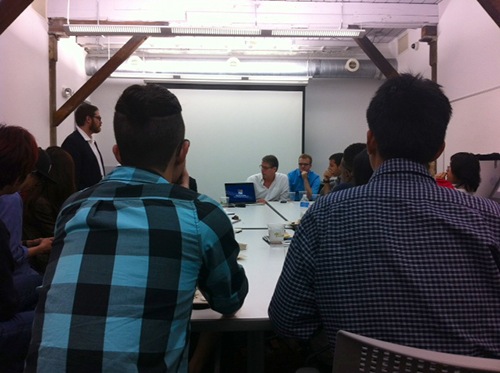 On Super Bowl Sunday, the FOX Sports reps told the students, up to ten hours of broadcasting will feature their work, as will the network's set in New York City's Times Square. The FOX Sports Graphics creative team will take the SCAD concepts and spin them into the graphic elements for the titles you see in the lower third of the TV screen, highlight packages, player profiles and more.
Such elaborate graphics are rare on TV these days. In the case of the Super Bowl, they take up some pretty pricey real estate with 30 seconds alone costing advertisers $3.5 million.
But the sheer number of eyeballs that will be on their work didn't seem to phase the undergraduates who listened in rapt attention as Gary let them in on the DNA of the NFL on FOX brand. Why would FOX give away these secrets? Well, to the cable giant, these aren't your average college students. They're vendors, partners, and FOX Sports wants their new ideas so it can continue delivering the kind of show that makes the Super Bowl the most watched TV event in history.
And, with any luck, Steve Sabol will be smiling down on them.