Hosted by TV Week's Hillary Atkin, aTVfest's Q-and-A with Tim Gibbons, the executive producer of HBO's monumental comedy Curb Your Enthusiasm and BET's runaway hit Real Husbands of Hollywood, two shows that thrive on improvisation, fittingly gave the audience an improvised list of Truths for Surviving TV. Here's what Tim knows that helped him evolve from $20-a-day production assistant to six-time Emmy nominee.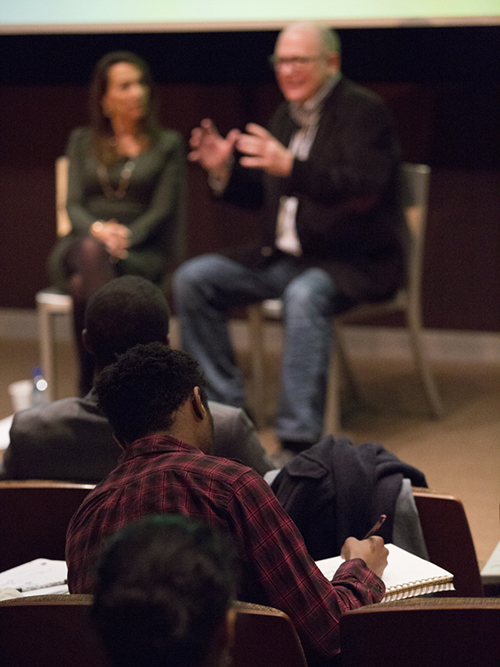 Talent will help you keep a job but a friend will help you get it
Tim's dream was to work in TV, so in 1976 when a friend called him for a day player role as a PA with Dick Clark Productions, he was ready. The process of getting the gig sounded simple, "Someone said Tim could be a PA." But it's through nurturing and growing a network, and making genuine friendships in the business, that Tim has had such a successful run in the business.
Every job I got since then has been the same. I don't think I was ever hired once by sending out a resume. It's because someone I knew said, 'What about Gibbons.'
No job is beneath you and there are no shortcuts to the top
Once in the door at Dick Clark, which Tim called 'my college,' he made an effort to know what every role at the production company involved. Then he broke into comedy as an associate producer, learning budgeting, scheduling, how to work with writers and the costume department, all knowledge that would serve him when he became a show runner.
I became a sponge. I tried to learn about every department and every job, whether it was a tech job or Xeroxing scripts all night.
Know when your time is done and go
Tim lasted four years at Dick Clark Productions, riding the ranks, which went from PA, to head PA, to coordinator, and on up to associate producer, the role Tim was angling for. Though 20 dollars a day had turned into 300,  Tim was passed over for the next position up and knew he had to leave or remain stuck. So at 27 he took a lateral position as production manager on President Reagan's inauguration. Not exactly the promotion he was looking for, but a gig that gave him experience coordinating a major production and a stepping stone to his next job.
Sometimes reputation is helped by a dose of chemistry
The opportunity to work on Curb came knocking three times. Tim was under contract with Ripley's Believe It or Not, but HBO kept calling on the strength of the previous work he'd done for them. Their enthusiasm about Tim, though, didn't excuse him from a final interview with Larry David, who wanted to get a feel for him. While in the interview Larry made a bald joke about neither one of them having hair. Tim laughed and Larry later told him that's why he got the job. Reputation got Tim in the door, but being relatable to the ultimate decision-maker sealed the deal.
He was testing me to see if I had his comic sensibility.
Persistence, Persistence, Persistence
Regardless of the accolades that have come Tim's way, he most credits persistence for his longevity in the business. Of the 20 PAs that Tim started out with, he's one of only two that are still working. Persistence, he said, is what helped him sell a show he pitched 56 times. Persistence is what will distinguish you and help you get ahead.
In the job world you're selling you and you have to be better than the 20 others who landed in LA that day and want the job.
Whether you got your start in the 70s or are just now shoving off, some things, it seems, don't change.