Illegal ivory poaching and vast deforestation has plunged the population of Asian elephants to dangerous lows. Roughly 50,000 of their kind are left in the world, according to several international conservation reports. The outlook on their long-term survival is grim, with the International Union for the Conservation of Nature placing them on the endangered Red List and some predicting the species will be extinct in the wild as soon as 2050.
But several conservationists and artists are responding to these bleak statistics with hope during the Elephant Parade exhibition. The traveling art gallery is raising awareness by featuring galleries of life-sized baby elephant replicas designed by an array of artists. The parade is currently in Hong Kong and features the work of SCAD alumni Kevin Lee Jr. (B.F.A., sound design, 2013), Michael-Birch Pierce (M.F.A., fibers, 2012) and April Rivers (B.F.A., fibers, 2011).
Their artwork, along with several other contributions, are featured at the Pacific Place shopping center in Central Hong Kong, the Cityplaza complex near Tai Koo Station and Citygate Outlets on the northernmost part of Lantau Island near the Hong Kong International Airport. The exhibition ends on Tuesday, Sept. 9.
Twenty percent of the Elephant Parade's net profit — along with 100 percent of money earned from auctioning off handpicked statues — goes to the Asian Elephant Foundation, according to the event organizers. The nonprofit foundation's board members, in turn, distributes the funding to projects that aim to stave off extinction. Some past projects include funding nature reserves where the elephants can live unthreatened, as well as educational programs taught worldwide.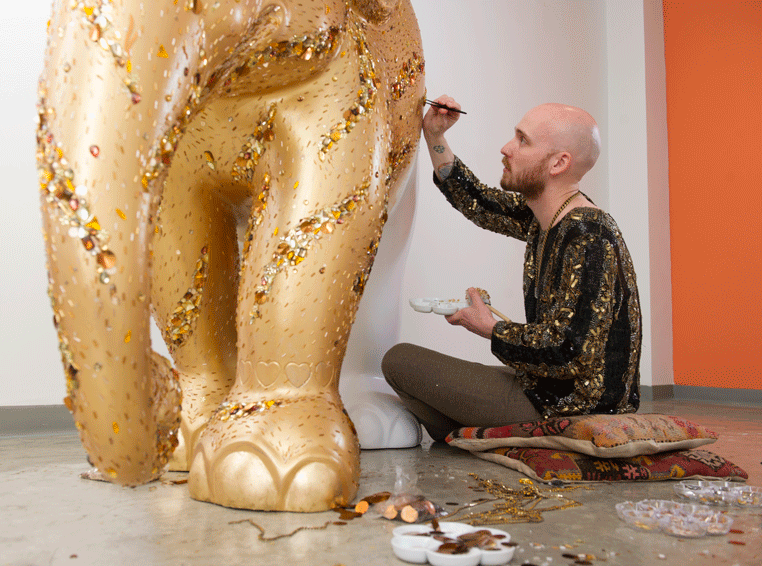 Each elephant statue took on the artists' different styles. Lee used strips of colorful LED lights, Pierce turned to his admiration for "the tacky and gaudy," while Rivers left the statue in its natural white state, enhancing it with fibers and bones while "retaining something pure."
When Pierce set off to create his elephant replica he said he wanted to create something that harkened back to a time when Eastern culture revered elephants, dressing them with beautiful ornaments.
    (The East) adorned elephants with crazy gold fabrics, big metal headdresses. They were regal and reverend. They were precious.
Pierce searched for materials in the markets of Sham Shui Po. Despite what he called a "sensory overload of overstimulation," he managed to focus long enough to find what he needed in stores filled to the brim with beads and crystals.
As a self-professed animal lover and conservationist, Pierce is happy to know that his artwork's wide exposure to bustling Hong Kong will help tell the story about the potential extinction of Asian elephants. Art is sometimes the only digestible way for people to see an environmental crisis through the blur of their busy lives, he added.
"It's not always easy trying to convince someone to change their minds when they have no intention of changing their minds in the first place," he said. "I think that creating these elephants in this way is a really great way to draw attention to the problem. Everyone can connect to art."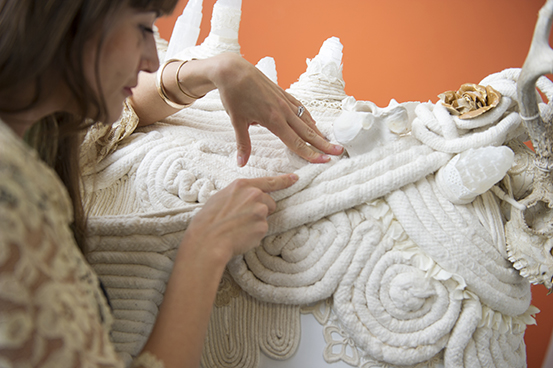 For Rivers, the experience in Hong Kong was "eye opening."
"It was extremely inspiring," she said. "It's amazing to just be in Sham Shui Po. To take in the smells, the colors, the sounds and the textures."
Rivers worked closely with Lee in a shared studio and was nearby Peirce's workspace. The whirlwind trip, along with a tight deadline, made "war buddies" out of the three, she said. Having their different paths converge in Hong Kong — Lee from California, Pierce from Virginia and Rivers from Texas — turned colleagues into friends.
"The three of us got very close," she said. "We all brought different strengths. Kevin had a very mechanical brain, which complimented my love of girly things like fibers and soft materials. Peirce brought the glitter and glam. It was a good mix and we learned a lot from each other. I miss them."
Her new friendships speak to the collaborative nature SCAD fosters, Rivers added.
People often choose to go to the college near their hometown because it's close by, but sometimes they end up staying in one place. On the other hand, SCAD is such a hodgepodge of people. It has campuses everywhere. There's no way you could get these kinds of experiences anywhere else.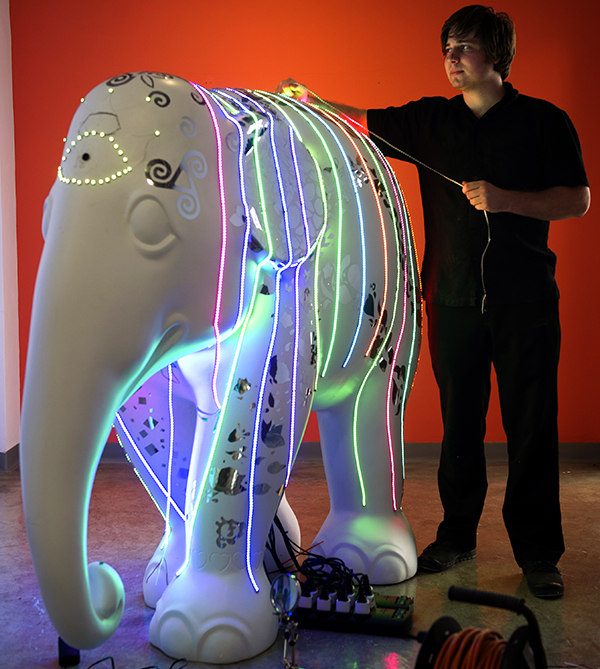 Taking part in Elephant Parade also allowed the alumni to pass on some experience to SCAD Hong Kong students who helped workshop the statues. Pierce said he especially enjoyed letting the students have "free range" on a large portion of his replica.
"Working with the students at Hong Kong was great," he said. "I think that it's very important to show that there's actually a career to be had after graduation, using the skills they're learning at SCAD. I was worried I would have to work with 19-year-old kids who didn't necessarily have the experience they needed for this kind of project. But these students are driven. They're talented."