Though their names have yet to be announced, the students who will have the good fortune to live in the micro-housing prototypes being constructed at Savannah College of Art and Design weigh heavily on the minds of the designers and builders who are quickly making SCADpad® a reality.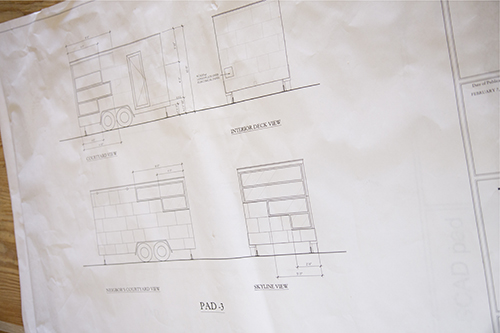 Plans for the SCADpad prototypes.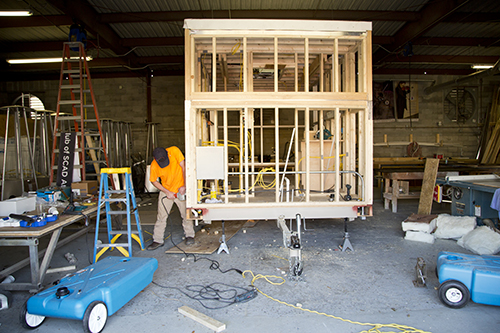 Teams are constructing the SCADpad units in Savannah for transport to Atlanta.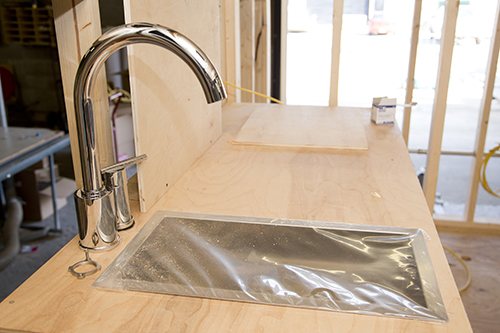 SCADpad's kitchen taking shape.
It was late January when I visited one of the first SCADpad reviews, where students from industrial design, interactive design, design for sustainability and furniture design presented their initial ideas for tricking out the three SCADpad prototypes. Fast forward six weeks, when I caught up with the furniture design students again, and I was floored by their progress. At the beginning of winter quarter, the group was just beginning to grapple with how to design furniture for the extended living areas that will surround the SCADpad micro-community: a shared gaming area, rapid prototyping area and lounge area.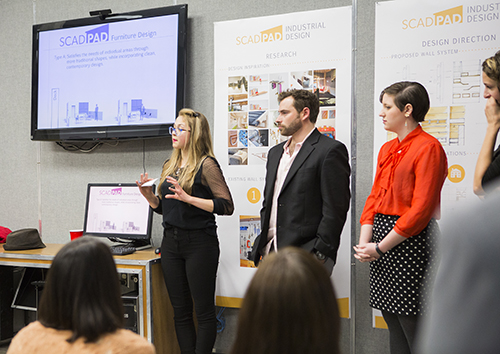 Furniture design students present early concepts for modular pieces with the goal of maximizing adaptability.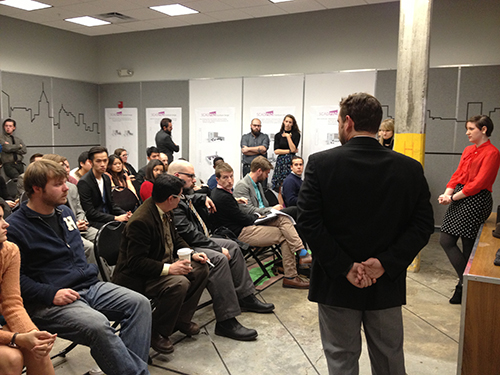 A panel of faculty provide their feedback on the students' initial ideas and pose challenging questions.
One of the biggest questions they faced was how to simplify the furniture enough to make it adaptable for SCADpad residents. Senior Rachel Biancofiore (B.F.A., furniture) gave Thread a peek at how they tackled it:
Also during their initial review, school of design dean Victor Ermoli challenged the students to incorporate illumination into their designs. Here's senior Ben Engel (B.FA., furniture) on what they came up with for lighting and workspace solutions. Keep your seats, "Star Wars" fans.
On top of the puzzles one would expect to encounter while exploring new frontiers of design, the furniture design students are operating according to an expedited schedule to allow time for Kentucky-based outdoor furniture company Brown Jordan to manufacture their collection and deliver it to Atlanta for an April move-in. Typically, the students have as long as ten weeks to move through ideation and revisions in order to deliver production drawings. For SCADpad they did all of this in six. Those six weeks also included time they spent consulting with the other student teams on their own challenges, like helping industrial design develop planters for the SCADpad units.
We'll have more on the solutions those students created soon.