If you flip through a Dark Horse comic illustrated by Patric Reynolds (M.F.A., sequential art, 2009) pay attention. You might notice a recurring face in the panels. A smiling, bearded man — sometimes a mechanic, sometimes a police officer — always seemingly in the background.
It's a face Patric knows well. Every time he sketches that face he thinks of a man who encouraged him to quit his teaching job in Las Vegas to pursue a career in comic books. He thinks of a man named Steve, his dad.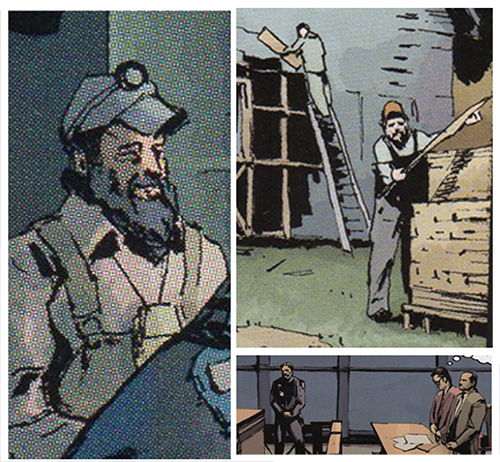 "I was miserable teaching," Patric, who grew up in Utah, said. "My parents could see that. The job really hardened me. I didn't like the person I was turning into. I wanted to do comic books, but I thought, 'No one makes a living as an artist.'"
Now Patric happily eats those words, working for Dark Horse Comics with industry legends like Mike Mignola, Patton Oswalt and Joss Whedon.
"I don't need another job. I draw comics all day and I can pay my bills."
That's partly because the comic books industry is booming, bringing in over $700 million in annual revenue (up from $450 million in 2004). And with that growth, career options for people with Patric's skills have blossomed. Patric didn't know that either until a push from his parents landed him at a college career fair.
It was there that Patric showed his portfolio to Savannah College of Art and Design professor Ray Goto (M.F.A., sequential art, 2002) and learned his talent could get him scholarships. Though his parents were sold, Patric knew that going back to school would mean giving up a steady income that covered his mortgage and car payments.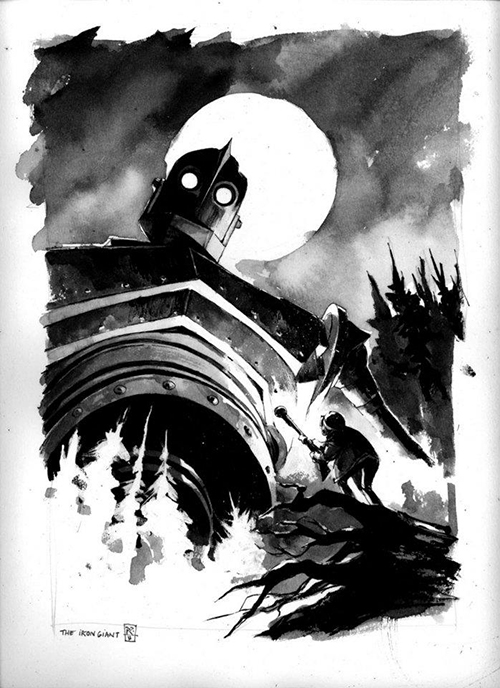 "I wasn't on board," he said. "My parents said, 'You need to do this.' My dad, in particular, said, 'I think you can make a living at this. We will be there in the morning.' They drove to Las Vegas from Utah with a trailer to load my stuff. I trusted them. And so I moved to the South to learn to draw comics."
Before Patric left, his father told him to never give up on anything and to keep his dream alive. Those words — coupled with honing his craft — helped Patric get a degree from SCAD and his first commission at Dark Horse working on an Abe Sapien comic within the "Hellboy" franchise.


That's when tragedy struck.
Patric recalled, "I was inking pages when my mom called to tell me, 'Your dad was out flying with your uncle and they were both killed.'" The small airplane crashed somewhere in the remote backcountry between Utah and Idaho.
The first person Patric called was Dark Horse editor-in-chief Scott Allie. "I was in shock. I told Scott, 'I'm probably not going to meet this deadline. My dad just died.' He said, 'Jesus. Don't worry about it. Get yourself settled.' I could hear that Scott was talking to his kid in the background while he was on the phone with me. I knew he understood the gravity of the situation."
Patric left the project for two weeks to help his family with the difficult double funeral back home, but he knew he had to return to finish the Abe Sapien comic.
"I told Scott, 'Please don't take me off this comic,'" he remembered. "There was a sense of duty to it. So when I got back into the project it became something to get me through my dad not being there anymore. It helped me push down the grief. Those last three pages got really hard, though. I started shaking by the end of it."

But Patric finished the project, fueled by the image of his father working in his machine shop in Utah.
"He had his own business and he had to work so hard at it," Patric said. "My mom would stay up with him at his shop. She fell asleep against the wall a few times waiting for him to finish working. That image — my dad committed to his work and mom committing to what my dad had committed to — told me that if I committed that much to something I could accomplish things."
Finishing the job is something he says he learned from SCAD professors, too. "Ray Goto and Paul Hudson and others taught me how to keep at something, to work and how to finish things," he said. "That's really the one big thing I learned at SCAD — how to commit and work. If you don't buckle down and get work done, then it never gets done. You work until you finish."
Patric now lives in Portland, Oregon, where Dark Horse is headquartered. He is currently illustrating an "Aliens" comic as part of a series reboot spawning off the 2012 movie "Prometheus."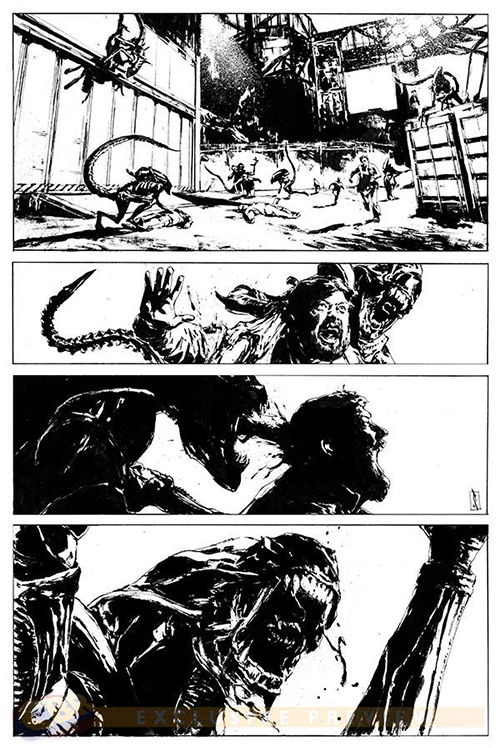 "Scott Allie told me that Dark Horse plans to keep me busy. Most people couldn't claim that in, say, the 1970s. You had to send your stuff to New York and then they would get back to you — maybe. It's so much easier to get into the industry."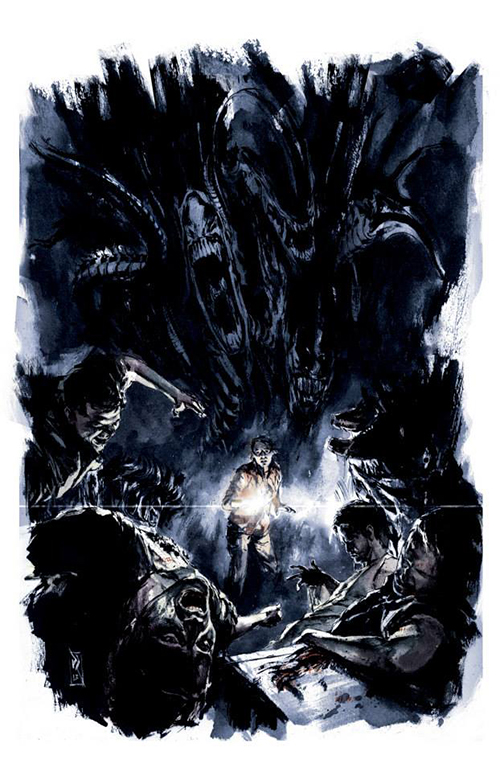 Now sequential artists can influence everything from videogames to storyboards to the latest summer superhero movie. The industry has never been better. Disney just bought Marvel for $4 billion. Movies based on comic books continue to place in the top 100 grossing films of all time: "The Avengers" alone brought in an estimated $1.5 billion worldwide. Investment advisors are even telling clients to sell their vintage comic books to help fund retirement.
People like Patric are the ones behind those impressive statistics. And it was the people behind Patric that got him to pursue his dream.
"I think I always really followed what my parents told me," he said. "My dad always kept telling me to keep the dream alive. I even wrote that above my desk when I was teaching in Las Vegas. My students would ask, 'What does that mean?' I would just tell them they'd see for themselves one day. You have to work at it everyday. You keep it alive and you remember what you love."
And, in a way, keeping his dream alive also helps Patric to keep his dad's memory alive. Patric says the likeness of his dad will continue popping up in the background of the comics he works on, if only to keep an eye on him from afar.