For fashion students at Savannah College of Art and Design, the annual fashion show is both the culmination of their academic preparation and the precipice from which they will jump into the fashion world. Ninety student-made and designed looks graced the runway for the 2014 SCAD Fashion Show at the SCAD Museum of Art. Not only do the garments reflect intensive preparation in design, CAD work, draping and ideation, but an uncanny 'oneness' with what the industry showed at Fashion Week. The undergraduates and graduates, selected by jury to participate in the show, began working on their looks in September before they even laid eyes on what the runways of New York, London, Paris and Milan would see earlier this year.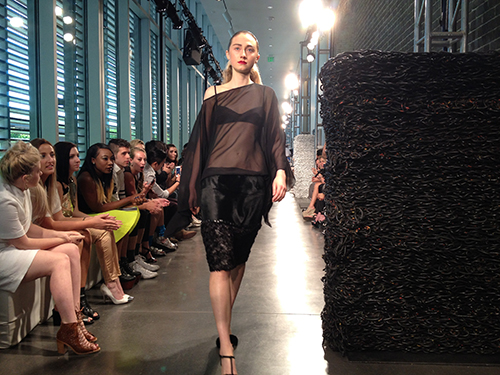 Student designers watch their looks on the runway in SCAD's Poetter Gallery.
SCAD School of Fashion dean Michael Fink walked us through how in-step the student looks are with, or ahead of, some major trends in fashion.
Michael Fink: We saw a lot of pinky tones, lilac, light or nude colors in the Fall 2014 Ready-to-Wear collections, as well as white and off-white.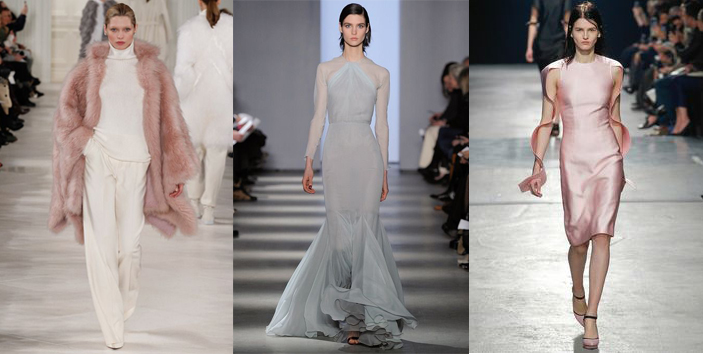 Ralph Lauren, Wes Gordon and Christopher Kane.
Our students have this color palette covered in a variety of different ways, from evening to day.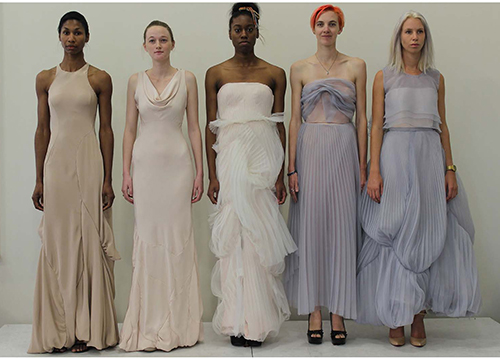 Collection by Haley Beyer (B.F.A., fashion).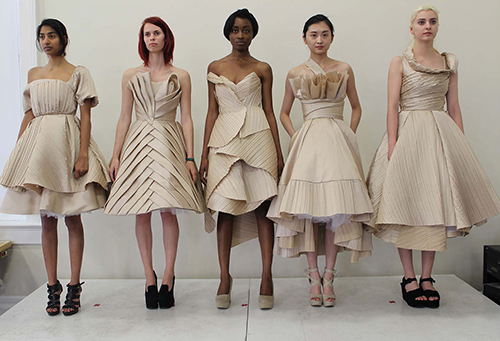 Collection by Tingting Feng (B.F.A., fashion).
On the runways in New York, London, Paris and Milan you saw these architectural shapes.

Marc Jacobs, Balmain and Ashish.
This collection by Hannah Amundson (B.F.A., fashion) is very architectural. The story behind the garments is that her roommate moved out of their shared apartment and took the only mirror they had. Hannah realized how much she relied on the mirror. So her designs are all about being vain, and on the clothes there are inserts where it will say "vain" or "obsessed," references to how we are so fixated on our own image.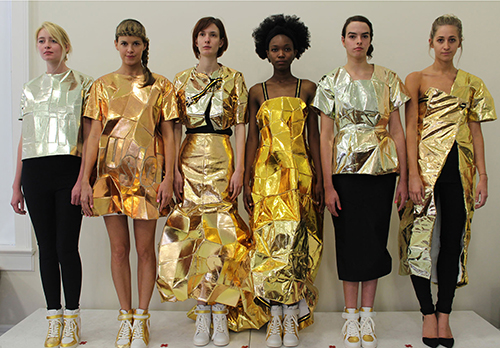 Collection by Hannah Amundson (B.F.A., fashion).
Also, Yuxi Bi (B.F.A., fashion) goes to the stand and just drapes and experiments and creates architectural shapes without a pattern.

Collection by Yuxi Bi (B.F.A., fashion).
We saw this cobalt blue color on the runways and we have a collection that is just cobalt blue and gray. So this is definitely something we've seen out of our students in terms of color trend.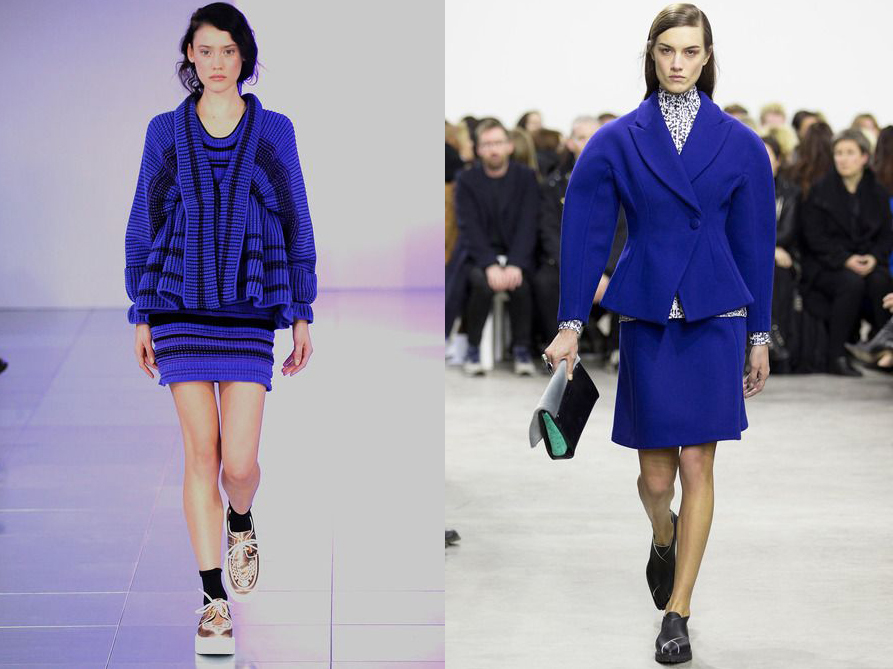 Mark Fast and Proenza Schouler.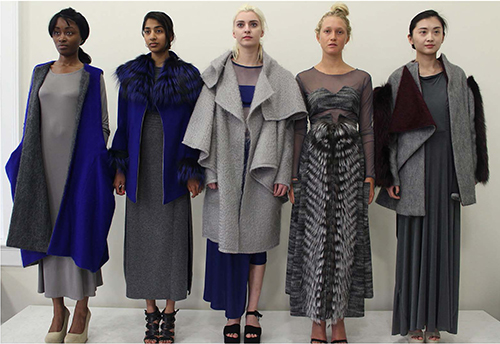 Collection by Lin Han (B.F.A., fashion).
At Fashion Week you saw oversized patterns. Whether it's one pattern, or a mixture of patterns, that was very big, especially in London, which speaks to our students' mix and match sensibilities. Here you start to see a mix of materials and patterns challenging you where to look.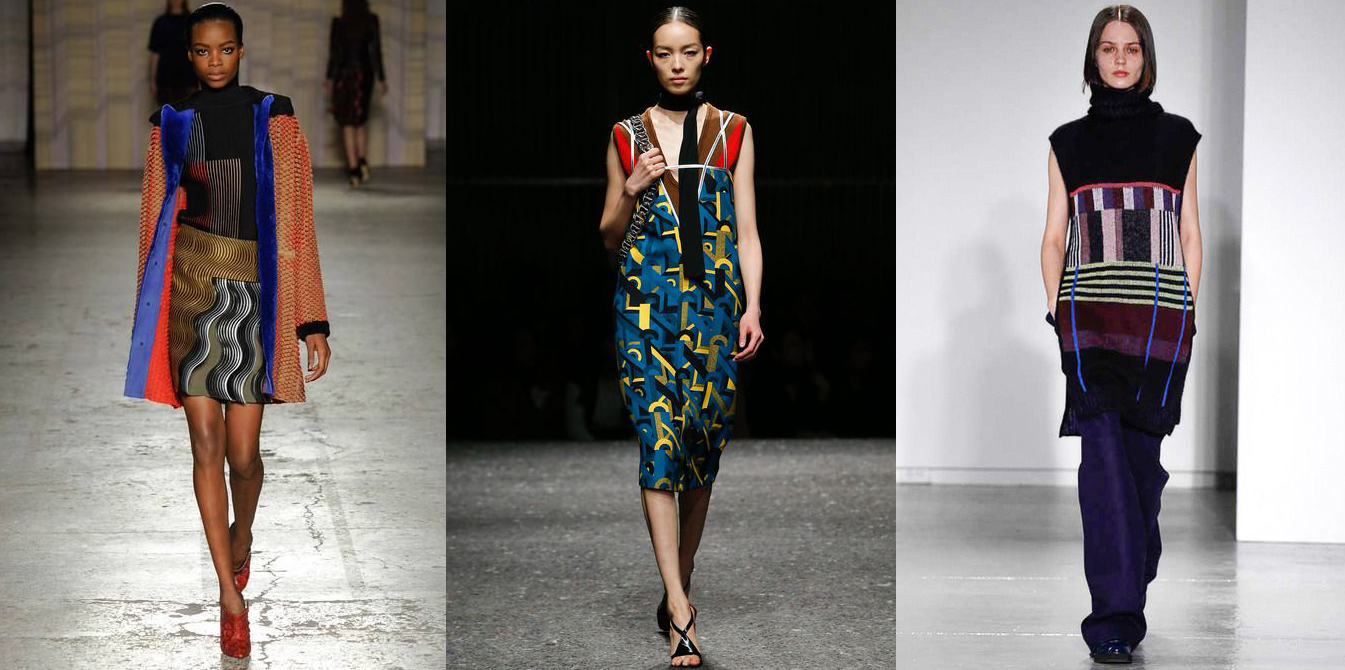 Marco de Vincenzo, Prada and Suno.
Like those mixed patterns, Madisen Matney's (B.F.A., fashion) collection is bold, in your face, and it's in honor of her grandmother who has Alzheimer's. She worked with a textiles student and on each piece there is a face peeking out from the layers.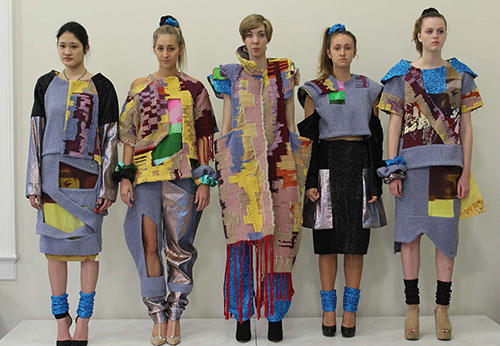 Collection by Madison Matney (B.F.A., fashion).
These are fall collections, so you think about plaids anyway, but the students have been working a year ahead of the trend.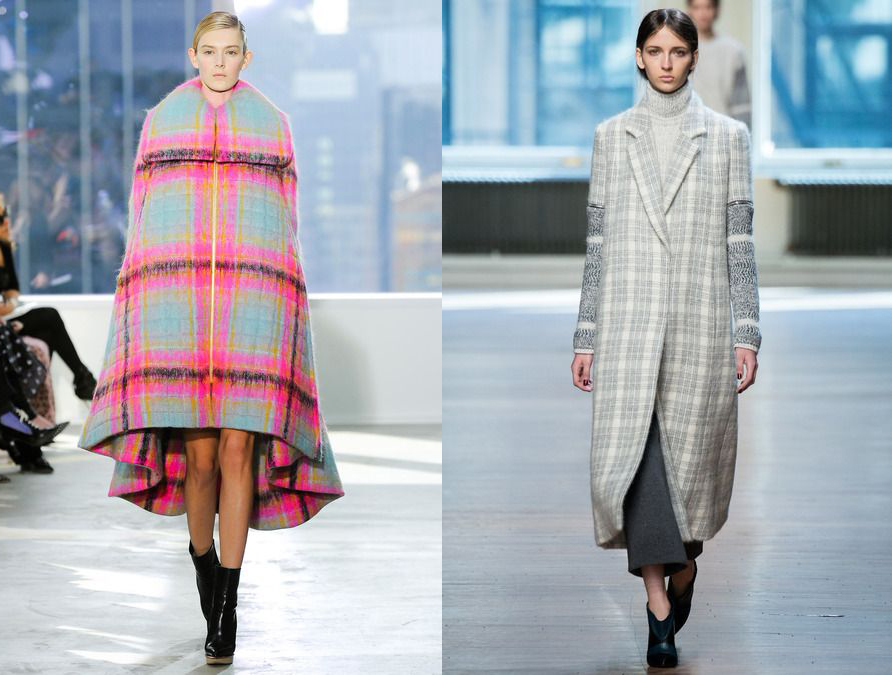 Delpozo and Yigal Azrouel.
We have seen some incredible plaid work out of the students. For example, in this collection by Katherine Absher (B.F.A., fashion) these are hand-foiled. She has taken the fabric and done a foiling process.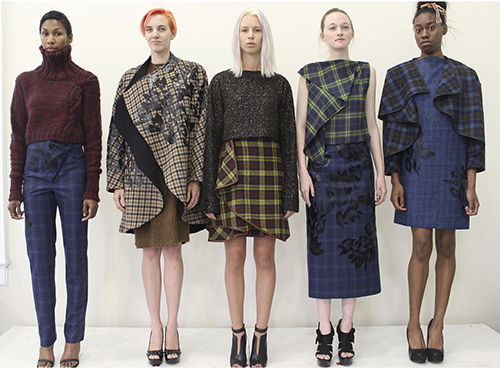 Collection by Katherine Absher (B.FA., fashion).
This color palette, various shades of coral and orange, was prevalent on the runways.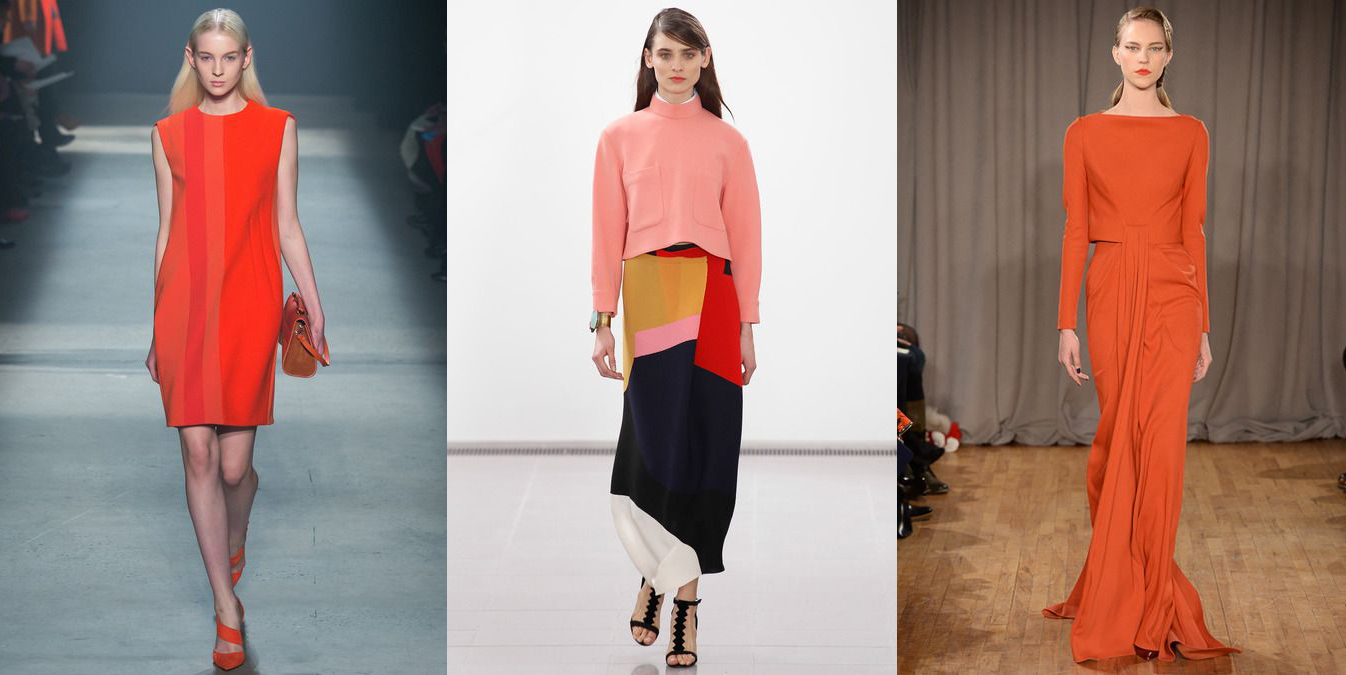 Narciso Rodriguez, Issa and Zac Posen.
We have one student collection that captures that beautifully and that's really hard. It's difficult to make those colors sit well on the body.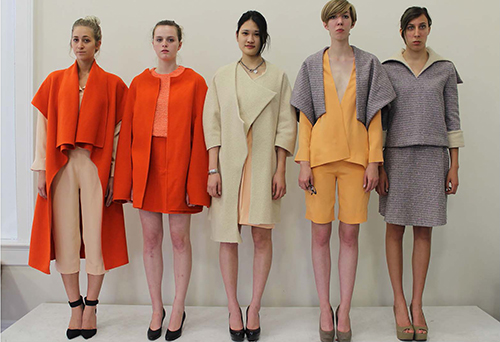 Collection by Jiaren Du (B.F.A., fashion).
Jiaren Du (B.F.A., fashion) worked for a year on this, but we didn't see the collection for what it was until we saw it on stage. It was so arresting.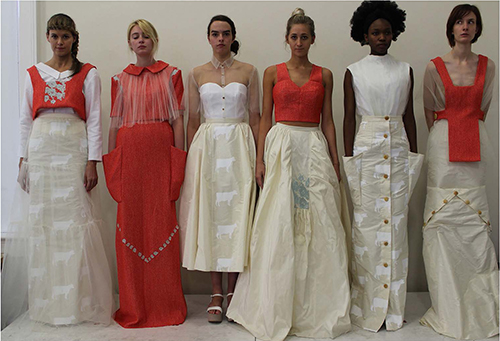 Collection by Julia Patton (B.F.A., fashion).
When it comes to Fashion Week, each city is so different. This is Milan. It's a bit more tailored. Here are these bright pops of color everywhere. We saw that in Paris, too. You see big patterns. They're not subtle clothes. Paris, what strikes me here is this Valentino. Very graphic. And Dior, color blocking in a different way. You have bold color with a lighter companion, so you have these pops. That's the color pop we're talking about.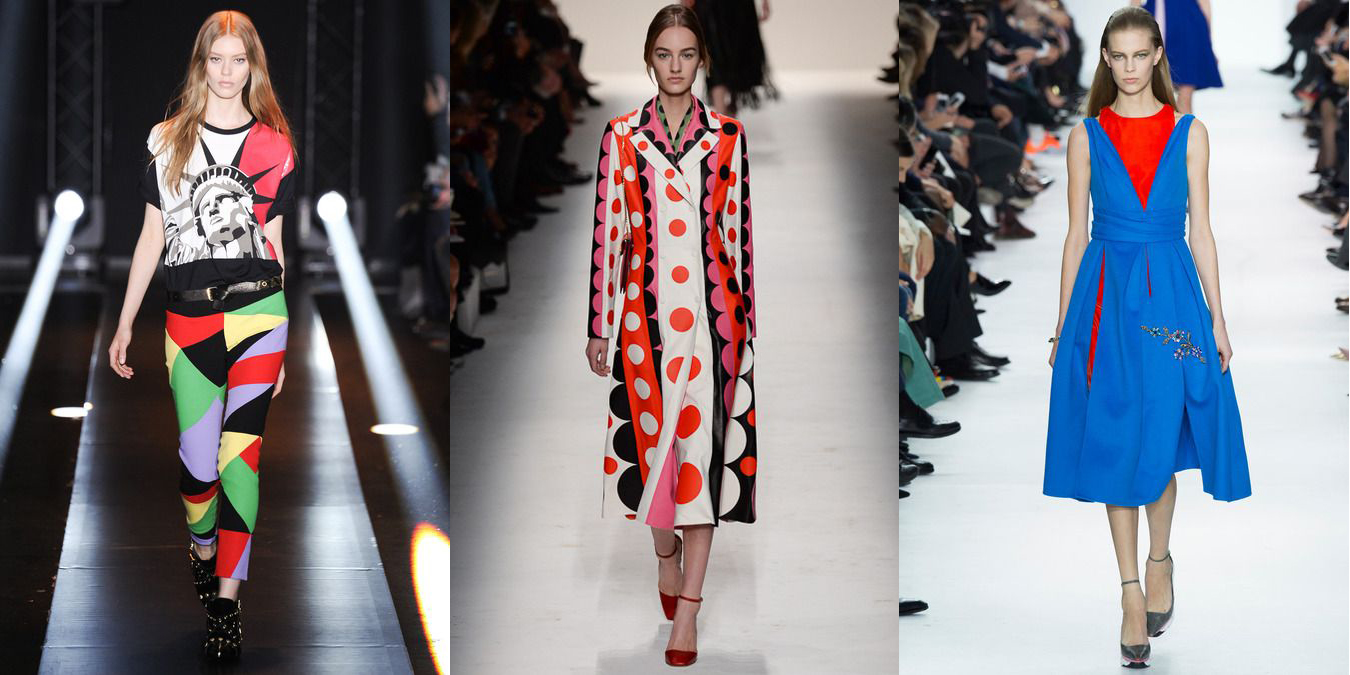 Fausto Puglisi, Valentino and Dior.
In terms of student work, you also see some really big pops of colors. Both of these, for example, are on a graffiti tangent. Each designer had artists develop prints for them. It's color blocking, it's print, it's bright.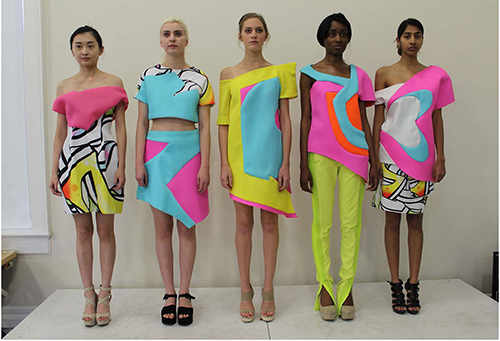 Collection by Renata Dabdoub (B.F.A., fashion).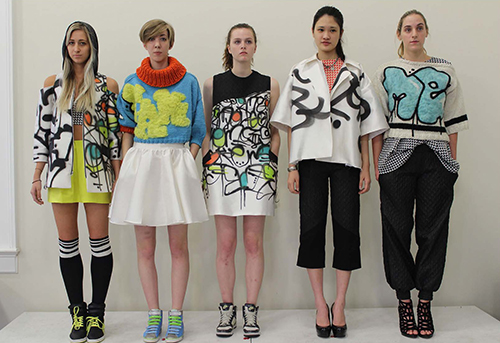 Collection by Leah Smith (B.F.A., fashion).
This whole idea by Burberry was all hand-painted. Everything had the touch of hand on it and we certainly have many collections like that here at SCAD because we're an art school.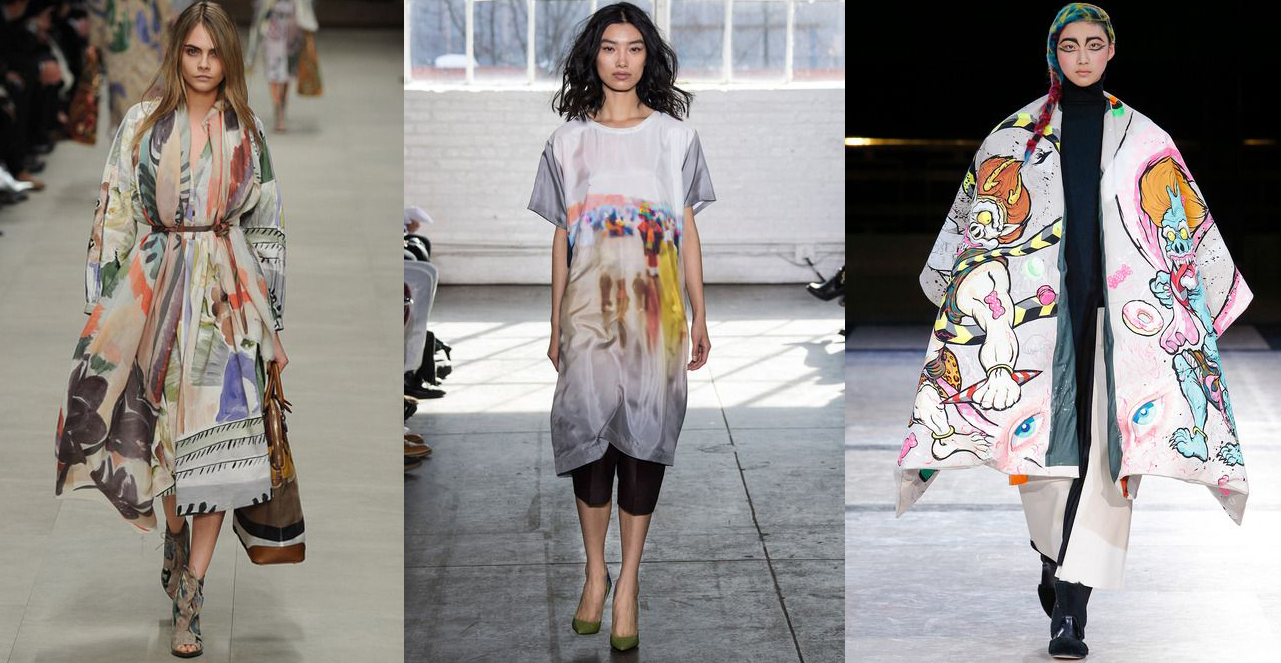 Burberry Prorsum, Duckie Brown and Yohji Yamamoto.
These are Wenxiao Wang's (M.A., fashion, 2013) own illustrations that she had reprinted.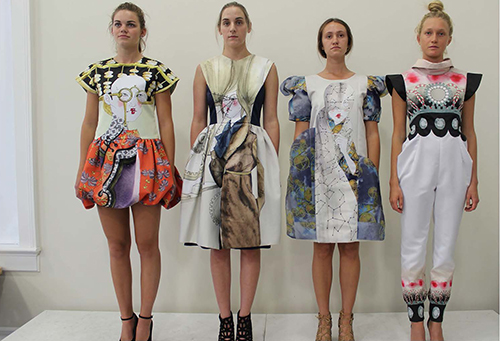 Collection by Wenxiao Wang (M.A., fashion).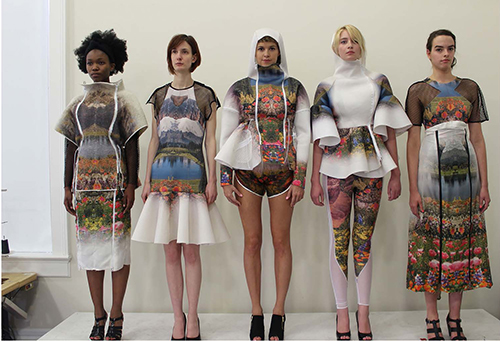 Collection by Zenobia Duncan (M.A., fashion).
That's just an overview of the student looks we saw on the runway at the SCAD Fashion Show and how they compare to what we saw at Fashion Week.