Growing up white in northern Ohio in the 1960's, I was told that a tavern owned by my family many generations ago may have been part of the Underground Railroad. As a result, I thought a lot about the Underground Railroad as a child and felt proud that maybe, just maybe, my relatives had taken risks to do the right thing. Little did I know, as an adult I would have the chance to bring stories about a different kind of Underground Railroad to life with the help of fellow faculty and students from animation, television producing and motion media at Savannah College of Art and Design.
This project began when I met award-winning author and playwright Calvin Alexander Ramsey. Calvin's children's book, Ruth and the Green Book, and a play based on the same, is the story of postal worker Victor H. Green, who helped African Americans travel safely throughout the Jim Crow south by publishing The Negro Motorist Green Book. Between 1936 and 1964, Victor used his resources at the post office to compile the "Green Book," an ever-growing network of white and black-owned businesses, including restaurants, hotels and beauty parlors that would welcome African American travelers during segregation.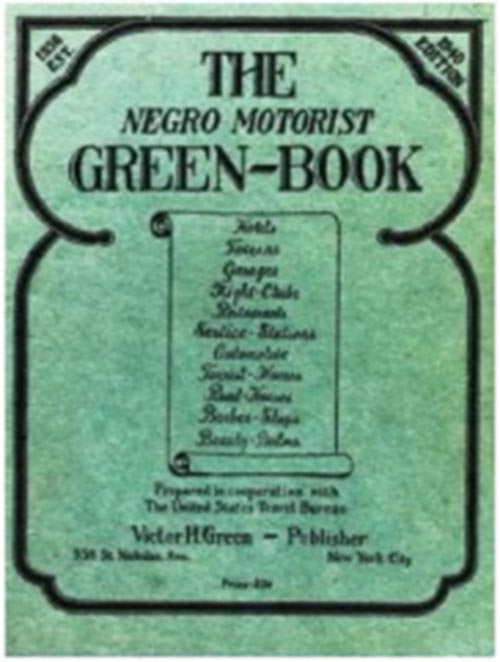 The cover of the 1940 edition of "The Negro Motorist Green Book." Esso Gas Stations were one of the primary nationwide sales outlets for the "Green Book."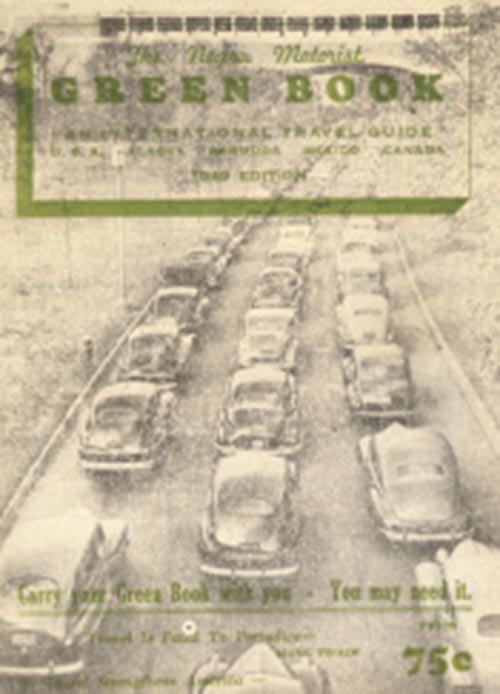 The cover of the 1949 edition of "The Negro Motorist Green Book."
The scope of Victor's guide expanded over time to include international destinations. But when publication of the "Green Book" ceased in 1964 with the passing of the Civil Rights Act, awareness of the guides faded. Calvin wanted to change that by preserving the oral histories of people who had actually used the "Green Book." I said yes, but let's insert some visual appeal. And so our film "The Green Book Chronicles" - a mix of live action and animation that tells the story of the "Green Book" in the context of the Civil Rights Movement (sort of a Ken-Burns-meets-NPR's-Story-Corps with mixed-media animation) - was born.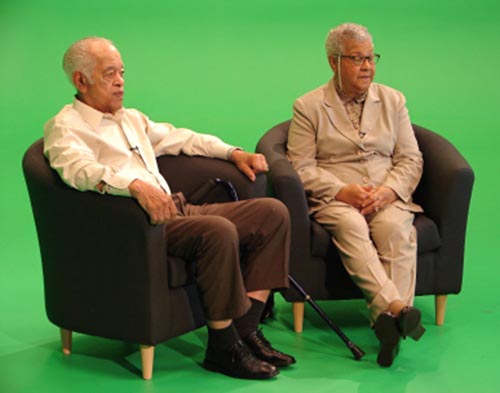 World War II veteran Wilbert Verrett and his wife, Dr. Joyce Verrett, used the "Green Book" on their honeymoon to Pensacola, Fla. in 1964. Interviews were shot on the green screen in SCAD Atlanta's TV studio to allow the addition of photographs and other background elements in the final edit.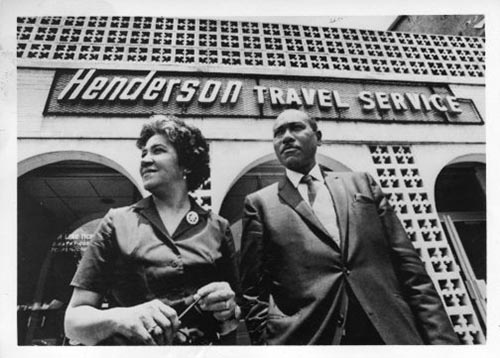 In 1955, Freddye and Jake Henderson opened the first African American travel agency in the U.S. Their daughter, Shirley Henderson Coleman, was interviewed for "The Green Book Chronicles."
A year and half later, our short film has grown into a one-hour film with enough material to create a short series. Twenty-nine SCAD students have shot seven interviews, completed six animated segments and produced the ten-minute trailer for the project. And the stories keep coming.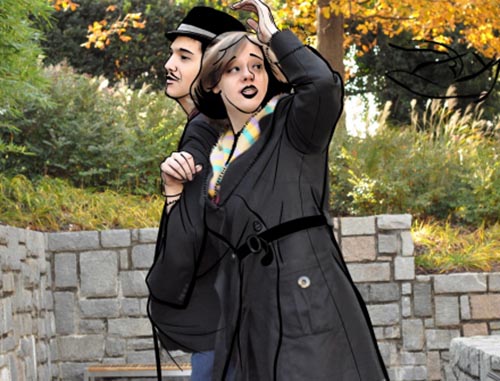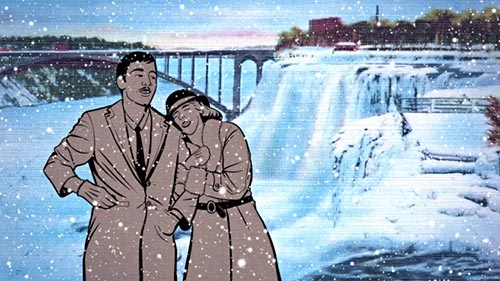 Rotoscoping drawing begins over live video footage shot as reference for the"Niagara Falls Romance" animation segment created by students Danielle Paulet and Jeff MacDonald. The final Niagara Falls scene was created by compositing 2D animation characters over the vintage postcard background.
Calvin and I are gearing up to raise funds for completion of the one-hour film by this fall. Along the way, I'm witnessing SCAD students from all over the world learn about American Civil Rights history, hopefully reinforcing that helping others through tough times is universally inspiring. One story can be the key that opens doors to previously untraceable history, as our journeys introduce us to others who change our lives…like when I met Calvin Ramsey. I cannot tell you how thrilled I am that the story of "The Green Book Chronicles" is taking me along with it. I bet my northern Ohio ancestors would think that was pretty cool.
Becky Wible Searles has been a professor of animation at SCAD for 12 years. Previously, she owned One Eighty One Productions in New York City, where she designed, directed and produced short form clay and mixed-media animation for TV, including projects for Nickelodeon, Kool-Aid, AT&T, National Geographic and Showtime.