Heidi's Build-a-Bride collection landed her in Nordstrom bridal suites and drew brides from as far away as Dubai to her shop in Alabama.
The collection is the inspiration behind the name of Bride by Design — her new 30-minute pilot, set to air Friday, July 25, at 10 p.m. The episode will focus on her helping two brides, including former Miss Tennessee.
I spoke with her about this success before the July 25 premiere.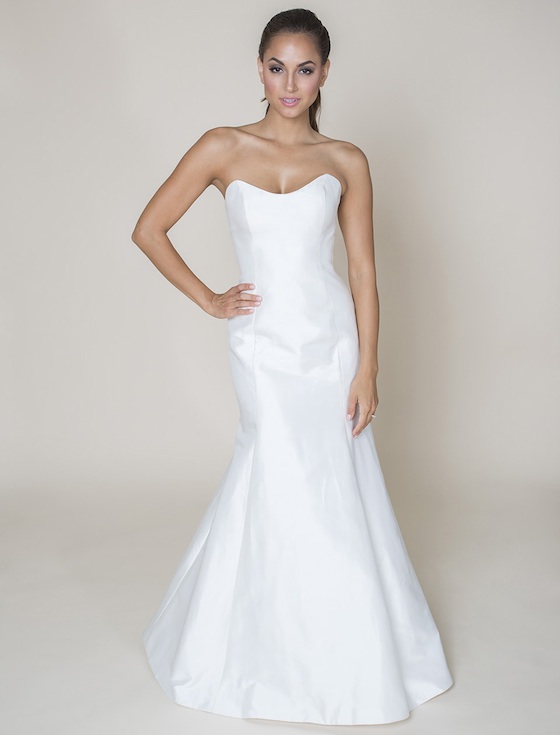 Thread: Tell me about the show.
Heidi: It shows the backstory of all it takes to get a dress made — from the sampling, to picking out the fabric, to making the muslin. It's a lot of the SCAD background that I have and going through those classes of what you have to do to be a designer. It gives the viewer that point of view. It also gives the brides point of view, "It's such a big day, it's such a big moment, it's such an important dress. I'm trusting this girl to do this. Can she pull it off?"
In the initial episode I help two brides. One a true couture gown that we started from scratch — selecting the fabric, doing the muslins, creating the pattern so she never sees her actual dress until the day that she takes it home. It's a little nerve wracking but she trusts me. The second one is something that I've been doing for 8 years. I trademarked it as Build-a-Bride. I always dreamed about being a designer and growing up in Alabama it wasn't one of the top job opportunities. I want everyone even if they don't have that opportunity to be a designer and have that creative platform. The bride can basically build her own dress.
T: How did you make it from Carter's to your own thing?
H: I wasn't your typical 22 year old. I would work at Carter's during the day and at night I would sew women's ready-to-wear. I was a nerd. All my friends were at parties and meeting boys and I was sewing in my basement. I didn't care because I knew that when I was 30 I wanted to have my own company.
After I got kicked off Project Runway I came back to Carter's and I was kind of bummed out. Then I got hit by a drunk driver. My mom brought me home to Alabama and once I was here I met this boy, fell in love and six months later I put in my notice at Carter's and moved to Alabama to be with him.
I thought, "Heidi, you need to make your dream a reality. There's a reason why you're back home in Alabama." What could I create that someone would love and cherish and say this is a piece of art — this is part of my heart? And I thought, a wedding dress.
T: How did you find the resources?
H: I went to a nonprofit agency and got a loan to start my company in November 2006. There is no guide on how to become a successful design house. I never had investors, which is huge. I wanted to do it on my own. It has not always been easy, but this is who I am meant to be.
T: What's the importance of a balance between local and global?
H: I began locally, but it got to a point when Nordstrom picked up the line that we just could not meet demand. What's most important at the end of the day to me is customer service and quality. I wanted to make sure every dress that came out is perfection. We did have to begin sourcing overseas, but with Build-a-Bride every little trim is handmade in Alabama. We're selling more dresses which means we can hire more people locally to help me run the company. It's just growing and growing and growing. I am helping our local economy which is very important to me.
T: You are in boutiques worldwide?
H: I'm in 26 stores, 14 of those are Nordstrom. They have 18 bridal suites and I'm in 14 of those. I just got picked up by a store in London, my first international store. I've had brides fly in from as far as Dubai.
T: How have you attracted customers from around the world and landed in big retailers?
H: We have a good reputation because I'm meticulous about taking care of my brides. That's what's most important in the industry. We don't do a lot of advertising. The trend is more of a grass roots approach. It doesn't have to be giant ads and billboards. People want to connect with the brand more and that's what we're focusing on.
T: What gave you an idea for Build-a-Bride? To customize your offerings like that?
H: Every bride would come into the store and want a sweetheart neckline, fit-and-flare, low V-back chapel length train. If I heard it one time, I heard it 50 billion times. I said, "I'm just going to make this one dress — the name of that dress is the Coco Marie — and it's our number one selling dress of all time. People would come in and say, "I want lace, I want this." I just started building little trims. Since it was such a phenomenon I've added more silhouettes and more trims. Now a bride can come in with these 14 silhouettes and try on every imaginable style and look of a dress within 14 dresses. You don't have to travel all over the world and try on different looks. You can put on one or two dresses and figure it out.
T: Is there a trend toward customization?
H: Brides are more focused on do-it-yourself and being independent and their weddings are more that way. They want to create their own looks. That's why Pinterest is huge in the bridal market. Girls are getting inspired and they want to be unique. That's why Build-a-Bride is special. You can have 100 girls in the same silhouette and they would look night and day. It's huge right now.
T: What skills did SCAD arm you with?
H: It's truly an art-focused school for the career that you want. Pattern making. Illustration. Sewing. Learning how to sew an invisible zipper correctly. There are so many young designers that go to college for fashion that don't know how to sew an invisible zipper or how to do a French seam. The couture techniques SCAD taught me are amazing.
T: Can you share some advice for young designers?
Pray often. It is extremely important to seek council and advice from people that you trust and have your best interest at heart.

Constantly ask questions. No question is ever a bad question. Soak up as much knowledge as humanly possible.

Don't give up. Anything worth having is worth fighting for. It isn't always easy. If it was easy everyone would do it.

Keep true to yourself and your beliefs. That is what makes you and your company unique. Don't worry about what everyone else is doing.

There are no true guidelines on how to be successful at something that you start from scratch. Oftentimes you have to just put on your big boy/girl pants and make it happen!