English jewelry maker Andrew Prince is across the pond for a U.S. tour that includes Bergdorf Goodman, which sells his designs, and Kleinfelds in New York City. He'll give a public lecture at Savannah College of Art and Design on April 30 at 5:00 p.m.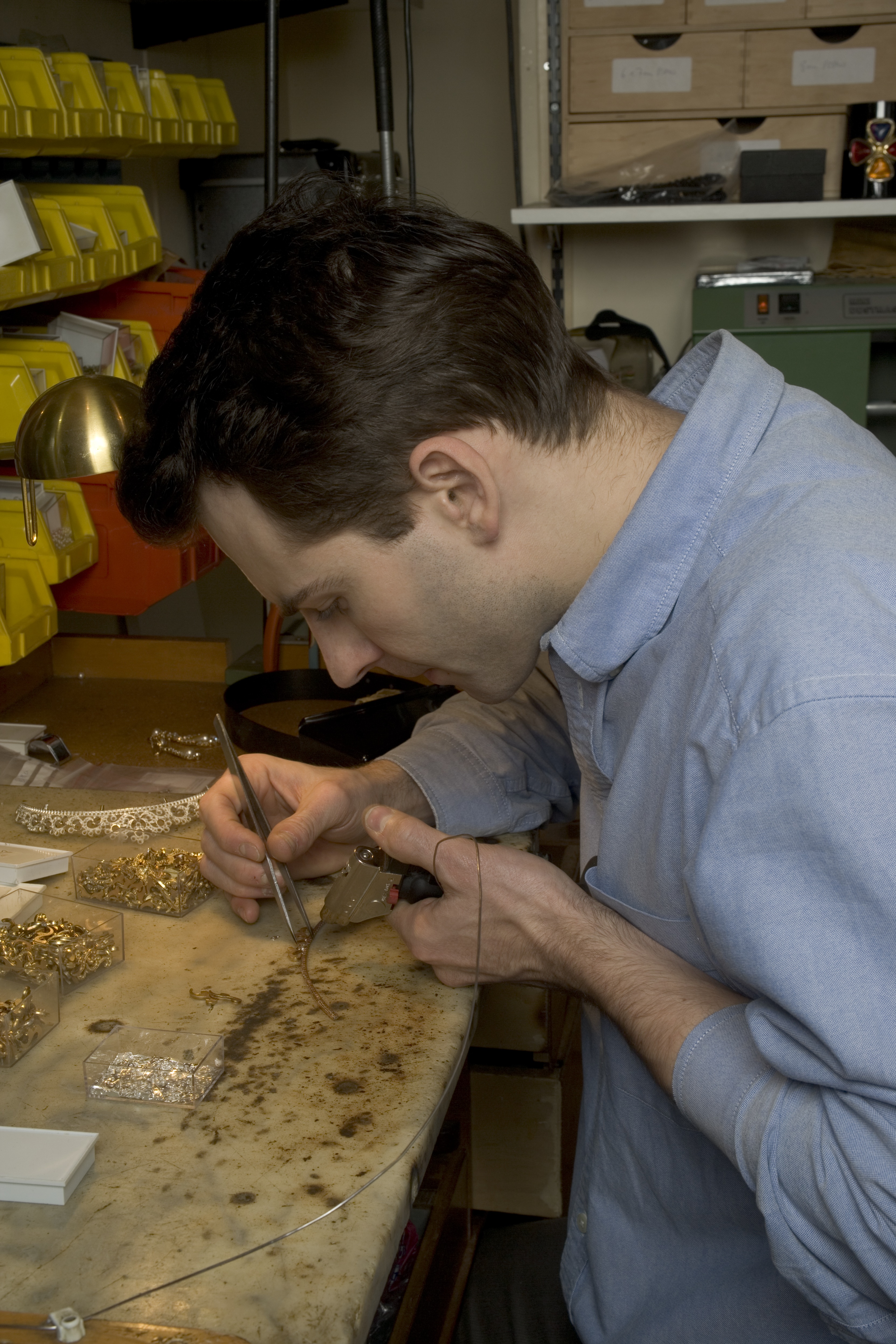 Andrew's impeccable taste and encyclopedic knowledge of jewelry and fashion could convince the most unadorned of us to match our bling and bouffant. Coexisting with Andrew's unflinching sense of humor and style is a scholarly seriousness about his craft that will change the way you watch the PBS hit series Downton Abbey, now filming its fifth season, or any other period piece on television, big screen or stage. Here's the designer on the virtues of costume jewelry, his commissions for legends like Michael Jackson and, of course, how he bejewels the ladies of Downton.
SCAD: Give us a sneak preview of the talk you'll give at SCAD Museum of Art.
Andrew Prince: It's about how fashion and jewelry are usually treated as two entirely different subjects, yet they are absolutely intertwined. So many people in the clothes industry know nothing about jewelry, and so many people in the jewelry industry know nothing about fashion. Jewelry follows fashion and it's a talk that explains how the fashions change and why they change and why at the beginning of the 20th century there was such a revolution in jewelry design.
SCAD: What's the relationship between jewelry and costume design in film and TV?
AP: With costume design, one of the important things is not so much to match the jewelry with the costume, but to match the jewelry with the age of the person. You might get someone in the 1930s in their 60s wearing a modern dress, but her jewelry would be 20 or 30 years older than that. It wouldn't be up to date because most people buy their jewelry in their 30s, 40s and 50s when they look their best. Using Maggie Smith's Downton character the Dowager Countess as an example, all her jewelry would have been Victorian and Edwardian pieces. She would not have had Art Deco piece. Sometimes you see period dramas where you have a matron wearing modern jewelry and that's totally wrong. It's like if you can imagine someone in their 60s today wearing someone like Stephen Webster. It wouldn't happen or it would be very unusual.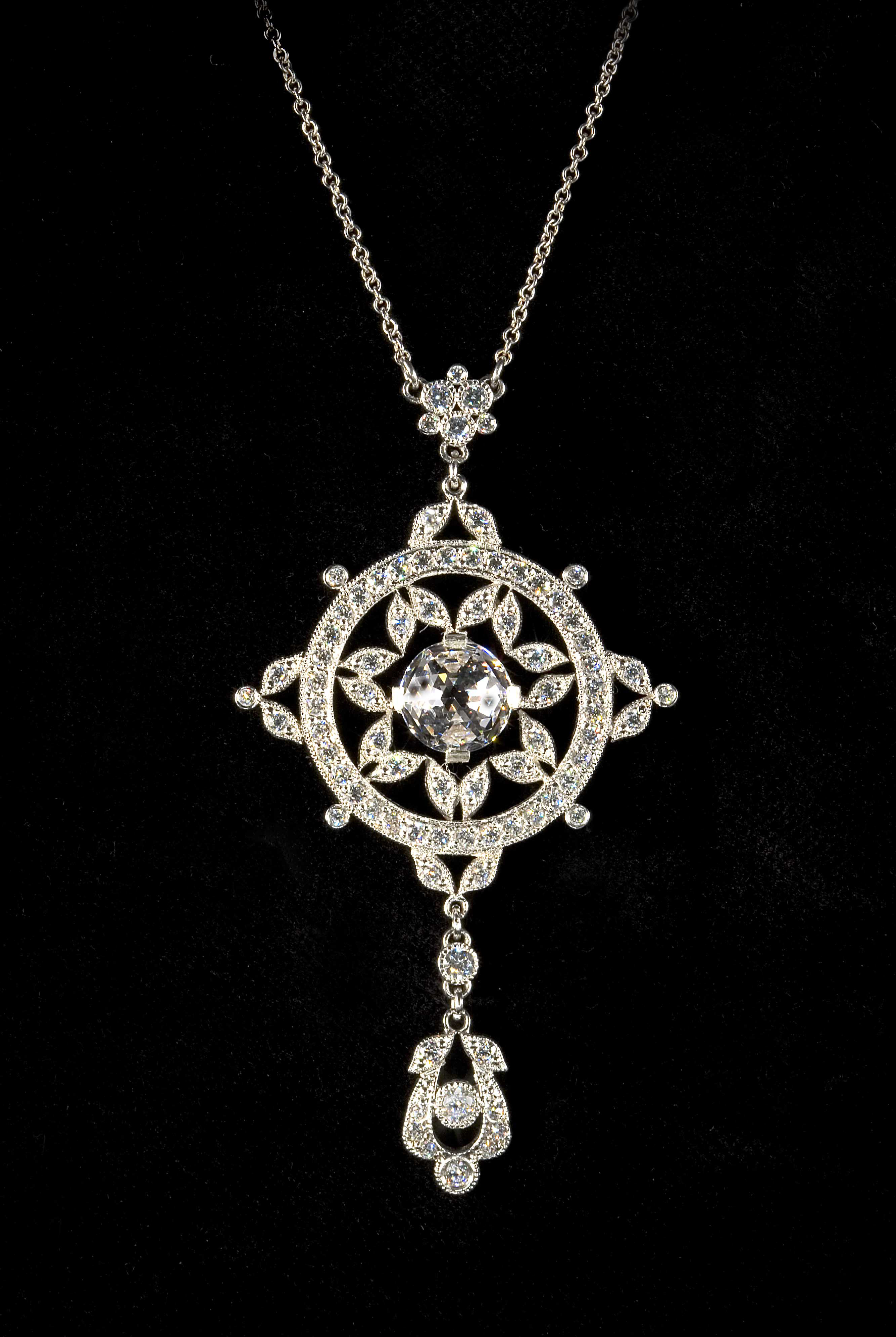 Necklace for Dowager Countess of Grantham that was worn at a formal dinner along with a choker. This style and combination is typical of the late Victorian or Edwardian period.
SCAD: How does your jewelry aid the development of Downton's characters?
AP: The jewelry is more of a background really because it's supporting an image. It was never meant to take the characters over. For example, Cora, who is the American heiress, she would have had very large jewelry, diamond pieces to hold her own against the English aristocracy who had some very large pieces themselves. At that time, England was a very wealthy country because it had an empire and lots of money was coming in. So the families were able to afford these very lavish pieces of jewelry. So the jewelry is more of a frame for the character rather than part of the character. It's a little bit of decoration to enhance the character.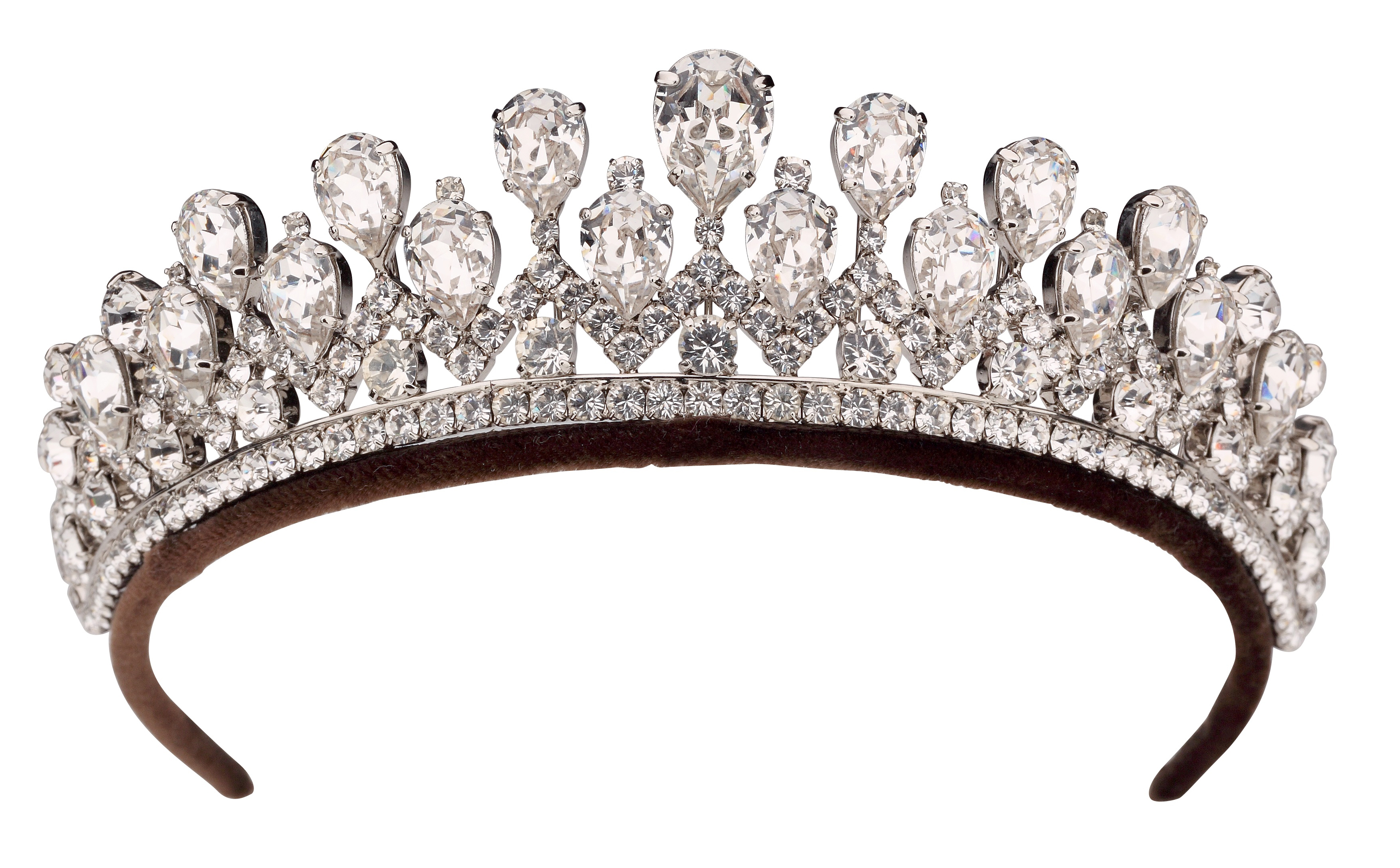 Tiara made for Cora of pear shaped diamonds. This is a very dressy tiara worn for court and, being an American heiress, Cora would have come to England with a lot of diamonds as an indicator of great wealth.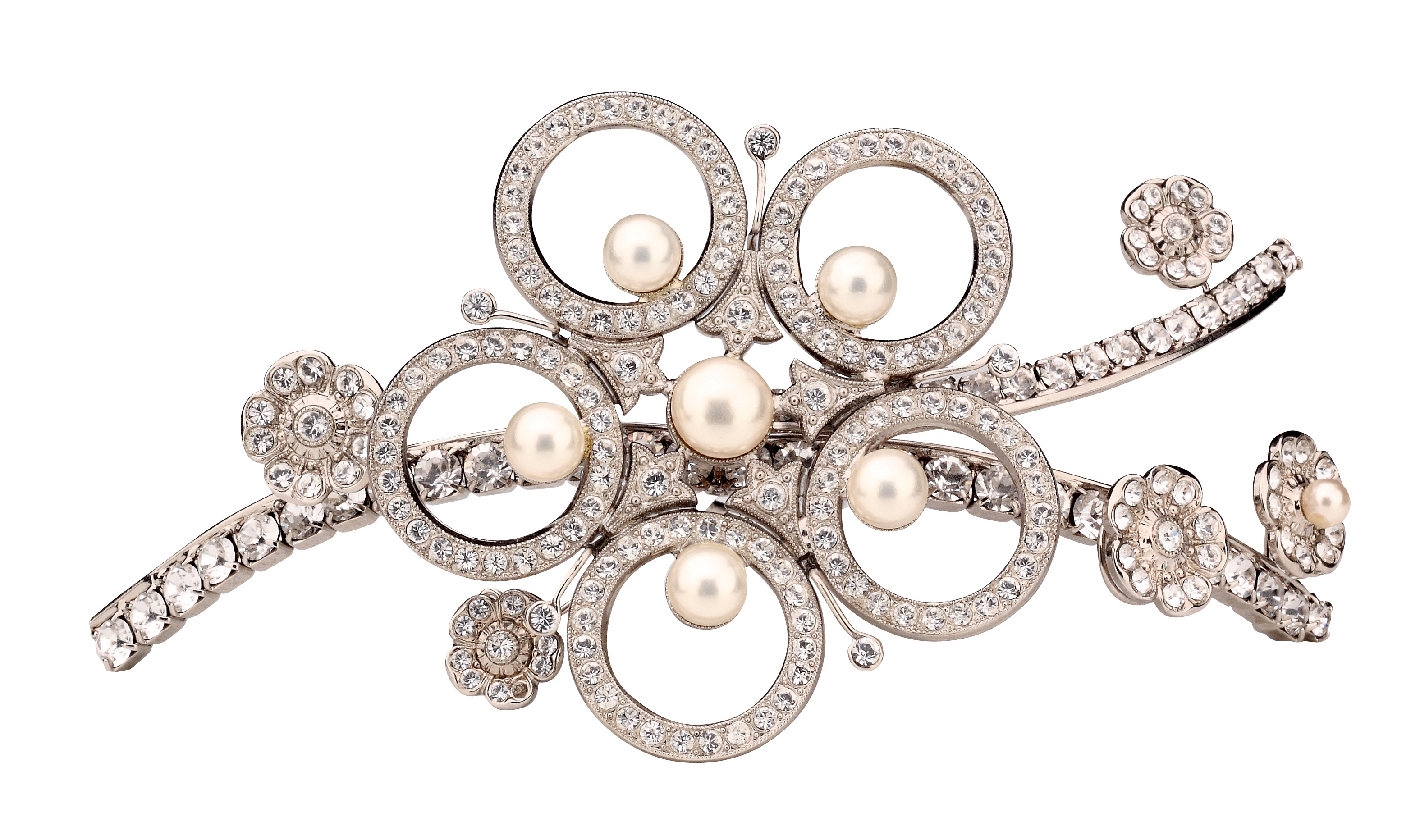 Hairpiece made for Cora. She wore this tucked in back of her hair for dinners at home. Because of the eclectic influences, such as exotic countries, during the Art Deco period this design was based on a Japanese plum blossom.
SCAD: Do you loan pieces to the production or are they commissioned?
AP: Some of the early pieces were ones that I already had in stock, but some of the pieces, particularly for the presentation of court and Lady Mary's feather piece, they were made specifically for the character. The one for Caroline McCall, the show's costume designer, she basically said, "This is the period, this is the person, this is what's happening. What do you think needs to be done?" There is one particular tiara, the one Queen Mary was wearing during the presentation, and when it came to two days before shooting I had a panicked call from Caroline who said, "We need her tiara to be bigger because Cora's is going to be bigger than the queen's and it does not look good." So I spent 24 hours on the new crown and delivered it two days later.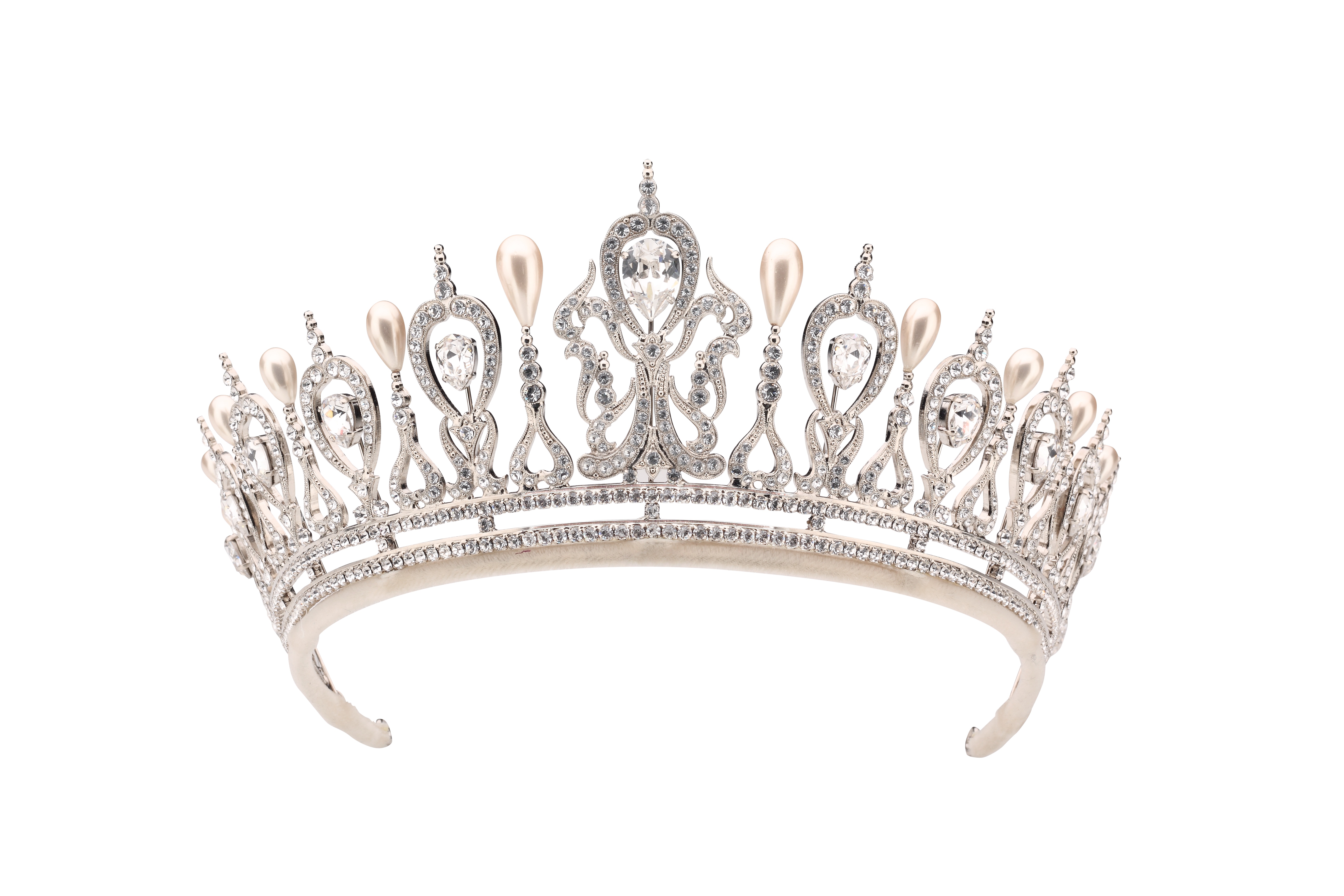 Tiara that Queen Mary wore during the court presentation. Closely resembling a crown, this piece had to be very big and grand because she is the queen. Pearls were very expensive during these times, and a matched set of pear shaped pearls would have been out of reach for most everyone except royalty.
Maggie Smith is very specific on her jewelry. She's particular about her character. I was concerned about what she would think about the choker and the tiara. And when it was shown to her she said, "Oh it's wonderful, it's exactly what I want," I was relieved because it could've been a case of making something else.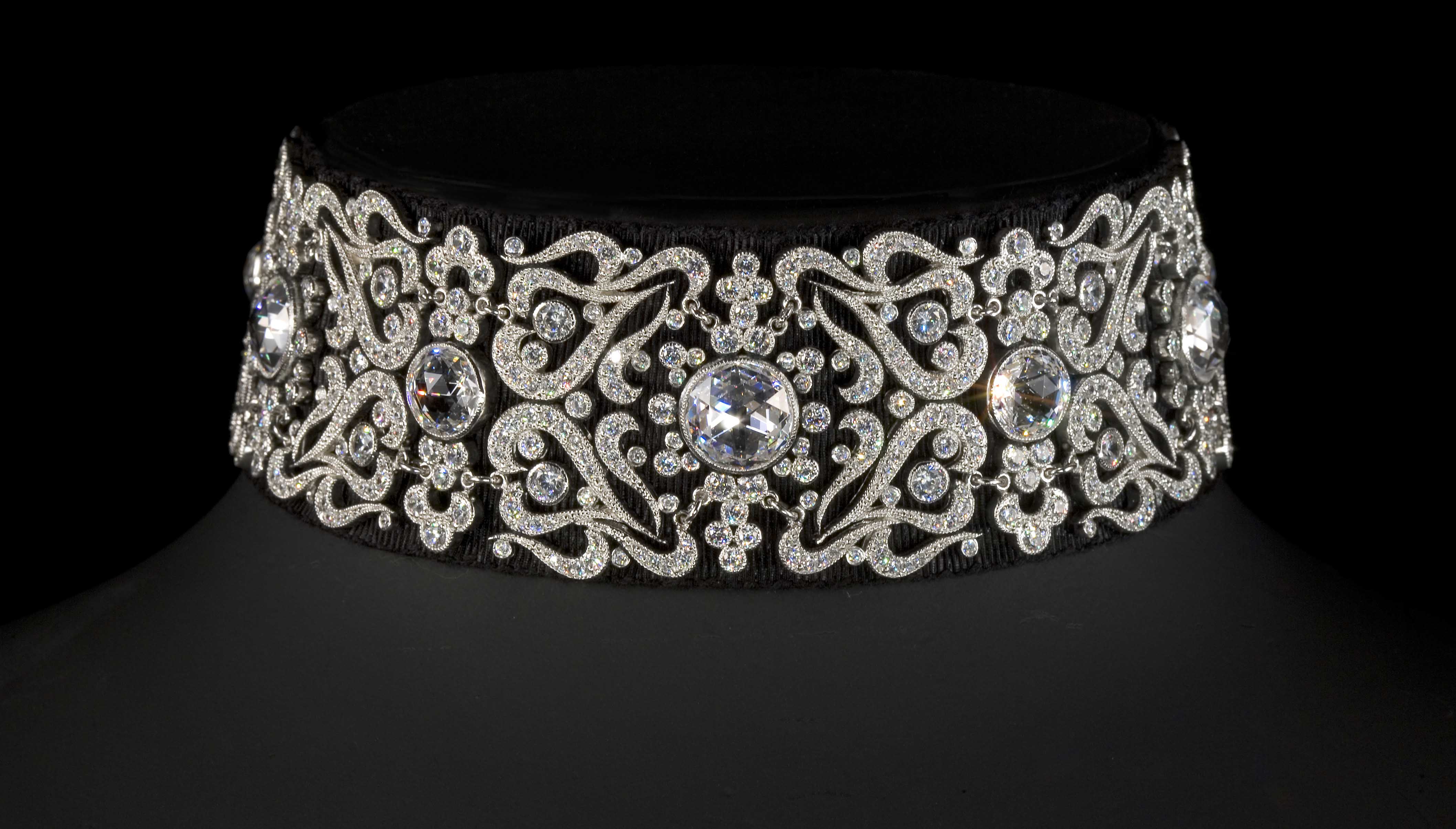 The Dowager Countess of Grantham's signature choker. She wears this in almost every scene, as she models herself on Queen Mary and Queen Alexandra (who were both very into chokers). The style is Late Edwardian/Belle Époque and is typical of a piece that a wealthy man would have bought for his wife while she was in her 30s.



The choker is a big piece of jewelry that shows wealth, and while it is not considered blindingly flashy or ostentatiously vulgar, it is something she would have used almost as "armor" to show the world her social and financial status.
SCAD: What are these pieces worth or is it a matter of worth?
AP: The most expensive thing that goes into them is time. A lot of the stones are especially cut for me so that the cuts are correct. For example, a 1930s piece would have a different style of cut than a piece from the Victorian times. So quite often you find that when films loan real jewelry that it's too bright. Under the lights in the studios the stones are too dazzling, so they have to be dulled down. Costume jewelry works best up under film lights because it's not as bright as diamonds. Diamonds are blinding. There's a particular tiara that Judy Dench wears in the film "Mrs. Henderson Presents" that is emeralds and crystals. In the studio I toned them down with graphite, which makes the stones look darker and can be washed off, because under the lights they were too strong. The pieces have to be tailored to the filming. Also, insurance on jewelry is too expensive, so studios tend to commission very good costume jewelry.
SCAD: We saw your quote: "You can't have fun with diamonds." You must be joking.
AP: Seriously. It's because if you have a $25,000 pair of earrings you will spend the entire evening wondering if they're still on, or whether the event you're going to justifies the occasion to bring them out. If you have a string of pearls for $10,000 or glass beads, which one are you going to where more often?
SCAD: What are the most memorable commissions that you've made?
AP: A friend of mine was making Michael Jackson a jacket. I had made a very large piece of jewelry for me - a shoulder jewel - that I was going to wear to a party. She saw it and she said, "I know someone who would like that, but can you make it bigger?" And that's how that commission came about. That was a fun one. The other is a shoulder strap that runs down the back of a dress. It was for an Oscar lady. I can't really say who. It went through the dress designer.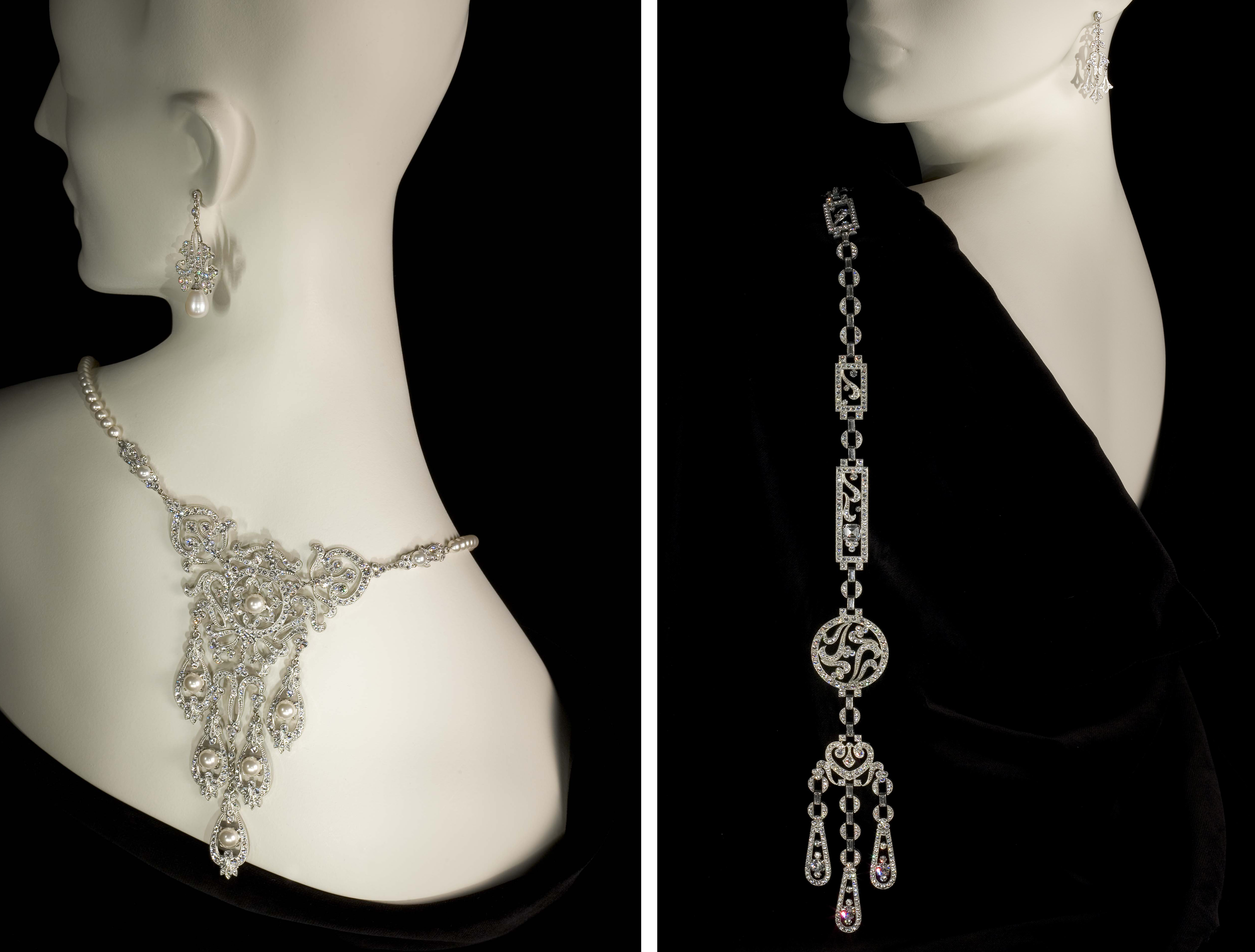 SCAD: Mentorship is a big part of your story. What do you tell your mentees?
AP: One is to keep at it. The second one is don't blow the profits. You always have bills coming in. When you start off and the money comes in, it seems fantastic and it builds up and builds up. You've got to put something aside every month, just in case something happens because everybody's business goes down. It's never an easy ride. Also, there are two things you've got to listen out for when dealing with clients. One is, "Don't worry, I'm very easy to please." You've missed out on a word. I'm "not" easy to please. And the second one is, "I don't mind how much it costs, just go ahead." They don't mind how much it costs, but they're not going to pay you. You've got to give them a price. Otherwise they're going to refuse to pay.
SCAD: What designers influence you?
AP: I'm rather ashamed to say it, but Cartier. Cartier from about 1900 to about 1939. They were outstanding. So much better than they are today. At that time the company was run by Louis Cartier himself and he was the driving force. They were modern. Now the company is not a driving force because it has so much history to rely on. So like Stephen Webster, he's a fantastic designer. Cartier would never produce pieces like that because it's too groundbreaking and they'd alienate their traditional customers that have been with them for 30 or 40 years. Lalique was also groundbreaking. I wish my brain worked like that because he was a genius in every single way. From a jeweler's point of view, Cartier is wonderful for technical reasons and commercial reasons, but for sheer artistic extravagance and amazement Lalique is unsurpassable.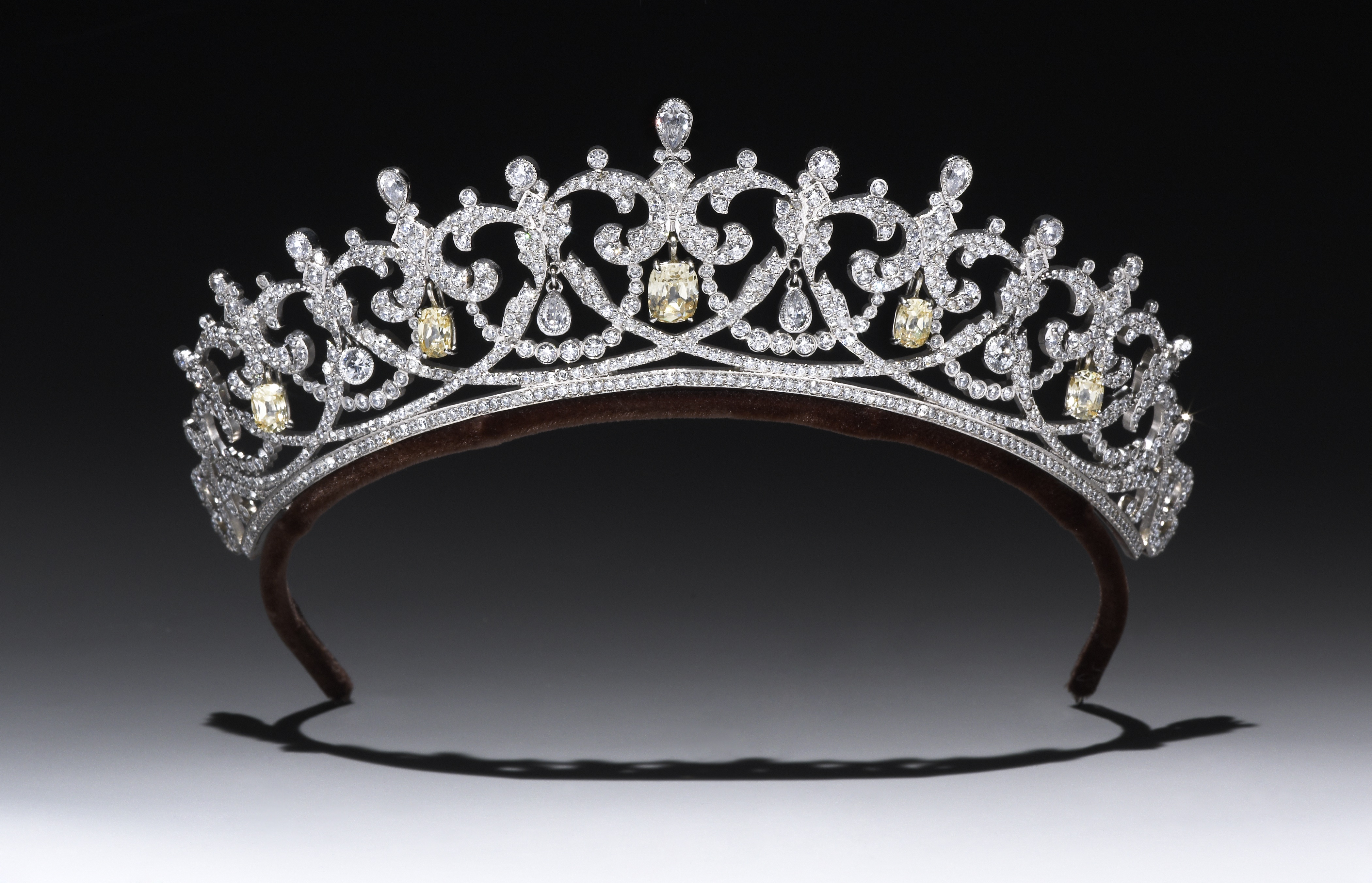 Tiara for the Earl of Grantham's sister for the post court presentation reception at their London house. This piece is a copy of an actual Cartier tiara that was worn by a titled English woman and is reflective of the appropriate style that an extremely wealthy woman would have worn during that period.
SCAD: What's next for you?
AP: I'm going to start doing some more lavish pieces. I want to do impact pieces. So I'm being influenced by the Duchess of Cambridge's things at the moment; big necklaces. I love big necklaces, so there's some big necklaces coming out. I'll also be working with English dress designer Sharon Cunningham. She did a lot of bridal stuff years ago and wants to do more couture things, and she's a beautiful cutter. We want to create wonderful gowns incorporating lavish jewelry. 
And that takes us back to where we began, fashion and jewelry. Hear more from Andrew on April 30.