With the Winter Olympics in full swing, you'll forgive me if I have more on my mind than figure skating, ski slopes, and curling. After months of studying the impact Olympic Games have on our cities for my graduate thesis, "Olympic Theatrics on the Global Stage: Evaluating the effects of temporary and permanent event structures on historic urban landscapes," it's nearly impossible to acknowledge the Games at face value. As Sochi has already been marred by viral images of unfinished facilities and technical malfunctions at the opening ceremony, here are five things to think about while rooting on the talented athletes in Sochi.
1. The Olympics are no longer about sport
Instead, hosting the Games is an unsurprising justification for urban renewal efforts. Driven by financial and political motives, the Games provide opportunity for infrastructure improvements, economic gains through tourism, redevelopment schemes, and the city's self-promotion to the global audience. This approach is referred to as 'Olympic urbanism,' defined by identity, regeneration, and the intended legacy of the Games. While the participants demonstrate extraordinary feats of athleticism, the sporting events are a mere façade to the administrative agenda.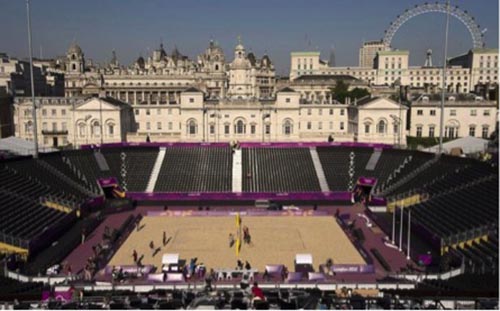 2012 London Olympic Games. Credit: Rex Features, Canadian Press.
2. Planning decisions have significant long-term effects
In designing for the Olympic Games, host cities have several options: reuse existing buildings, construct new permanent facilities, or create temporary structures for the short-term use. Athens (2004) and Beijing (2008) created a building stock of megastructures that have mostly been abandoned due to high maintenance costs and limited post-Game function. Olympic construction should include a feasible long-term use plan before a city is selected to play host.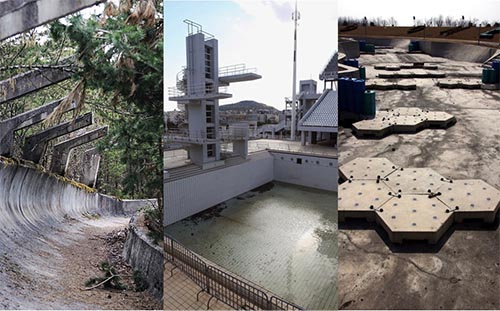 Olympic Abandonment: 1984 Sarajevo, 2004 Athens, 2008 Beijing. Credit: Huffington Post/Business Insider.
3. Hosting the Games comes at the expense of local residents
The Olympics are intended to be financed by fundraising efforts of the host city's local planning organization, but it is not uncommon for the tab to be unwillingly picked up by local taxpayers. As the Olympics have reached a mind-blowing height of cost, the expense paid by locals is not only financial but also includes environmental and social consequences. Planning should engage local community members and organizations with focus on the long-term benefit. Sochi's struggle with social equality and environmental conservation have been no secret while generating construction costs greater than any other Olympic Games in history: $51 billion compared to Beijing's $40 billion in 2008 (the most expensive Winter Games prior to Sochi were Vancouver's for $7 billion in 2010).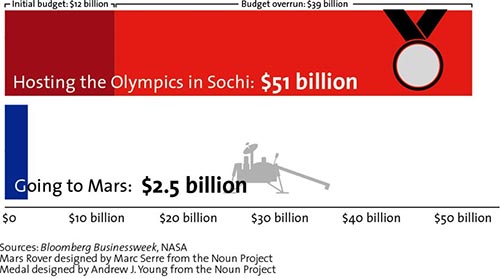 Credit: Mother Jones
4. The Olympics are detrimental to historic urban landscapes
Recent trends over the past 30 years favor mass demolition within the existing built environment to create a blank canvas for the Games. This tendency obliterates all historic integrity and sense of place specific to that region. With the need for large buildable area and little availability of open space, the Olympics are an undeniable catalyst for resident displacement. The dislocation of 6,000 people in London (2012) is seemingly minor compared to Beijing's (2008) 1.5 million people. Sochi has reportedly displaced 2,000 families in preparation for this year's event. The ideal solution would require host cities to implement a layering strategy to integrate new construction with existing heritage.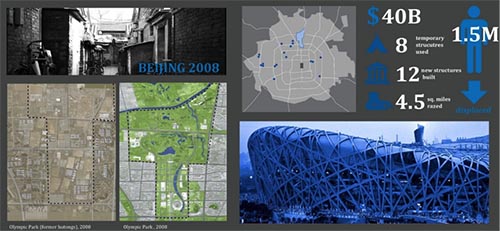 2008 Beijing statistics by David Trayte.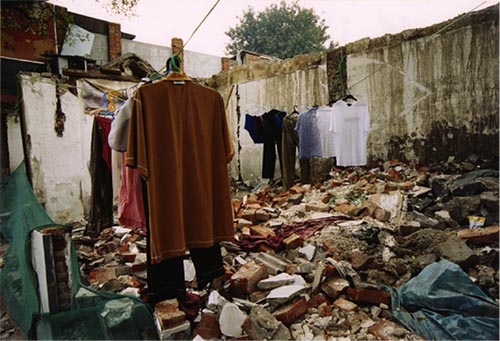 Historic hutong demolition by Jose Antonio Soria/CCCB.
5. The Olympics are not stopping anytime soon
The Modern Games have been held for almost 120 years without any signs of slowing. The Games are more often harmful to our cities than not, but it is important to acknowledge the lengthy Olympiad timeline that continues to grow. A sense of permanent Olympic identity should be evident in every host city, allowing the event to succeed while being sensitively integrated in the existing landscape. Only with the incitement of a preservation voice can the Olympic adage of "faster, higher, stronger" rise above displacement, destruction, and disregard.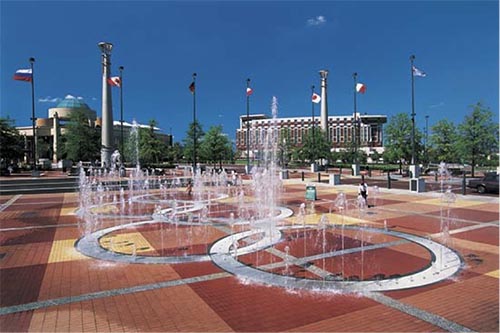 Atlanta's Centennial Olympic Park by Andrew Gunners, Getty Images.
David Trayte (B.F.A., Architecture, 2011; M.F.A. Historic Preservation, 2013) is a preservation specialist for an architecture firm in Cleveland, Ohio, where he also volunteers with cultural landscape initiatives. His preservation interests include modern heritage of the recent past, cultural landscapes, and the integration of contemporary design with historic resources.