Friday, April 19
Registration deadline
Thursday, April 25 
8 p.m.
Films in Forsyth: "Wreck-It Ralph"
Forsyth Park stage
Friday, April 26
11 a.m. to 4 p.m.
Registration
Family and Alumni Weekend packet pickup
Parent and family tent
3-5:30 p.m.
SCAD building tours
Open houses at select academic buildings
Looping shuttle service will be provided to and from Forsyth Park at Gwinnett Street
5:30-8 p.m. 

Family and Alumni Weekend barbecue
Featuring live band The Accomplices
Parent and family tent
8 p.m.

Films in Forsyth: "Willy Wonka & the Chocolate Factory" (1971)
Forsyth Park stage
Saturday, April 27
8:30-9:30 a.m.
Shuttle from Forsyth Park at Gwinnett Street to Trustees Theater
8:30-9:30 a.m.
Family and Alumni Weekend breakfast
Trustees Theater, 216 E. Broughton St.
9:30-10:30 a.m.
Deans' panel discussion
Trustees Theater, 216 E. Broughton St.
11 a.m. to 5 p.m.
32nd annual SCAD Sidewalk Arts Festival
Enjoy festival activities and chalk masterpieces. Chalk art competition winners will be announced at 4 p.m.
Forsyth Park 

11 a.m. to 4 p.m.
Registration
Family and Alumni Weekend packet pickup
Parent and family tent
11 a.m. to 4 p.m.
Lunch
Available from various restaurant stations at Sidewalk Arts Festival for a minimal fee. The student meal plan is not valid with Sidewalk Arts Festival restaurants.
Seating will be available in the parent and family tent, south of Forsyth Park Café
1-4 p.m.

Art and design demonstrations
Parent and family tent
1-3 p.m.

Ice cream float bar
Parent and family tent
5:30-8 p.m.

Silver & Ink Photography Reception
Gutstein Gallery, 201 E. Broughton St.
Sunday, April 28
Noon to 5 p.m.
Discounted admission to SCAD Museum of Art
A special rate of $5 will be granted to guests with a Family and Alumni Weekend pin (Sunday only).
SCAD Museum of Art, 601 Turner Blvd.
All Family and Alumni Weekend events are free to your enrolled SCAD student.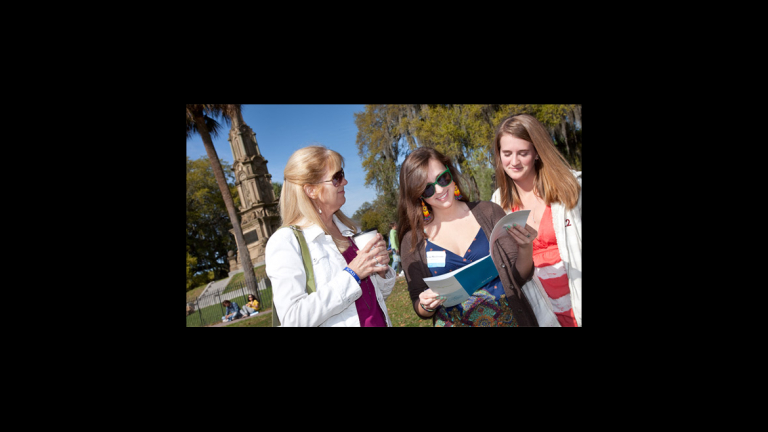 SCAD Travel services offer special rates for student, parent and alumni accommodations. Contact one of the suggested hotels and inquire about the SCAD rate availability.