Portfolio and writing guidelines
When exploring an education in art or design, students may submit a portfolio as part of the application process. Although portfolios and auditions are not required for undergraduate admission, applicants are strongly encouraged to present performing arts, riding, writing or visual arts portfolios or to audition when possible to enhance the application file and to be considered for scholarships. Since undergraduate portfolio submissions are for scholarship consideration and do not ever adversely affect the likelihood of a student's acceptance, submitting a strong portfolio can be of enormous benefit to students. Use this guide as a resource for building a portfolio or improving one you've already started.
Portfolio submission
SlideRoom allows you to upload files for submission to the admission department as a portfolio. If you have not yet applied to SCAD and would like your work reviewed for admission or scholarship consideration, begin the admission process by applying.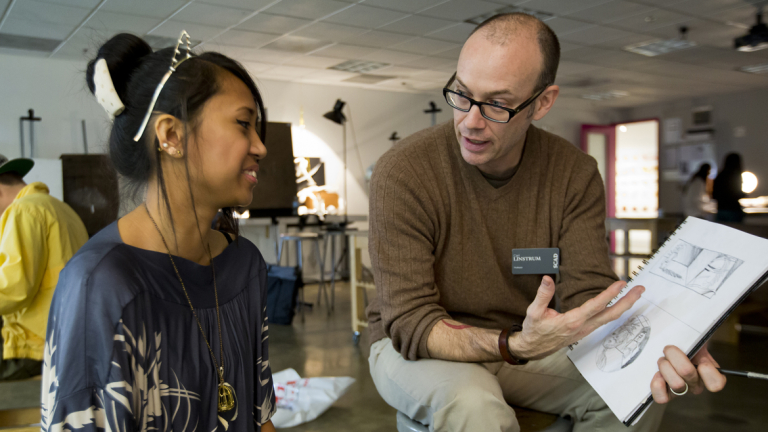 Choose your work wisely
Applicants are encouraged to submit only their best work. It is not necessary to add extra work if it is not consistently strong. Portfolio submission for scholarship consideration is a one-time submission. Applicants should not submit work copied from film, television, photographs, magazine/book illustrations or other sources. All materials submitted should be clearly labeled with applicant's name and contact information and cannot be returned.
See more submission requirements
What is a portfolio?
A portfolio is a collection of your strongest artistic work that is presented as professionally as possible. Depending on your area of talent, your portfolio can take one of the following forms:
A visual arts/design portfolio should include 2-D and 3-D works that demonstrate both creativity and a grasp of basic artistic techniques and principles.
A portfolio composed of digital or time-based media should demonstrate a basic mastery of the concepts of composition as well as effective use of software or other relevant digital tools.
A performing arts audition, whether performed on-site or submitted digitally, should demonstrate strong characterization, energy and physical commitment to the role.
An equestrian riding portfolio should demonstrate the applicant's skill with riding, jumping and/or dressage as well as experience and level of performance.
A writing portfolio should demonstrate the applicant's ability to create clear and compelling copy across a variety of genres.
View all portfolio guidelines
Portfolio-based course exemption
Admitted new students may request and submit documentation for portfolio-based course exemption through the admission office. Currently enrolled students should request and submit documentation for portfolio-based course exemption to the appropriate department chair. Documentation should demonstrate mastery of skills and sufficient knowledge of content taught in a specific university-level course. A student who is exempted from a required course does not earn academic credit for that course, but may substitute a course from the same subject area as approved by the department chair to fulfill the number of hours required to complete degree requirements.