Transfer student admission information
SCAD provides transfer students with the resources and support to make a successful transition to the university and SCAD transfer evaluators work closely with students to maximize transfer credit and apply it to SCAD courses of study. As SCAD undergraduate students, transfer students master the fundamentals of a field while working toward an individual specialization, honing personal creative visions in a professional context. Student life at SCAD is vibrant and offers a variety of activities for all interests, including exhibitions, athletics, student media, academic and hobby-based clubs, concerts, festivals, symposia, conferences, performances and more. Students thrive in an inspiring environment among talented peers and mentors.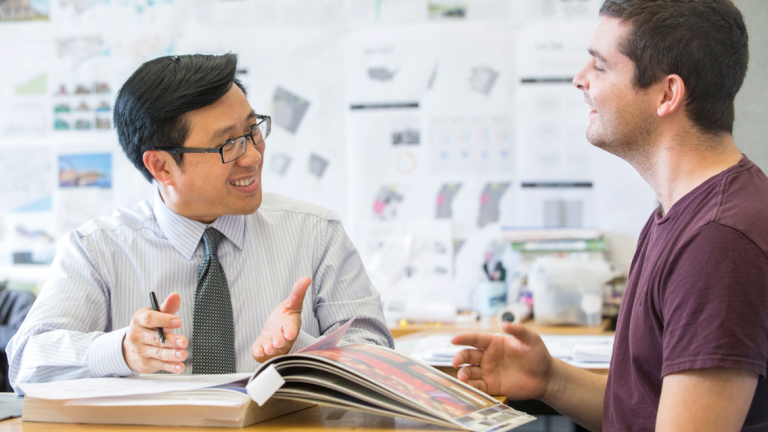 Before you apply
SCAD accepts applications on a rolling basis; new students may enter any quarter. To ensure priority and adequate time for processing, early application is encouraged.
Once you have applied, admission advisers are available to assist you and answer questions about admission, housing, financial aid and scholarships. Transfer advisers are also available to address questions regarding transfer credit and registration.
Information for applicants
After acceptance, transfer students work with transfer advisers to determine how earned college credit may apply toward degree requirements at SCAD. After the enrollment fee has been paid, your transfer adviser may also register your first-quarter classes.
The easiest way to find out about your financial aid options is contact your admission adviser. Admitted students may be eligible for Federal Stafford student loans, the Pell Grant, federal work-study or private alternative loans, SCAD-funded scholarships or grants (awarded to eligible applicants after acceptance to the college), as well as outside scholarship opportunities.
Although students are not required to live in SCAD housing, living in residence halls gives students the opportunity to foster personal growth, form lasting friendships and take in the full university experience. SCAD's residential communities encourage educational, social, emotional, intellectual and cultural development.
After enrollment
Admission advisers and transfer advisers provide assistance to students wishing to transfer to SCAD. Admission advisers can assist you and answer questions about admission requirements, housing, financial aid and scholarships. Transfer advisers address questions regarding transfer credit and registration.
Enrolled transfer students are assigned a professional staff adviser and a faculty adviser appropriate to their chosen major. They are required to meet with their professional staff adviser during their first quarter of enrollment. Transfer students should also meet with their faculty adviser on a quarterly basis.
Transfer credit
After a student is accepted, transfer advisers review transcripts to determine which classes have the potential to transfer to SCAD. Once the review is completed, students are emailed the transcript evaluation detailing the results of the review. Credit may also be given for appropriate AP, Caribbean Advanced Proficiency Examinations, DANTES Subject Standardized Test or College Level Examination Program scores. SCAD also has policies to award credit based on A-level and International Baccalaureate grades.
Articulation agreements
SCAD has signed transfer articulation agreements with several community colleges. Students complete specific associate degrees at their respective colleges and transfer into SCAD with advanced standing as a Bachelor of Fine Arts or Bachelor of Arts candidate.