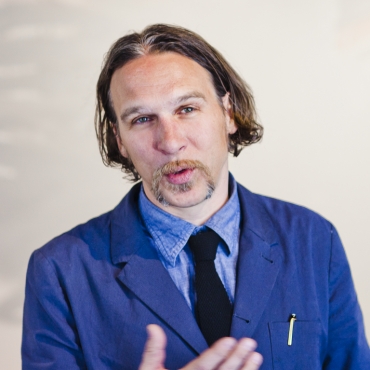 Todd Schroeder
B.F.A., painting, Ohio University, 1990
M.F.A., painting and sculpture, Kent State University, 2002
Schroeder is inspired by being engaged in the world of ideas and serving as a catalyst for students to expand their approach to thinking about art and its possibilities. The problem-solving side of production also inspires him, working with students to figure out how to make things.
Todd Schroeder | Painting professor
Awards, recognition and honors
Full scholarship and teaching assistantship, Kent State University; Margaret Brown Krecker Prize; purchase prize by Trisolini Gallery, Ohio University; Murray P. Stern Memorial Scholarship, Dean's Scholarship, School of Fine Arts Scholarship, Ohio University
Organizations
Board of directors, Spaces Gallery, Cleveland, Ohio
Previous Positions
Taught art, drawing and design at Kent State University and Oberlin College in Ohio; freelance artist, art installation, studio manager, New York City
Publications and presentations
Schroeder's work has been reviewed in The New York Times, The Philadelphia Inquirer, The Cleveland Plain Dealer, TimeOut/New York magazine, Savannah Magazine and many other publications.