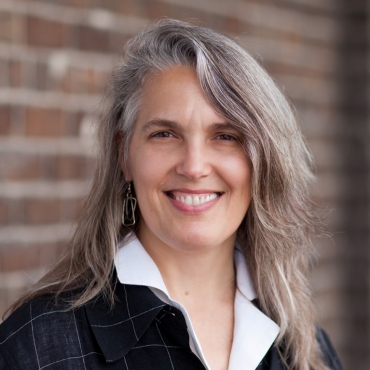 Julie Rogers Varland
B.A., Spring Arbor University, 1982
M.Arch., Columbia University, 1991
"Teaching is also learning, and is both a career and practice of curiosity and pursuing the questions of 'why' and 'what if.' Teaching connects one with perpetual hope, quest, and energy from the students. It is a career of promise of what the world can be, rooted in creative evaluation and wisdom of what the world has been. Among the benefits of teaching, such as being inspired by the students' perpetual youthful energy and the spirit of hope, it is the added benefit of taking such care with information and discernment of the world around that perhaps is most important because I am a college teacher as well as a designer. I pay attention to things in the world, from its past history, to current events and the present, and think about implications and possibilities for the future in keen ways, because this information is my teaching material. In short, teaching motivates attentiveness to life and all of its facets. I strive to pass on these skills to my students, as individuals, citizens and designers."
Julie Rogers Varland | Architecture, urban design professor
Awards, recognition and honors
Presidential Fellowship Grant, "Interdisciplinary Research of Japanese Architecture, Materiality, Space and Design: Translations of the Traditional into the Contemporary," SCAD, 2008.
Presidential Fellowship Grant, "Choreography of Space," SCAD, 2003.
"Homogenization"; installation and performance along with Joel Varland, ARTillery Punch and RenaZance, for the STARland Arts Complex, Savannah; Fall 2004.
"Amphibious" exhibition for Main Street/Art Street (competition winner). Installation in downtown Buffalo, New York, storefront; 1998. Exhibition 1998-2000.
Faculty Award, voted by AIAS - State University of New York at Buffalo, 1994.
Organizations
Association of Collegiate Schools of Architecture; U.S. Green Building Council; Southeastern College Art Conference; Creative Coast Alliance; Savannah Citizen Advocacy Project; Coastal Heritage Society
Previous Positions
Clinical assistant professor, department of architecture, State University of New York at Buffalo; visiting assistant professor, department of architecture, State University of New York at Buffalo; architectural design and construction, Savannah; architectural design and construction, Buffalo, New York; architectural designer and owner, Datum Design & Construction, Inc., Massachusetts and New York; design consultant and presentation team member, Hamilton Houston & Lownie; Buffalo, New York; architectural designer, B.O.A., Buffalo, New York; architectural designer, Fahy Engineers and Designers, Rochester, New York; architectural designer, William O'Neal Architect, New York City
Publications and presentations
Articles
"the SPACE of Robert Wilson's Theatrical Works," Intersight, Spring 1997
"The Qualitative and Quantitative World of Robert Wilson's Theater," Conference Proceedings, Bridges 2010, Pecs, Hungary
"Homogenization", Drain Magazine, Issue 01: Silence, 2004
Presentations
"Story Savannah: Ethnography + Design," SECAC, Southeastern College Art Conference, Richmond, Virginia, October 21-24, 2010
"The Qualitative and Quantitative World of Robert Wilson's Theater," Bridges 2010, International Conference, Pecs, Hungary, July 23-28, 2010
"Engawa and More: Japanese Concepts and Architectural Behaviors of Liminal Spaces," SECAC 2009 Annual Conference, Mobile, Alabama, October 22-24, 2009
"The Color Room: A Phenomenological Approach to Color," at the Annual College Art Association Conference (CAA), Toronto, Ontario, February 25 - 28, 1998
"The Electronic Sanctuary," at the Sixth International and Interdisciplinary Conference on Built Form & Culture Research, Making Sacred Places, the University of Cincinnati, College of Design, Architecture, Art, and Planning, October 16 - 19, 1997