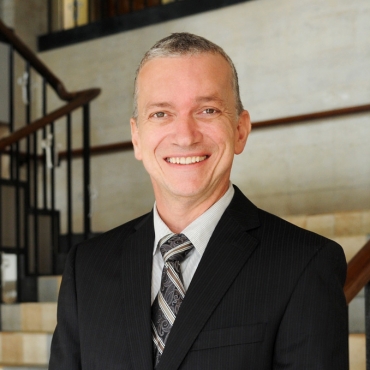 Carl Johnson
B.F.A., Rockford College
M.F.A., School of the Art Institute of Chicago
My teaching philosophy focuses on inspiring students to explore their own creative voice while maintaining a critical engagement with the artistic traditions that have shaped contemporary art theory and practice. I believe that in our increasingly trans-national and trans-cultural world that we should encourage students to expand the parameters of their artistic journey to include a more global perspective. During my years of teaching in Taiwan as a Fulbright instructor, as well as my experiences at Northwestern University and the University of Wisconsin I have studied the teaching practices of my colleagues while also examining the influence these teaching methods have had on the creative output of their students. As an instructor, I work to incorporate these diverse pedagogical approaches into my classroom, challenging students to reconsider their cultural assumptions about the definition and responsibilities of being an artist.
Carl Johnson | Foundation studies professor
Awards, recognition and honors
Wisconsin Regional Artist Association, 2010; Youth Service Award, 2010; The Alumnae Association of Northwestern University, research grant, 2007; Puffin Foundation, Ltd., performance grant, 2006
Previous Positions
Carl Johnson is a visual artist and painter whose body of work includes sculpture, installation, theater stage design and performance art. Before coming to SCAD, Johnson taught at Northwestern University, the University of Wisconsin and was a Fulbright instructor in Taiwan. Johnson's synthesis of his unique disciplines has spontaneously and organically generated a new visual language within the creative practice. Johnson's work blurs the boundaries between multiple disciplines, allowing thought and emotion to intersect and become amplified through the relationship of his unique visual elements.
Publications and presentations
Exhibitions and/or presentations:
"True Live," Gallery 450 at UW-Marshfield/Wood County, Marshfield, Wisconsin, 2010
"The Pillowman," Hallie Flanagan Theatre, Grinnell College, Grinnell, Iowa, 2010
"How to Build a Robot," Blue Highways Building, Richland Center, Wisconsin, 2010
"Flowers of Evil," National Experimental Theatre, Taipei, Taiwan, 2010
"Eat the Rich," Watermill Brooklyn Gallery, Byrd Hoffman Watermill Foundation, Brooklyn, New York, 2009
"Merging Emerging-Art, Utopia, Virtual Reality," Museum of Contemporary Art (MoCA), Shanghai, China, 2009
"Riz Souffle," Centre Culturel Robert Desnos, Ris-Orangis, France and the Theatre Moufftard, Paris, France, 2009
"Riz Flambe," Centre Culturel Robert Desnos, Ris-Orangis, France, 2009
"One Hundred Nights' Dreams," National Experimental Theatre, Taipei, Taiwan, 2009
"Enemy of the People," The Struble Theatre, Northwestern University, Evanston, Illinois, 2008
Guest Lectures and Artist in Residence:
Artist in Residence, Department of Theatre and Dance, Grinnell College, Grinnell, Iowa, 2010
Artist in Residence, The Watermill Center's-International Summer Arts Program, 2009
Painting-Performance: Between The Visual and Performing Arts, Shih Chien University, Taipei, Taiwan, 2008
Contemporary Classical: Fine Arts in a Post-Modern World, The Central Academy of Drama, Beijing, China, 2007
BGSU: Major Event, The Department of Theatre and Film, Bowling Green State University, Bowling Green, Ohio, 2007
Painting - Performance, the Department of Fine Arts and The Department of Theatre, Loyola University, Chicago, Illinois, 2007
Rethink-Remake: Issues of Creativity and Invention, The First Year Program, The School of the Art Institute of Chicago, Chicago, Illinois, 2006
International Conference on Creativity and Innovation in Pop Culture, The Fashion Creativity Research Lab, Fu-Jen Catholic University, Taipei, Taiwan, 2005
Theatre and Media-based Art, Department of Art and Art History, Yuan Ze University, Taipei, Taiwan, 2005
Artistic Survival in the United States, The Foundation for Scholarly Exchange, Taipei, Taiwan, 2004