Press Release
/
July 30, 2012
Students receive free access to Adobe Creative Suite Master Collection, Adobe Photoshop Lightroom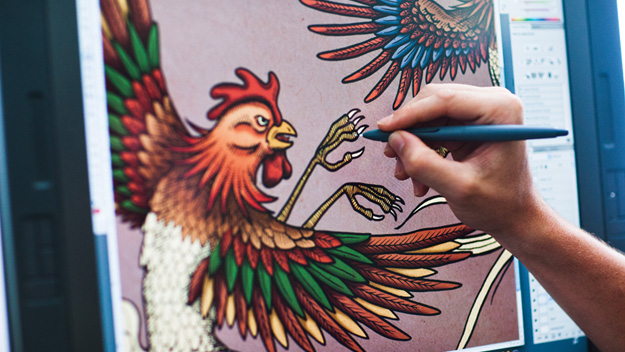 SAVANNAH, Georgia —
Thanks to a new enterprise licensing agreement between SCAD, The University for Creative Careers, and Adobe, students enrolled at the university's four global locations in the United States, France and Hong Kong and online via SCAD eLearning now have free, universal access to the most advanced design software in the world: the full Adobe® Creative Suite® Master Collection and Adobe Photoshop® Lightroom®.
The software is available to the university's more than 11,000 students at no extra charge as long as the students maintain an active status. SCAD students can download the bundled software to one personal computer for free, while students without personal computers can use the software through any of the computers in the university's technology labs. SCAD faculty and staff will have the software automatically updated to their university-issued computers this fall.
"Our new partnership with Adobe is yet another example of SCAD's strong commitment to prepare talented students for professional, creative careers," said Andrew Fulp, SCAD vice president for educational technology. "Our ultimate goal is to create a virtualized learning environment where every student, professor, classroom and computer lab has the same technology advantages regardless of location and major."
The Adobe Creative Suite Master Collection features 14 cutting-edge software programs such as Photoshop Extended, Illustrator, InDesign, Premiere, Flash Builder and After Effects, among others.
"Adobe Creative Suite software gives students the opportunity to express their ideas and knowledge through a variety of digital channels and media while mastering essential communication skills they will use in the workplace," said Trevor Bailey, director or worldwide education, Adobe. "By leveraging the Adobe Enterprise License Agreement program, institutions such as SCAD are choosing the most cost-effective, streamlined way to equip students and faculty with leading technology critical for success in school and beyond."
Adobe representatives plan to visit SCAD's locations in Savannah and Atlanta, Ga., throughout the upcoming academic year to provide students, faculty and staff with demonstrations and advanced tutorials on the software programs. These events will be streamed to all SCAD locations and recorded for further student and faculty access.
"With this strategic alliance between SCAD and Adobe, students in the university's film and television department in Savannah can collaborate more closely with advertising students in Hong Kong, and our interactive design and game development students in Atlanta can work seamlessly with visual effects students studying in Lacoste," said Fulp, citing potential examples from SCAD's more than 40 majors and nearly 60 minors. "Today's global market and creative industries demand this level of technological expertise and collaborative spirit. Our students are more than ready for the challenge."
SCAD: The University for Creative Careers
The Savannah College of Art and Design is a private, nonprofit, accredited institution conferring bachelor's and master's degrees at distinctive locations and online to prepare talented students for professional careers. SCAD offers degrees in more than 40 area of study, as well as minors in nearly 60 disciplines in Savannah and Atlanta, Georgia; in Hong Kong; in Lacoste, France; and online through SCAD eLearning.
SCAD has more than 20,000 alumni and offers an exceptional education and unparalleled career preparation. The diverse student body, consisting of more than 11,000 students, comes from all 50 United States and more than 100 countries worldwide. Each student is nurtured and motivated by a faculty of more than 700 professors with extraordinary academic credentials and valuable professional experience. These professors emphasize learning through individual attention in an inspiring university environment. SCAD's innovative curriculum is enhanced by advanced, professional-level technology, equipment and learning resources and has garnered acclaim from respected organizations and publications, including 3D World, American Institute of Architects, BusinessWeek, DesignIntelligence, U.S. News & World Report and the Los Angeles Times.