Feature
/
Nov. 8, 2013
South's Top Industrial Design Programs at Savannah College of Art and Design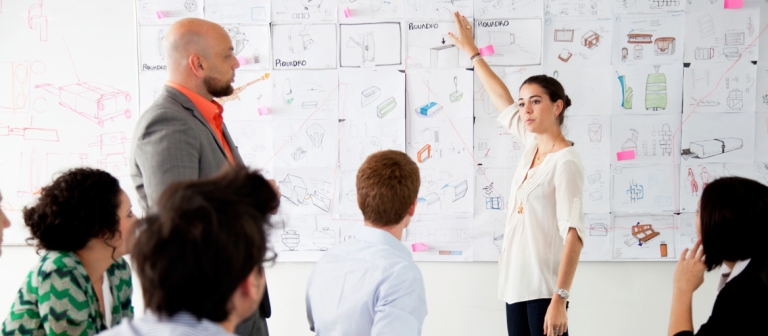 DesignIntelligence names SCAD's undergraduate, graduate programs the region's best in latest rankings
The Savannah College of Art and Design's graduate and undergraduate industrial design programs are ranked No. 1 in the South in DesignIntelligence's 2014 edition of "America's Best Architecture & Interior Design Schools."
"DesignIntelligence's selection of SCAD is a prestigious affirmation of the quality of our faculty, students, and curriculum, and the success of our alumni," said Paula S. Wallace, SCAD president and founder. "Many congratulations to Auburn and Georgia Tech on being ranked as well. It's an honor to be recognized among such distinguished peers."
SCAD provides students an immersive, authentic learning experience with external partners both in the classroom and via the SCAD Collaborative Learning Center. Through real-world design challenges, SCAD students create innovative design solutions that companies specifically seek.  SCAD industrial design students have collaborated with top companies, including The Coca-Cola Company, Red Bull, Dell, Fossil, Newell Rubbermaid, KICKER, Kids II®, Johnson Controls Inc., JCB, and Freescale. These partnerships often result in internship and job opportunities for students.
"Through their extensive, hands-on work with global, multinational companies from Atlanta to Hong Kong to Treviso, Italy, SCAD industrial design students graduate ready to solve design challenges," said Owen Foster, chair of industrial design at SCAD. "From innovating handheld devices to earth movers, SCAD students earn a wealth of practical experience and knowledge, giving them a definite professional edge as they enter the design world."
Joe Jasinski, global director of design for Dell Computers, said: "I have been doing projects with SCAD for many years, and it's well deserved that they are recognized for the innovative work their students produce. Their world-class level of passion and state-of-the-art design education is unparalleled in our industry. Congratulations, SCAD, for number one in the South."
"America's Best Architecture & Design Schools" are ranked annually by DesignIntelligence on behalf of the Design Futures Council. The research ranks undergraduate and graduate programs from the perspective of leading practitioners and educators. Read a complete list of rankings.
---
SCAD: The University for Creative Careers
The Savannah College of Art and Design is a private, nonprofit, accredited institution conferring bachelor's and master's degrees at distinctive locations and online to prepare talented students for professional careers. SCAD offers degrees in more than 40 majors, as well as minors in over 60 disciplines in Savannah and Atlanta, Georgia; Hong Kong; Lacoste, France; and online through SCAD eLearning. Visit our official blog.
About the SCAD industrial design program
Industrial designers study how humans interact with devices and environments, solving problems of design, usage and production, and they consider strategic business objectives in order to generate a memorable and positive experience for users.
Learn more about the industrial design program today.