Press Release
/
April 17, 2012
SCAD unveils exhibitions featuring fine fashion, jewelry and furniture for SCAD Style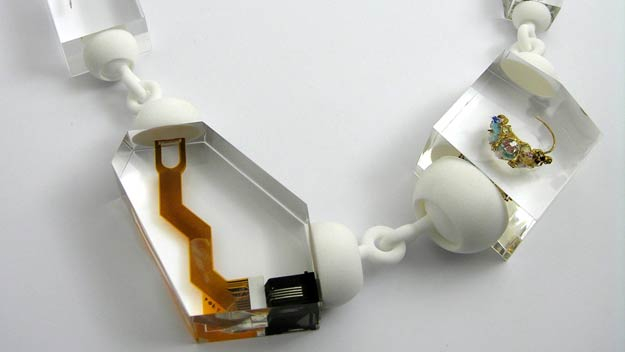 /"Town & Country: Jewelry from the Natural and Synthetic Worlds" explores the ways artists translate a breadth of materials into unique interpretations of their surroundings./
SAVANNAH, Georgia —
The Savannah College of Art and Design is pleased to present five exhibitions of work by distinguished visiting artists and talented SCAD professors, students and alumni in association with the university's famed SCAD Style.
SCAD Style, scheduled for April 16-20 at the university's locations in Savannah and Atlanta, Georgia, and Lacoste, France, is an engaging series of lectures, exhibitions and film screenings featuring renowned artists, designers and industry professionals that students and the public are invited to attend. The series highlights several of the university's programs of study, including fashion, fibers and building arts.
Each of the following SCAD Style exhibitions and receptions are free and open to the public.
Savannah
"Town & Country: Jewelry from the Natural and Synthetic Worlds"
Now through June 3, 2012
Reception: April 20, 6-7:30 p.m.
Pinnacle Gallery, 320 E. Liberty St.
Presenting artists from the U.S., Netherlands, Sweden, Japan and Vietnam, this exhibition explores the ways in which today's jewelry artists translate a breadth of materials, both organic and synthetic, into unique interpretations of their surroundings. These avant-garde works range from the wearable to the conceptual and are inspired by both natural and urban environments. Artists featured in the exhibition include Sara Borgegard, Sam Tho Duong, Iris Eichenberg, Jantje Fleischhut, Caroline Gore, Jiro Kamata, Katja Prins and Ted Noten. Pieces featured in the exhibition are courtesy of the renowned gallery of international contemporary art jewelry, Ornamentum.
"Cotton Inc."
Now through May 4, 2012
Reception: April 20, 6-7:30 p.m.
Alexander Hall Gallery, 668 Indian St.
"Cotton Inc." showcases the finalists and winners of the annual Cotton Incorporated Design Competition where students from the fashion and fibers disciplines collaborated to create unique designs. Preliminary sketches, process books, digital presentations and final projects are exhibited in this collective undertaking.
"Design Thinking II"
April 18 - June 15, 2012
Reception: April 20, 6-7:30 p.m.
Pei Ling Chan Gallery, 322 Martin Luther King, Jr., Blvd.
"Design Thinking 2012" is a curated design exhibition showcasing the outstanding breadth of SCAD's School of Design professors, students and alumni. The show highlights designers as artists who are receptive to a synthesis of open source practicality, luxury, conceptual thinking and creativity.
Atlanta
"Mimi Plange: Scarred Perfection"
Now through June 1, 2012
Reception: April 19, 6-7 p.m.
Trois Gallery, SCAD Atlanta, 1600 Peachtree St. NE
Fashion designer Mimi Plange's Autumn/Winter 2011 collection, "Scarred Perfection," evoked awe and wonder from fashion insiders and challenged conventional perceptions of beauty. Inspired by Benin cultural traditions of body modification, SCAD's presentation of Plange's collection showcases her deliberate focus on detail and her intensive use of repetition in pleats, ruffles and ornamentation. A rich color story of crimson, black and gold transforms this fashion collection into a bold and dreamy experience.
Lacoste
"Jean Prouvé: Sélections"
Now through June 16, 2012
La Galerie Pfriem, Rue Trophime
"Jean Prouvé: Sélections" brings together an intimate collection of objects including chairs, a lamp and table that highlight the internationally acclaimed modern designer's innovative practices and exemplify his impact on modern and contemporary design. The exhibition is realized in collaboration with Vintage 20, a Manhattan-based firm specializing in mid-century European furniture and decorative art that showcases museum quality works from pioneering designers.
SCAD: The University for Creative Careers
The Savannah College of Art and Design is a private, nonprofit, accredited institution conferring bachelor's and master's degrees at distinctive locations and online to prepare talented students for professional careers. SCAD offers degrees in more than 40 majors.