Press Release
/
Sept. 21, 2012
SCAD students stay the course with Generate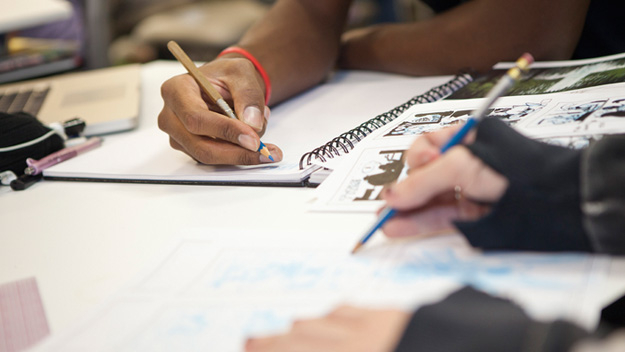 /SCAD students designing a 24-page black and white comic book at last years Generate challenge./
ATLANTA, Georgia —
The Savannah College of Art and Design will host its annual Generate competition, a 24-hour art and design challenge ranging from animation and visual effects to graphic design and sequential art Sept. 28-29 at the university's Atlanta location. Now in its seventh year, students representing several academic majors and artistic disciplines work together or individually to accomplish a seemingly insurmountable task in a short period of time.
"Generate continues to be a highlight of our fall quarter for students, thanks in no small part to our incredible sponsors and the dynamic faculty that lead the challenges," said Pat Quinn, associate dean of Academic Services. "This is a great opportunity to showcase SCAD's talented students to the community in an extended learning environment beyond the classroom, simulating the professional experience."
SCAD Atlanta students will team up for the seventh annual Publix Georgia Marathon and Half Marathon Poster Design Contest. Students will be challenged to design the official runner's poster for the 2013 Publix Georgia Marathon and Half Marathon in 13 hours and 1 minute. (A half marathon is 13.1 miles.) Five finalists will be chosen and announced in March 2013. The first place winner will receive a $1,500 scholarship while the runner-up is awarded a $500 scholarship.
School of Digital Media students will participate in a group challenge using Houdini/Side Effects software to produce a visual effects composite of live action and CG elements. The animation and interactive design and game development students will design a creature based on a design document created by Weta Workshop digital sculptor Scott Spencer.
Other challenges will include creating the imagery for the 2012 "Pet Parade: A Walk for Animals" poster and a 24-page black and white comic book. Additionally, writing students will be tasked to see how many different ways there are to tell the "same" story in 10 hours.
Throughout the event, television producing students will form a production team to create documentary-style films about Generate and the students involved.
Each participating academic major presents different challenges, some of which have been created to match the initiatives and needs of the corporate sponsors. Representatives from these companies will judge the student work based on a brief provided to the students at the beginning of the competition. Students are free to work alone, collaborate with other students or work outside of their major areas of study.
This years sponsors include Adobe, Publix, Epson, Wacom, Oni Press, Blizzard Entertainment, Houdini/Side Effects software, Binders and PeachMac.
SCAD: The University for Creative Careers
The Savannah College of Art and Design is a private, nonprofit, accredited institution conferring bachelor's and master's degrees at distinctive locations and online to prepare talented students for professional careers. SCAD offers degrees in more than 40 majors.