Press Release
/
Jan. 22, 2013
SCAD students named finalists in Disney ImagiNations Design Competition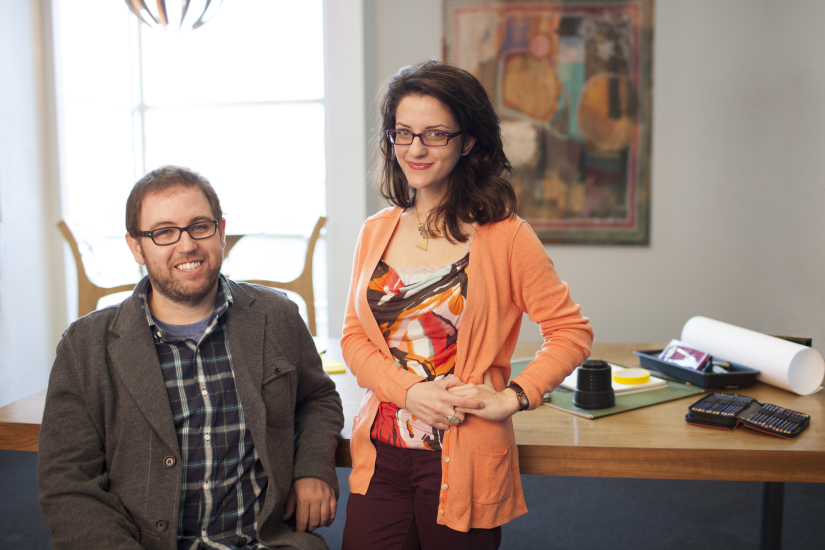 /Graduate students Elisabeth Papadopoulos (production design) and Nathan Hollrith (industrial design) are finalists in the 2012 Disney ImagiNations Design Competition./
SAVANNAH, Georgia —
Two SCAD graduate students have been selected as finalists for the 2013 Disney ImagiNations Design Competition, and will be heading to Glendale, California, Jan. 28-Feb. 1, to vie for scholarships and collaborate with Disney Imagineers.
Elisabeth Papadopoulos (production design) and Nathan Hollrith (industrial design) were chosen for their submission, "Touring with Disney: Mickey's London Adventure." As an edutainment attraction, the project celebrates London's history while capitalizing on the rich Disney legacy of British characters and actively engaging guests with their urban environment.
Walt Disney Imagineering created the annual contest to attract a new generation of theme park designers and showcase their talent. For the 22nd iteration, Disney challenged designers to select one city, from anywhere in the world, and design an entertainment and recreational experience for its citizens and tourists.
Papadopoulos and Hollrith's entry was among six designs chosen from more than 180 concepts submitted by teams from colleges and universities throughout the U.S.
As finalists, the duo have been awarded an all-expenses-paid trip to Imagineering headquarters, where they will present the project to Imagineering executives, meet and network with technical and creative Imagineers, go behind the scenes where Disney magic is created, and interview for paid internships.
"We could not be more grateful for the chance to participate as finalists in this exciting competition," Papadopoulos said. "Nathan and I have been dedicated to this project since last academic year, and we feel very fortunate that our SCAD experiences have contributed to our success." The SCAD team learned of the ImagiNations competition from professor George Head, a retired Walt Disney Imagineer and faculty member in the SCAD School of Entertainment Arts, which offers the nation's first and only Master of Fine Arts in themed entertainment design.
"Elisabeth and I are entirely aware of the magnitude of this opportunity," Hollrith said. "We are eagerly preparing to represent both ourselves as designers and SCAD as an institution to Walt Disney Imagineering."
Papadopoulos and Hollrith will compete against teams from Art Center College of Design; California State University, Long Beach; Carnegie Mellon University; University of California, Berkeley; and University of Minnesota, Twin Cities.
SCAD students have proven to be strong contenders in Disney design contests. A team of four SCAD students advanced to the finals in last year's ImagiNations design competition. SCAD Hong Kong students have won the Disney ImagiNations Hong Kong Design Competition each year since the competition's inception in 2011, and will also travel to Glendale to meet the U.S. teams and Imagineers this month.
SCAD: The University for Creative Careers
The Savannah College of Art and Design is a private, nonprofit, accredited institution conferring bachelor's and master's degrees at distinctive locations and online to prepare talented students for professional careers. SCAD offers degrees in more than 40 majors.
About Walt Disney Imagineering
Walt Disney Imagineering is the unique innovative organization that creates - from concept through construction - all Disney theme parks, resorts, attractions, cruise ships, real-estate developments, and regional entertainment venues worldwide. The name Imagineering combines imagination with engineering.