Press Release
/
April 4, 2013
SCAD student winner in Marriott International design competition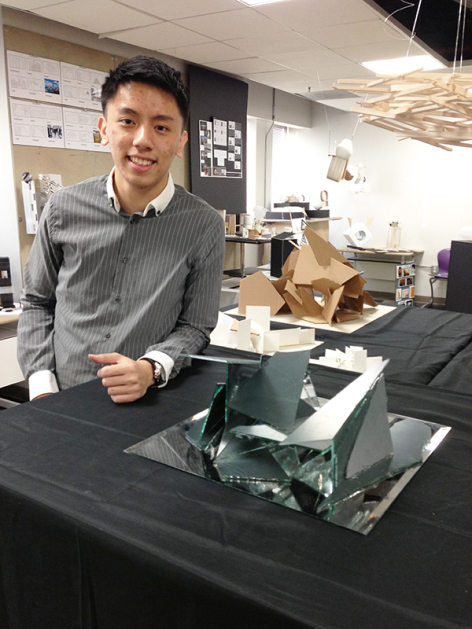 /Kevin Elika (B.F.A. interior design student) is one of five award winners in Marriott International's Great Room Design competition./
SAVANNAH, Georgia —
SCAD Atlanta's Kevin Elika (B.F.A. interior design student) was one of five award winners in Marriott International's Great Room Design competition.
Marriott challenged students to create their own version of the "great room," an invigorating, open space and comfortable environment in which guests can gather, work, eat and socialize.
Students were asked a series of questions and to describe their overall experience in a short sentence. Winners were selected based on the creativity, relevance, and feasibility of their idea and received a $200 prize.
Elika's submission focused on creating an interior design concept that would transform based on changing seasons, using light, texture and shape to shift the environment akin to a chameleon's ability to change its skin.
An international student from Indonesia, Elika says his hobbies help him to be a better designer.
"Researching and paying attention to people and whatever happens around me gives me a kind of awareness. It helps me to find a new perspective of thinking, which is good when trying to create an unpredictable design idea," he said.
Marriott International Inc. is one of the most acclaimed brands in hospitality. As a way to adapt to the ever-changing needs of travelers, the hotel giant decided to recruit students to brainstorm innovative ideas for their new concept "the great room." The competition was offered through MindSumo.com, a website that encourages students to find design solutions for big name organizations in exchange for cash prizes.
SCAD: The University for Creative Careers
The Savannah College of Art and Design is a private, nonprofit, accredited institution conferring bachelor's and master's degrees at distinctive locations and online to prepare talented students for professional careers. SCAD offers degrees in more than 40 majors.