Press Release
/
Oct. 9, 2012
SCAD sequential art students take gold and bronze in national comic book contest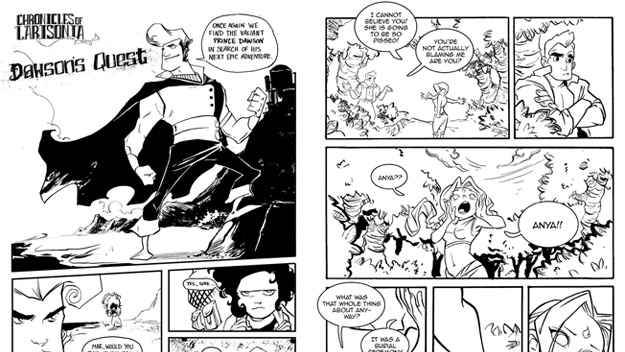 /SCAD sequential art student teams won first and third place in 2012 Comics Student Marathon for their comics (L. to R.) "Chronicles of Larisonia" and "The Takers."/
Two teams of four Savannah College of Art and Design sequential art grad students won first and third place in the Mix 2012 Comics Student Marathon, which challenged student artists to create a 24-page comic book in a 24-hour marathon session.
First place in the nationwide contest, which came with a $500 prize, went to "Chronicles of Larisonia: Dawson's Quest" by Jorge Corona, Adam Del Re, Jen Hickman and Ariela Kristantina.
Third place, with a $200 prize, went to "The Takers" by Morgan Beem, Phil Jacobson, Jeeyon Kim and Gloria McAndrew.
The competition began Wednesday, Oct. 3 at 8 a.m. and ended 24 hours later. Competitors sequestered themselves in a classroom in Norris Hall - surviving on a love of comics, coffee and a never-ending playlist - and created in 24 hours what normally would take 24 days.
Generally, each page of a comic book takes a day to create. So, to design 24 pages in one day - complete with story concept, character and setting design, page layout, penciling, lettering and inking - was a creative challenge.
"I am extremely proud of these students for the unwavering dedication and energy they showed during this challenge," said Anthony Fisher, chair of the sequential art department. "These awards are a testament to what talent, passion, and a little caffeine can achieve."
"Participating in this competition was an incredible experience," said Jen Hickman, "and I'm so proud of all of us for working so well together. Both teams completely blew my socks off."
"The experience was exhilarating," said Phil Jacobson. "After the first 12 hours you're working on pure adrenaline. It's exhausting, but totally worth it. My team was awesome and placing third made all the hard work feel even more rewarding."
A select group of works will also be compiled into a book.
SCAD: The University for Creative Careers
The Savannah College of Art and Design is a private, nonprofit, accredited institution conferring bachelor's and master's degrees at distinctive locations and online to prepare talented students for professional careers. SCAD offers degrees in more than 40 majors.