Press Release
/
June 10, 2012
SCAD professor Liset Robinson named 2012 IIDA Educator of the Year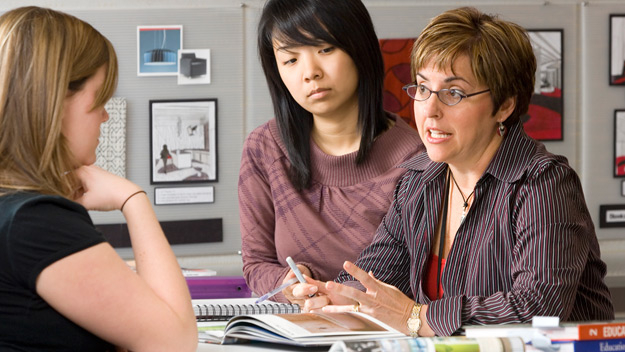 CHICAGO —
The International Interior Design Association honored Savannah College of Art and Design Interior Design Professor Liset Robinson with its 2012 Educator of the Year Award at IIDA's annual meeting in Chicago June 10, held in conjunction with NeoCon.  The award celebrates excellence in leadership by an interior design educator.
Robinson was honored for her extraordinary accomplishments and commitment to interior design education. Her dedication to the interior design industry is evident from mentoring students and providing internship guidance to excellent instruction. Robinson received a $10,000 cash award from award sponsor Milliken.
Tireless Devotion
"IIDA is proud to honor Liset for her tireless devotion, enthusiasm and service to her students and the interior design profession," said IIDA Executive Vice President and CEO Cheryl Durst, Hon. FIIDA. "She has gone above and beyond to share her knowledge and passion with the next generation of designers by helping them cultivate a desire to learn inside and outside of the classroom."
"I am so honored to have received this award and I'm particularly grateful for the attention it brings to the study of interior design," Robinson said.  "Students of interior design have so much to offer the world; they impact the state of morale, mood, intellect, culture and social development in the human environment through informed and thoughtful design. When they are able to see the changes that they have helped to foster, they become empowered. SCAD has offered me the opportunity to conduct this type of hands-on exposure in the classroom, where students learn while bringing design to the other 98 percent of the population that cannot afford it. This has become my preferred mode of teaching."
Educator, Leader
Robinson has taught for more than 24 years and was named one of DesignIntelligence's Interior Design Educators of the Year in 2007.  She earned her Bachelor of Science and Master of Architecture degrees from the Georgia Institute of Technology and is a registered architect and registered interior designer in the state of Georgia.
From 2009 to 2010, Robinson served as president of the Georgia Chapter of the IIDA and now serves as the organization's team leader for community outreach.
Her professional goal is to provide design services for the underprivileged. Joined by her SCAD students, she has completed several community service design projects including the redesign of the Zaban Couples Center, a couples shelter.
International Interior Design Association
IIDA is a professional networking and educational association with more than 12,000 members practicing worldwide in more than 50 countries. IIDA is committed to enhancing the quality of life through excellence in interior design and advancing interior design through knowledge, value and community. For more than 38 years, IIDA has helped reveal new design talent through a variety of education initiatives and interior design/architecture competitions honoring local talent, including the Interior Design Competition, Global Excellence Awards and HD Product Design Competition.
SCAD Interior Design
SCAD's interior design program challenges students to become innovative designers capable of critical thinking and effective communication. Professional ethics and values are stressed within the context of social, environmental and global design practice. DesignIntelligence ranked the SCAD undergraduate and graduate interior design programs number one in the U.S. for 2012.
SCAD: The University for Creative Careers
The Savannah College of Art and Design is a private, nonprofit, accredited institution conferring bachelor's and master's degrees at distinctive locations and online to prepare talented students for professional careers. SCAD offers degrees in more than 40 majors.