Press Release
/
Nov. 19, 2012
SCAD presented NCARB Award to support university's continued innovation in architectural education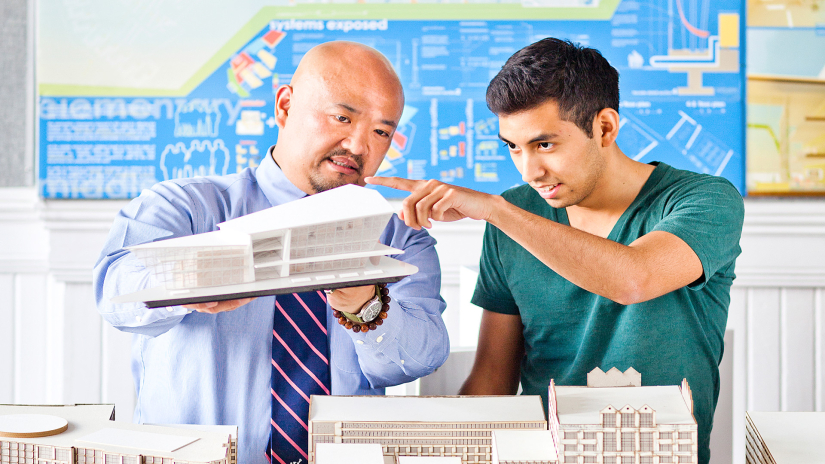 /The $40,000 NCARB prize will fund project to develop interactive games that simulate architectural practice environments./
SAVANNAH, Georgia —
The National Council of Architectural Registration Boards (NCARB) has awarded the Savannah College of Art and Design one of the organization's highest honors, a 2012 NCARB Award for the Integration of Practice and Education. The $40,000 award will fund the development and implementation of innovative initiatives that integrate education and architectural practice.
SCAD's winning proposal will develop interactive games to simulate architectural practice environments, placing students in architects' roles to face critical issues and make real-time decisions. Collaborative and competitive aspects will allow students to interact with architects and will further simulate practice settings by factoring in issues such as multidisciplinary teamwork, time management, client relations and economic factors.
"We are very honored that NCARB chose to recognize SCAD with this prestigious award," said Greg Hall, Ph.D., AIA, NCARB, chair of SCAD's professional architecture program. Hall collaborated with architecture professors Carole Pacheco and Matthew Dudzik and interactive design and game development professor Aram Cookson on the proposal.
"Our proposal seeks to make a range of practice-related issues more relevant, accessible and intriguing by placing them in the context of a competitive gaming environment and allowing students to play the role of the architect and make critical professional decisions," said Hall. "This will enable students to be better prepared to respond more effectively to practical issues when they enter the profession. The format of an interactive gaming environment is uniquely suited to today's millennial generation."
The project, slated to begin during the Winter 2013 quarter, will bring together SCAD interactive design and game development students and faculty with industry professionals for a series of collaborations throughout the year. The project will culminate with deployment of an original interactive game in the Fall 2013 quarter.
The NCARB Award program, newly established this year, continues the tradition of the organization's NCARB Prize and NCARB Grant programs in recognizing and supporting academic programs' efforts to integrate practice in education. The award presented to SCAD is the largest of three NCARB Awards given to academic institutions in 2012, and the largest amount awarded in the 12-year history of the NCARB Prize and NCARB Grant programs.
SCAD offers a professional Master of Architecture degree and is accredited by the National Architectural Accrediting Board. At SCAD, architecture students learn in a stimulating environment that emphasizes the importance of interdisciplinary knowledge, collaboration and progressive thinking. The SCAD architecture program offers students a unique art and design context, teaching traditional architecture concepts against the backdrop of SCAD's other distinct art and design degree programs. Architecture studies at SCAD engage students in multi-disciplinary learning and celebrate the increasingly global culture of design.
SCAD: The University for Creative Careers
The Savannah College of Art and Design is a private, nonprofit, accredited institution conferring bachelor's and master's degrees at distinctive locations and online to prepare talented students for professional careers. SCAD offers degrees in more than 40 areas of study, as well as minors in nearly 60 disciplines in Savannah and Atlanta, Georgia; in Hong Kong; in Lacoste, France; and online through SCAD eLearning.
SCAD has more than 20,000 alumni and offers an exceptional education and unparalleled career preparation. The diverse student body, consisting of more than 11,000 students, comes from 49 states and more than 100 countries worldwide. Each student is nurtured and motivated by a faculty of nearly 700 professors with extraordinary academic credentials and valuable professional experience. These professors emphasize learning through individual attention in an inspiring university environment. SCAD's innovative curriculum is enhanced by advanced, professional-level technology, equipment and learning resources and has garnered acclaim from respected organizations and publications, including 3D World, American Institute of Architects, BusinessWeek, DesignIntelligence, U.S. News & World Report and the Los Angeles Times.
About NCARB
The National Council of Architectural Registration Boards' membership is made up of the architectural registration boards of all 50 states as well as those of the District of Columbia, Puerto Rico, Guam, and the U.S. Virgin Islands. NCARB assists its member registration boards in carrying out their duties and provides a certification program for individual architects.
NCARB protects the public health, safety, and welfare by leading the regulation of the practice of architecture through the development and application of standards for licensure and credentialing of architects. In order to achieve these goals, the Council develops and recommends standards to be required of an applicant for architectural registration; develops and recommends standards regulating the practice of architecture; provides to Member Boards a process for certifying the qualifications of an architect for registration; and represents the interests of Member Boards before public and private agencies. NCARB has established reciprocal registration for architects in the United States and Canada.