Press Release
/
Oct. 15, 2012
SCAD performing arts honors election season with "44 Plays for 44 Presidents"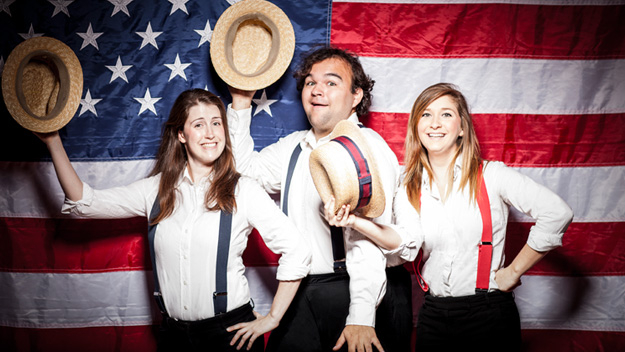 Mary Beth Hoots, Matt Webb and Candace Kitchens are three of the 14 actors playing 150 roles in the production of "44 Plays for 44 Presidents."
SAVANNAH, Georgia —
The SCAD performing arts department is proud to announce its participation in a nationwide festival with the production of "44 Plays for 44 Presidents," a playful, provocative and non-partisan take on the lives and presidencies of each of the 44 men who have held the country's highest office. The show will run Nov. 1-4 at the Mondanaro Theater, 217 Martin Luther King Jr. Blvd. Written by Andy Bayiates, Sean Benjamin, Geneva Gallo-Bayiates, Chloe Johnson and Karen Weinberg, SCAD's production of the play is directed by professor David Storck, with 14 actors playing 150 roles.
"44 Plays for 44 Presidents" is a two-hour show comprised of short, biographical scenes highlighting the lives of the American presidents, told through two-minute plays dedicated to each president. Scenes shift frequently between the comic and the tragic, from Benjamin Franklin giving Thomas Jefferson a Borscht Belt-style roast to a frank portrayal of William Henry Harrison's life as an "Indian slayer." There is also a Nixon-praising dance number and a George H. W. Bush-inspired mini-musical about dirty campaigning.
As the largest election year theater project in history, the Plays for President Festival 2012 includes 44 productions of the play at theatres, colleges and high schools throughout the country, from Anchorage, Alaska to South Texas to Bangor, Maine. The festival will culminate on Election Day with an online composite video production of "44 Plays" made up of contributions from all 44 productions. SCAD's contribution will be a piece about Franklin D. Roosevelt, who frequently spent time in his later years at the Little White House in Warm Springs, Ga.
"We need to throw history at the madness of the Presidential election cycle because nothing stifles temporary insanity like history. It reminds us of our power as voters and our ability to weather strife as a people," said playwright Andy Bayiates.
Evening performances for "44 Plays for 44 Presidents" will be at 8 p.m. Thursday, Nov. 1 through Saturday, Nov. 3, with a matinee at 3 p.m. Sunday, Nov. 4. Tickets are $10 general admission; $5 with senior, student or military ID. The Thursday, Nov. 1 performance will be free with a valid SCAD ID.
Tickets can be purchased at the Savannah Box Office at the Trustees Theatre, 216 Broughton St., by calling 912.525.5050 or online at tickets.savannahboxoffice.com.
SCAD: The University for Creative Careers
The Savannah College of Art and Design is a private, nonprofit, accredited institution conferring bachelor's and master's degrees at distinctive locations and online to prepare talented students for professional careers. SCAD offers degrees in more than 40 majors.