Press Release
/
Nov. 28, 2012
SCAD Museum of Art "Stretches the Limits" of painting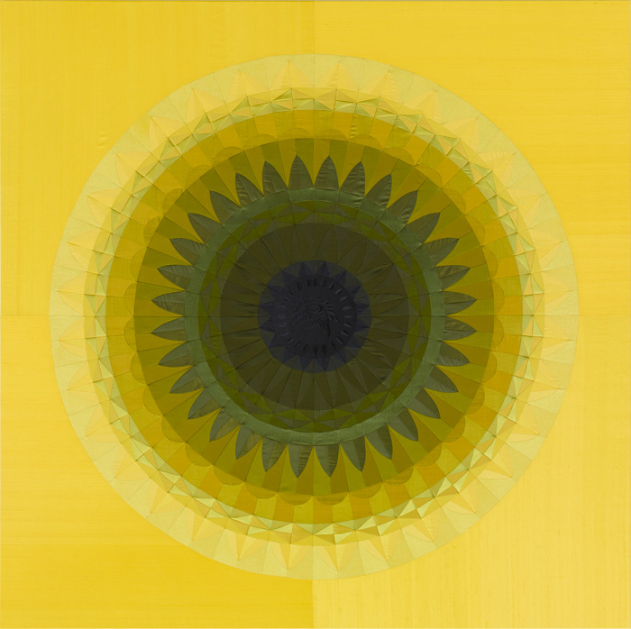 /Angelo Filomeno, "Dream of Flies (yellow, black)," embroidery on silk shantung stretched over linen, 90" x 90", 2010. Private collection. Image courtesy of artist & Galerie Lelong./
SAVANNAH, Georgia —
The Savannah College of Art and Design presents Stretching the Limits: Fibers in Contemporary Painting, a group exhibition at the SCAD Museum of Art on display through Feb. 24, 2013. Stretching the Limits exhibits fiber-based work, expanding on the traditional aspect of painting by introducing thread and fabric as formal considerations of texture, color and composition.
The exhibition highlights a broader dialogue about painting practices, connecting fibers media with the craft and conceptual ideas behind painting. Using fibers and sculptural manipulation of the canvas as vehicles, the 13 featured artists explore the history of painting, its language, and the process of painting and its relation to the body.
"Stretching the Limits offers our students and the broader community an inter-generational dialogue between skilled painters on diverse and unique approaches to the medium," said Melissa Messina, SCAD senior curator. "In these works, the artists call into question how the use of fibers-based media - including embroidery, silk thread, bells, blankets, shoelaces and discarded clothing, among others - informs the reading of and expands the language of painting."
Ranging from rising stars to pioneers in the industry, participating artists include Ghada Amer, Tom Burr, Kendell Carter, Nick Cave, Angelo Filomeno, Vibha Galhotra, Sam Gilliam, Sheila Hicks, Emil Lukas, Elaine Reichek, Amanda Ross-Ho, Analia Saban and Shinique Smith. Several of the pieces belong to the SCAD permanent collection, including Kendell Carter's Drip Painting #7 and Angelo Filomeno's The Accident (Wing). Returning for their second time, artists Cave, Filomeno and Smith have been featured in solo exhibitions at SCAD galleries prior to the museum's openings.
Stretching the Limits is open to the public with the cost of admission to the museum.
SCAD Museum of Art
601 Turner Blvd.
Savannah, Georgia
SCAD: The University for Creative Careers
The Savannah College of Art and Design is a private, nonprofit, accredited institution conferring bachelor's and master's degrees at distinctive locations and online to prepare talented students for professional careers. SCAD offers degrees in more than 40 majors.