Press Release
/
April 17, 2012
SCAD launches fifth anniversary "reverse career fair"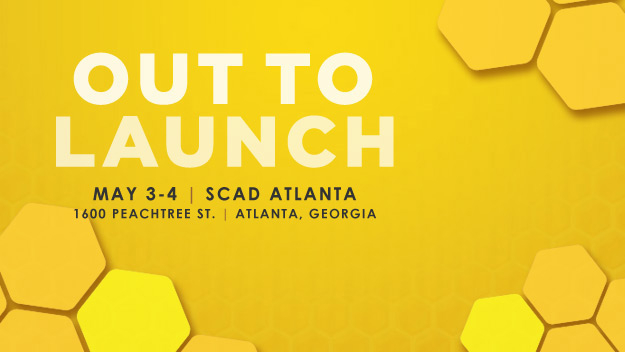 /SCAD art and design students will showcase their work at Out to Launch for potential employers, art directors and creative leaders./
ATLANTA, Georgia —
Building on the tremendous success and growth over the last four years, the Savannah College of Art and Design today announced it will host its fifth annual Out to Launch, a "reverse career fair" in which art and design students showcase their work for potential employers, art directors and creative leaders. The event takes place May 3-4 at SCAD Atlanta.
Judy Salzinger, program coordinator for SCAD Atlanta's advertising department, said Out to Launch isn't your typical career fair.
"College career fairs are usually hosted by employers looking for new talent," Salzinger said. "With Out to Launch, it's the other way around. Students are displaying their work for employers. And over the last four years, students' portfolios in advertising, interactive and graphic design, photography, game development and a host of other disciplines have been hugely successful in attracting prospective employers."
Out to Launch started in 2008 with 26 seniors and graduate students displaying their work to 11 potential employers. Last year, the number of employers attending had grown to 182. And with 72 students participating last year, 20 of them were offered jobs or internships within 48 hours of the event.
"Businesses are really starting to realize how valuable [SCAD students] are and they're really contributing to projects in a huge way out in the workplace," said Matthew Ray, vice president of ad agency Crispin Porter + Bogusky and last year's keynote speaker at Out to Launch. "With SCAD there's a quality level that we're always going to get when we go to those students."
Bon Alimagno, former talent coordinator for Marvel Comics, agrees.
"SCAD prepares their students differently in how they present themselves and how they're prepared to engage in a professional market, especially in the comic book industry," he said. "A lot of artists don't understand that this is still business."
Variety of career industries
At this year's event, 98 seniors and graduate students are expected to showcase their work in advertising, animation, fashion marketing and management, graphic design, illustration, interactive design and game development, interior design, luxury and fashion management, motion media design, photography, visual effects, and writing.
Out to Launch again demonstrates SCAD's long-standing commitment to preparing arts students for productive careers across a wide range of industries, from interior design to fashion to animation. "The goal of the university is to ensure that our students graduate fully prepared for productive and rewarding careers in the workplace," said SCAD's Salzinger.
Schedule of events
Out to Launch begins May 3 with a portfolio exhibit and reception from 5:30-8:30 p.m. Agency art directors, creative directors and recruiters may review portfolios and engage with the students.
The event reconvenes at 9 a.m., May 4 with a keynote address by Scot Safon, executive vice president of CNN Worldwide, general manager of HLN.
Following Safon's presentation, there will be a "Keynote Circle Award" presentation honoring 12 recipients from each program for "Best of Show."
The day will conclude with a panel discussion and question-and-answer, featuring industry leaders from The Coca-Cola Co., BBDO, Wieden + Kennedy Portland, JWT Atlanta, DDB, AKQA, Mullen and Publicis.
SCAD: The University for Creative Careers
The Savannah College of Art and Design is a private, nonprofit, accredited institution conferring bachelor's and master's degrees at distinctive locations and online to prepare talented students for professional careers. SCAD offers degrees in more than 40 majors.