Press Release
/
Feb. 28, 2013
SCAD improv group tops at regional tournament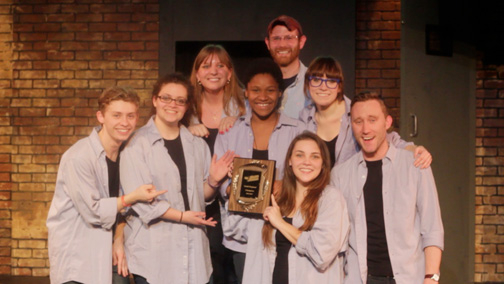 /Members of SCAD performing arts improv group The Mobb Line pose for a photo after being named "Best College Improv Group in the South."/
SAVANNAH, Georgia —
SCAD performing arts' improv group The Mobb Line has been named "Best College Improv Group in the South," and will head to Chicago in March to compete for a national title.
Under the direction of SCAD professor of performing arts David Storck, the eight-member team defeated 11 other schools in the South Regional Championship of the National College Improv Tournament, including two-time defending champ University of Georgia.
The Mobb Line's winning team consists of:
Maddy Buxton (B.F.A., performing arts student)
KD Dawkins (B.F.A., film and television student)
AJ Jennings (B.F.A., performing arts student)
Ian Mather (B.F.A., performing arts student)
Chris Mayers (B.F.A., graphic design student)
Cody Murphy (M.F.A., performing arts student)
Anne-Marie Trabolsi (B.F.A., performing arts student)
Sara Turner (B.F.A., performing arts student)
"I am extremely proud of our students," Storck said. "They were absolutely fearless and gave two remarkable performances. It is thrilling to know that they will now get to perform in the birthplace and mecca of modern improvisation, Chicago, before judges from the biggest improv theaters in the world."
In a unanimous decision, the regional four judges, representing some of the best comedy and improv clubs in the South, selected The Mobb Line, calling them "hilarious," "fun," "bold," and "so much fun. A+++."
Twelve regional tournaments feed into the nationwide College Improv Tournament. Officially the largest improv event in the world, more than 125 teams from 115 colleges and universities competed in the CIT in 2012. The Mobb Line is slated to compete against the 15 best college improve groups in the country this year.
SCAD: The University for Creative Careers
The Savannah College of Art and Design is a private, nonprofit, accredited institution conferring bachelor's and master's degrees at distinctive locations and online to prepare talented students for professional careers. SCAD offers degrees in more than 40 majors.