Press Release
/
Sept. 14, 2012
SCAD hosts 2012 School of Building Arts Lecture Series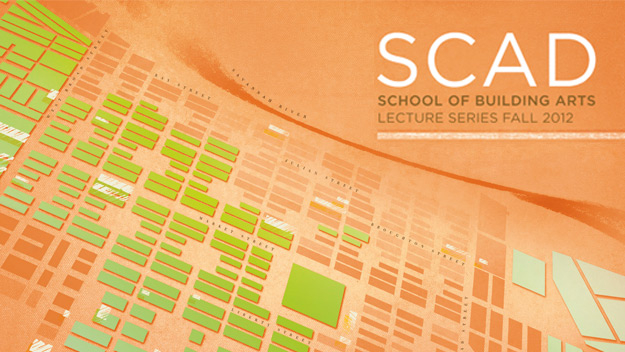 SAVANNAH, Georgia —
The Savannah College of Art and Design is pleased to present the 2012 SCAD School of Building Arts Lecture Series. Held at the SCAD Museum of Art at 601 Turner Blvd., the series connects students and the larger design community with industry professionals who exemplify this year's theme: The Next City. The lectures are free and open to the public with admission to the SCAD Museum of Art.
The Fall 2012 SCAD School of Building Arts Lecture Series events include the following:
"Dimensions of Design"
Sept. 19, 5:30 p.m.
Markku Allison, AIA, a leader on industry transformation issues including integrated practice, collaboration, sustainability and health, offers a "Powers of Ten"-inspired reflection focused on complexity and the non-optional evolving responsibilities of the designer. As resource architect for the American Institute of Architects, Allison championed two major AIA resources: "Integrated Project Delivery: A Guide" and "50to50." Allison has 20-plus years of professional experience as an award-winning licensed architect.
"The Slow Flip"
Sept. 27, 5:30 p.m.
Steve Jones, founder of bettershelter - a boutique real estate company - is out to transform the notion of what a flipped home can be, using various elements of design and architecture. His company creates innovative residential communities and homes and has been instrumental in the transformation of northeast Los Angeles real estate, as he re-imagines the notion of a flipped home.
"The Future City: Why Meddle With a Good Thing?"
Oct. 4, 5:30 p.m.
Men invented cities to escape barbarism and live nobly and well, and they invented and constantly adapted architecture to facilitate that purpose. Have we seen the end of that history?
Carroll William Westfall, a renowned architectural historian and the Frank Montana Professor in the School of Architecture at the University of Notre Dame, will discuss this important question during his lecture. As a specialist in both Italian Renaissance and American architecture, Westfall has focused largely on the relationship between architecture and politics in the history of urban form in his books and articles.
"Preservation Through Documentation: Assessing the Value of Laser Scan Data"
Oct. 18, 5:30 p.m.
Dana Lockett will discuss high-definition surveying, employed by heritage documentation programs, and its limited ability to provide adequate information to completely document sites to the high standards recognized today by the preservation community.
Lockett is an architectural project manager with the National Park Service's Historic American Engineering Record in Washington, D.C. With a bachelor of architecture from Texas Tech University and 22 years of documentation experience, he emphasizes digital documentation of engineering sites using high-definition surveying combined with 3-D modeling and CAD.
Additional lectures will be announced at a later date. For more information, visit scadmoa.org or call 912.525.7191.
SCAD: The University for Creative Careers
The Savannah College of Art and Design is a private, nonprofit, accredited institution conferring bachelor's and master's degrees at distinctive locations and online to prepare talented students for professional careers. SCAD offers degrees in more than 40 area of study, as well as minors in nearly 60 disciplines in Savannah and Atlanta, Georgia; in Hong Kong; in Lacoste, France; and online through SCAD eLearning.
SCAD has more than 20,000 alumni, and offers an exceptional education and unparalleled career preparation. The diverse student body, consisting of more than 11,000 students, comes from all 50 United States and nearly 100 countries worldwide. Each student is nurtured and motivated by a faculty of more than 700 professors with extraordinary academic credentials and valuable professional experience. These professors emphasize learning through individual attention in an inspiring university environment. SCAD's innovative curriculum is enhanced by advanced, professional-level technology, equipment and learning resources and has garnered acclaim from respected organizations and publications, including 3D World, American Institute of Architects, BusinessWeek, Design Intelligence, U.S. News & World Report and the Los Angeles Times.