Press Release
/
March 15, 2013
SCAD to host SCAD Style 2013, April 15-19, in Savannah, Atlanta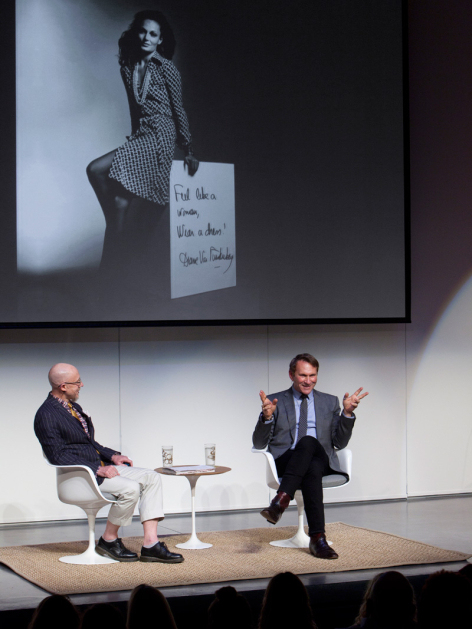 /Students and the public can interact with world-renowned artists, designers and industry professionals during SCAD Style 2013./
SAVANNAH, Georgia —
Savannah College of Art and Design will host SCAD Style 2013, the university's nationally recognized annual signature style-and-design event, April 15-19, at the SCAD Museum of Art and other locations in downtown Savannah, and at SCAD Atlanta.
Programming for SCAD Style 2013 includes lectures, panels, film screenings, workshops, exhibitions and book signings featuring world-renowned artists, designers and industry professionals, and highlights several SCAD programs of study including fashion, interior design, industrial design and architecture.
Visit scadstyle.com for a complete schedule of events. All lectures are free and open to the public.
Atlanta
All events take place at SCAD Atlanta, 1600 Peachtree St., NE.
A screening of the documentary, "Design Is One: Lella and Massimo Vignelli," about the couple considered to be among the world's most influential designers. The duo's achievements in industrial, graphic, product and furniture design, including New York's subway signage and maps, and identity programs for Bloomingdales, Saks Fifth Avenue, Inc., Ford Motor Co. and American Airlines, have earned them international acclaim and will be highlighted. The screening will be followed by a panel discussion with Kathy Brew and Roberto Guerra, the film's directors.
A panel discussion with Liz Paley, senior vice president of marketing, and Joe Berean, creative director of wholesale e-commerce, about the marketing of Ralph Lauren. The company is considered the premier global player in design, distribution and marketing of lifestyle products including apparel, accessories and home furnishings for men, women and children.
A conversation with interior designer David Bromstad, winner of the debut season of HGTV's "Design Star," and host of his own television show "Color Splash with David Bromstad," who is known for his colorful, vibrant design and transforming tired rooms into unforgettable spaces.
Savannah
Events take place at the SCAD Museum of Art, 601 Turner Blvd., and other locations in downtown Savannah.
A conversation between fashion industry leader and award-winning creator of New York Fashion Week Fern Mallis, and iconic fashion designer Betsey Johnson, known for her celebration of the exuberant, the embellished and the over the top.
A lecture and book signing by Charlotte Moss, interior designer, author and product designer, who has been recognized as an A-list designer by Elle Decor magazine, and as one of the top 20 design icons by Traditional Home magazine.
A lecture by legendary industrial designer Luigi Colani, "the unabashed agent provocateur of the design world," whose client list is a who's who of some of the best design in the last half-century including Alpha Romeo, Volvo, BMW, Boeing, Sony and Canon.
A lecture by Domenico De Sole, chairman of Tom Ford International and former chief executive office of Gucci Group, who will discuss how he saved Gucci from bankruptcy and built one of the most successful luxury conglomerates in the world. De Sole will also discuss how he established Tom Ford as an international brand.
A lecture by architect and designer Asif Khan, awarded the title of "Designer of the Future" by Design Miami, heralded by the New York Times as one of five designers to watch in 2011, and chosen as designer-in-residence at London's Design Museum, the only architect in the museum's history to be so named.
A screening of "Versailles: '73: American Runway Revolution," the documentary that chronicles the legendary 1973 fashion show battle between American and French designers that put American fashion on the map. The screening will be followed by a panel discussion with Stephen Burrows, part of the American design team and one of the first African-American designers to achieve international acclaim; Pat Cleveland, fashion icon and one of the African-American models to walk the Versailles runway; Deborah Draper, producer and executive director; and Cameron Silver, premier authority on vintage fashion, star of the new Bravo reality series, "Dukes of Melrose," and the film's narrator.
SCAD: The University for Creative Careers
The Savannah College of Art and Design is a private, nonprofit, accredited institution conferring bachelor's and master's degrees at distinctive locations and online to prepare talented students for professional careers. SCAD offers degrees in more than 40 majors.