Press Release
/
March 12, 2013
SCAD to host national foundations in art conference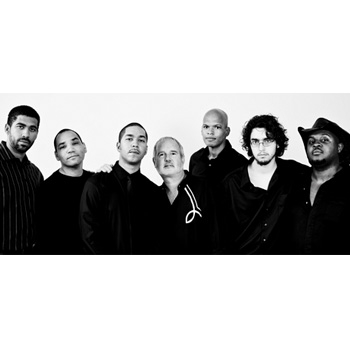 /Tim Rollins, center, with members of the Kids of Survival art collective, is set to address the SCAD-hosted FATE conference April 5./
SAVANNAH, Georgia —
Savannah College of Art and Design is proud to announce it will host "postHaus," the national conference of the Foundations in Art: Theory and Education association, FATE, April 3-6, at the Hyatt Regency, 2 W. Bay St.
The biennial event brings together more than 400 educators, artists, historians and designers to discuss new teaching models and possibilities available as education evolves. Tim Rollins, visionary behind the acclaimed Kids of Survival, K.O.S., art collective, is slated to deliver the conference's keynote address at 7 p.m., Friday, April 5, at the Lucas Theatre, 32 Abercorn St. The keynote address is free and open to the public.
An educator and artist, Rollins' transformative work introducing at-risk students to fine art has earned him the reputation as a leading advocate for youth and the arts. After graduate studies in art education and philosophy, Rollins began teaching art to middle school students in the South Bronx, New York. In 1984, he launched the "Art and Knowledge Workshop" with a group of students who called themselves Kids of Survival. Since then, their works employing literature as canvas and inspiration have become part of the permanent collections at more than 90 museums worldwide.
"This conference aims to help emerging educators come away with deliverables for their classrooms," said Chris Kienke, SCAD foundation studies professor and FATE's vice president for biennial conference. "Tim Rollins models best practices for teaching by acting as a mentor, an approach that reflects a marked shift in art education."
Rollins' keynote at FATE anchors 100 sessions exploring the conference theme, "Instructing, Constructing and Connecting with Students in the 21st Century."
Throughout the conference, SCAD professors and their peers from universities representing six countries and all 50 U.S. states will present their ideas on educating the next generation of artists and designers. Panelists and attendees will discuss cutting-edge methods for instruction, such as using smart phones, social media, reality television and other contemporary tools to convey the bedrock principles behind drawing, design, art history, color theory and more.
Conference participants will also be able to tour SCAD's major programs and the School of Foundation Studies, the only dedicated school of foundation studies in the United States.
"Foundation Studies at SCAD provides a studio experience that builds visual, conceptual and creative abilities essential to a student's development as a professional," said Maureen Garvin, SCAD foundation studies dean. "Once students begin their major, this broad-based studio experience informs and complements the specific focus of their major discipline."
Visit the conference website for a complete program of events and register to attend.
About FATE
FATE is a national association dedicated to the promotion of excellence in the development and teaching of college-level foundation courses in both studio and art history. FATE members represent independent colleges of art and design, university art departments and community colleges throughout the United States and is represented at most major education conferences to promote the goals of the organization.
SCAD: The University for Creative Careers
The Savannah College of Art and Design is a private, nonprofit, accredited institution conferring bachelor's and master's degrees at distinctive locations and online to prepare talented students for professional careers. SCAD offers degrees in more than 40 majors.
For more SCAD news, follow #SCAD • @scaddotedu on Twitter • @scaddotedu on Instagram • youtube.com/aboutscad • facebook.com/scad.edu