Press Release
/
May 2, 2013
SCAD Hong Kong students help design, build world's largest shoe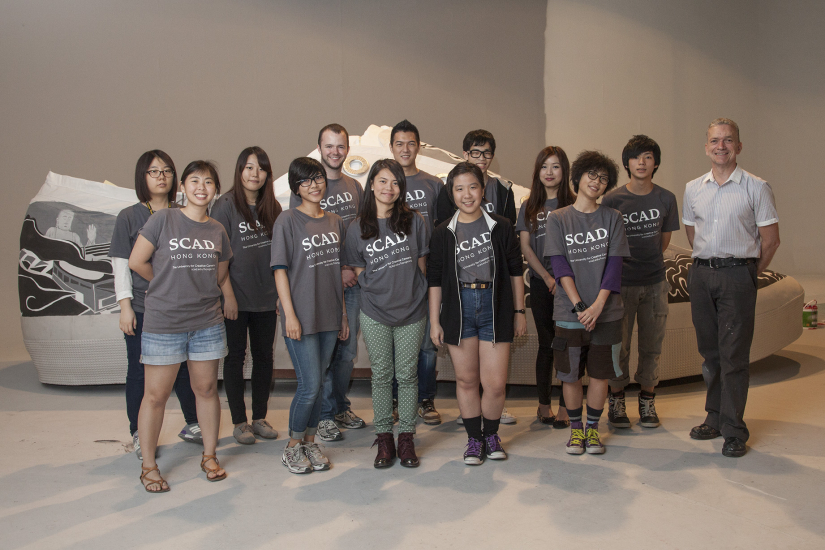 SCAD Hong Kong students pose for a photo with the world's largest shoe, a project on which they collaborated with industry partners.
SAVANNAH, Georgia —
Students from SCAD Hong Kong set a record this month by designing and helping to create the world's largest shoe. Verified by Guinness World Records as the world record holder, the shoe was created to mark the launch of Italian shoemaker Superga's first flagship store in Hong Kong.
SCAD students collaborated on the piece with Electric sekki, the exclusive distributor for Superga in Hong Kong and China.
"We are incredibly grateful for SCAD Hong Kong's contribution to the success of the project. The result exceeded all expectations and we are extremely impressed with their artistic skills, productivity, dedication, passion and professionalism towards the project," said Amiee Squires-Wills, Electric sekki founder and president.
Measuring in at an incredible 20 feet long by 8 feet wide by 11 feet high, the shoe is an exact replica of Superga's 2750 Classic model and easily surpassed the previously held record. Look behind the scenes at the shoe's construction in this video. 
SCAD was invited to participate to give the launch an artistic edge, youthful perspective and local design sensibility, the company said. The partnership also offered students the chance to extend their learning experience beyond the classroom walls. 
"I think applying the skills I've acquired at SCAD to a project with such a well-known brand as Superga will help my career prospects immensely," said B.F.A. illustration student Isa Caruncho. "I was able to hone my existing skills and discover new ones in the process. I can safely say that the breadth of my illustration and design knowledge has expanded."
Through collaborative learning projects with nonprofits, businesses and corporations, SCAD students gain hands-on experience in the classroom with real-world projects that result in tangible outcomes. In turn, these projects benefit SCAD's partners by providing fresh design insight and new creative thinking. 
Previous collaborative partners include Disney, Audemars Piguet, TTI, Shriro Group, Shaw Studios, IBM, Yves Saint Laurent, CLP Power, Whitespace, Christie's, Makedo and Kids II.
About Superga®
The Superga® footwear brand was founded in Italy in 1911. The company's original specialty was rubber-soled footwear bearing the brand's unique logo. As its business grew, Superga® added vulcanized constructions and a variety of styles that spanned a broad spectrum of the marketplace from fashion to traditional classic. The brand is widely known in Europe as the "People's Shoes of Italy." Superga® footwear began weaving its way into daily European life generations ago. BasicNet S.p.A. has been the licensee of the Superga® name since 2004, and it recently executed an agreement to purchase the Superga® trademark.
About Electric sekki
Electric sekki. is a fashion bureau, specialising in strategic Distribution, Brand Management, Marketing and PR Services in Asia.  Its creative strategic approach supported with a global vision, local expertise and understanding of the business of branding in Asia has made it a true pioneer in the industry with a growing portfolio comprising of over 20 international brands that are distributed in key markets such as China, Taiwan, Thailand, Indonesia, Singapore, Korea, Philippines, Malaysia, Hong Kong, Macau, India and Vietnam. Electric sekki has established a strong profile as the leader in successfully transitioning international brands into all facets of Asian fashion, lifestyle and culture.
SCAD: The University for Creative Careers
The Savannah College of Art and Design is a private, nonprofit, accredited institution conferring bachelor's and master's degrees at distinctive locations and online to prepare talented students for professional careers. SCAD offers degrees in more than 40 majors.