Press Release
/
June 14, 2013
SCAD game development team wins E3 college competition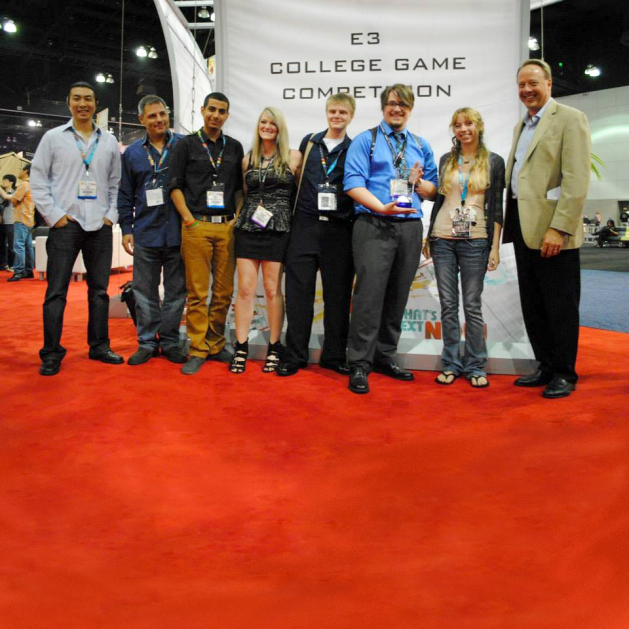 ESA CEO Mike Gallagher presents the first place trophy to the SCAD team. Courtesy of Reed S. Albers of the Electronic Software Association.
SAVANNAH, Georgia —
A team from the Savannah College of Art and Design took first place in the Entertainment Software Association's inaugural college game development competition. ESA CEO Michael Gallagher and a panel of judges composed of leading game developers and reviewers named SCAD a co-winner along with the University of Wisconsin-Stout.
SCAD's team emerged as a competition finalist from a pool of 400 colleges and universities and displayed its winning game "Lost in Thought" alongside 230 exhibitors at the Electronic Entertainment Expo, known as E3, June 11-12, in Los Angeles, California.
"SCAD is one of the finest universities in the country and the ESA is proud of its presence at E3," said Rich Taylor, ESA senior vice president. The association owns E3 and represents the U.S. computer and video game industry.
"Lost in Thought" originated as a senior project and is the collaborative work of eight SCAD interactive design and game development students. Over two quarters, the team created the psychological adventure based on the game's main character developed by team leader Ryan Powell, a B.F.A. interactive design and game development student. In the side scrolling, 2.5-D game, players become therapist Dr. Keyes as he travels through his patients' minds in order to heal them.
"The immersive and highly visual world that the students built for "Lost in Thought" in such a short amount of time is extraordinary," said Luis Cataldi, SCAD interactive design and game development chair. "The team knows that developers can go their whole career without having the opportunity to display their game at E3, and the hard work that they invested was well rewarded."
Named by the Princeton Review as one of the "Top Schools to Study Video Game Design for 2013," SCAD promotes an integrative approach that exposes students to the complementary disciplines essential to game development. In addition to having access to the resources of the premier provider of higher education in creative fields, SCAD students are taught by faculty with industry experience. SCAD interactive design and game development alumni are lead developers for companies like Bethesda, Bungie, Naughty Dog, Firaxis and more.
SCAD: The University for Creative Careers
The Savannah College of Art and Design is a private, nonprofit, accredited institution conferring bachelor's and master's degrees at distinctive locations and online to prepare talented students for professional careers. SCAD offers degrees in more than 40 majors.