Press Release
/
Feb. 27, 2013
SCAD fashion student brings eco-fashion to Oscar's red carpet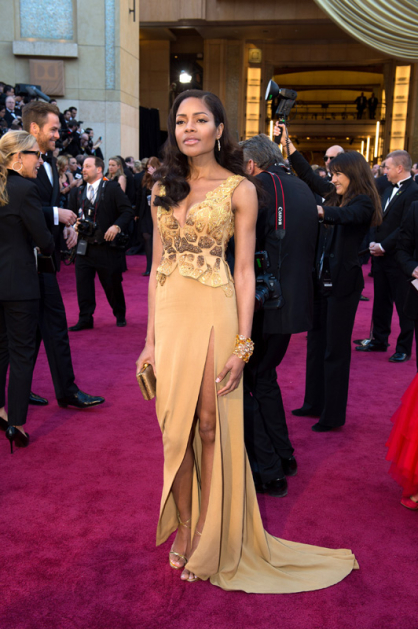 /British actress and Bond Girl Naomie Harris wears a dress designed by SCAD Atlanta fashion student Michael Badger on the Oscar red carpet Feb. 24. Photo courtesy ©A.M.P.A.S./
ATLANTA, Georgia —
A SCAD Atlanta student had the extraordinary honor of seeing his gown walk down the red carpet Feb. 24, during the 2013 Academy Awards celebration.
Michael Badger (B.F.A. fashion student) earned the opportunity to have a Hollywood actress wear his design when he was named winner of the Red Carpet Green Dress competition, an international dress design contest that challenges designers to create an eco-friendly and Oscar-worthy dress sustainably made from recyclable, natural or organic fabric and material.
In addition, Ghana-born Badger won a mentorship with competition judge Vivienne Westwood, and was flown to London to work with Westwood's team to translate his design into a finished dress.
Worn to Sunday's ceremony by British actress and Bond Girl Naomie Harris, Badger's design was inspired by a volcano and the flow of lava. The gown took 680 hours to make, was dyed with chamomile and golden rod, and was hand-embroidered with vintage beads and chocolate wrappers.
Badger is the contest's first male winner and judges Westwood, Suzy Amis Cameron, Zem Joaquin and Lewis Perkins unanimously chose his design as the winner.
SCAD: The University for Creative Careers
The Savannah College of Art and Design is a private, nonprofit, accredited institution conferring bachelor's and master's degrees at distinctive locations and online to prepare talented students for professional careers. SCAD offers degrees in more than 40 majors.