Press Release
/
Aug. 9, 2012
SCAD fashion alumnae win Belk's Southern Design Showcase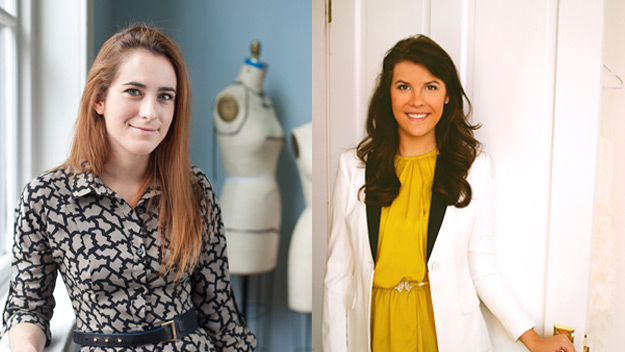 /SCAD fashion alumnae Hannah Goff and Faith Thornburg were among the winners of Belk's Southern Designer Showcase competition./
SAVANNAH, Georgia —
Savannah College of Art and Design fashion alumnae Hannah Goff (M.A., fashion, 2012) and Faith Thornburg (B.F.A., fashion, 2011) have won the Southern Designer Showcase competition sponsored by Belk, Inc. Goff's and Thornburg's collections go on sale Spring 2013 in select Belk stores and on Belk.com. They will also be featured in Belk's 125th Anniversary Celebration advertising campaign.
"It is an incredible honor to be chosen," said Goff. "It's particularly gratifying as a designer to know that your designs are liked and desired by consumers and producers. Hopefully this Belk opportunity will give me more brand exposure and will familiarize the consumer with my clothing. Ultimately, the ideal would be for stores and boutiques to pick up my line to sell in the future."
"I cried when I found out I had won the Belk competition," said Thornburg. "This means so much to me. It shows that after working so hard, people are responding to my designs and really love what I'm doing. Having a relationship with Belk is going to do wonders for my career. I'll be a part of their ad campaign next year and will be featured on their website and social media pages. I could never reach the amount of people they do on a daily basis. This is bound to lead to some great new growth opportunities for me and my business."
Competitors were challenged to create designs that match Belk's identity of "Modern. Southern. Style." Goff and Thornburg are two of 15 winners selected from more than 170 aspiring designer entrants in the competition.
"We are so pleased with the collections offered by this group of emerging Southern designers," said Arlene Goldstein, vice president of trend merchandising and fashion direction for Belk. "We are thrilled to be able to introduce new brands that represent the talented South and the modern, Southern style Belk delivers every day."
Goff is the winner of Charleston Fashion Week's Emerging Designer 2012 Award. She lives and works in New York City.
Thornburg showed her collection on the runways of New York City during Mercedes Benz Fashion Week 2011 as part of SCAD's "Fashion Next" partnership with ELLE Magazine. She won the ELLE Design Award, a grant of $25,000. She lives and works in Savannah.
SCAD: The University for Creative Careers
The Savannah College of Art and Design is a private, nonprofit, accredited institution conferring bachelor's and master's degrees at distinctive locations and online to prepare talented students for professional careers. SCAD offers degrees in more than 40 majors.