Press Release
/
Jan. 27, 2011
SCAD dean named one of Most Admired Educators in America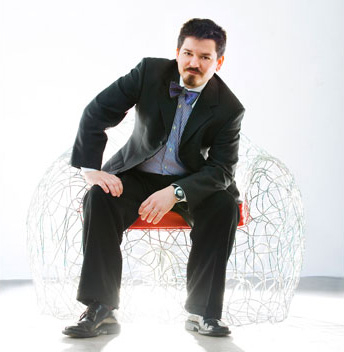 Victor Ermoli joined SCAD 13 years ago, and he is currently dean of the SCAD School of Design.
SAVANNAH, Georgia —
Recently named by DesignIntelligence as one of the 25 "Most Admired Educators" in America, SCAD's Victor Ermoli was born in Venezuela, grew up in Canada, holds a patent for a type of Venetian blinds, loves bow ties and can never look at a product without thinking about how SCAD students can make it better.
Dean of the SCAD School of Design, Ermoli is honored in DesignIntelligence's 2011 edition of "America's Best Architecture & Design Schools," which also ranked the SCAD undergraduate and graduate interior design programs among the top in the nation. For Ermoli, who came to SCAD in 1998 as chair of the industrial design department and was named dean in 2005, being recognized for "exemplifying excellence is design education leadership" was a humbling and delightful moment made more special by the fact that the distinction came based, in part, on input from hundreds of his peers across the design and academic worlds, as well as students.
"I am honored that the DesignIntelligence jurors, along with my faculty and students, felt that I deserved this recognition," Ermoli said. "The honor really should be shared by the exceptional students and professors in the SCAD School of Design. SCAD's unique student-centered environment fosters innovation, intellectual wonder and critical problem-solving - motivating me to always challenge myself to do my best."
During Ermoli's 13 years at SCAD, he has helped the industrial design department and the entire SCAD School of Design earn international acclaim for collaborating with top corporations on research and development projects, marketing and sales plans and the creation of entirely new products. Last academic year, students in the SCAD School of Design worked on 31 industry-sponsored projects, gaining professional, real-world experience and contributing their ingenuity to businesses around the world.
"My hope is that the DesignIntelligence honor will help illuminate the exceptional academic work taking place at SCAD," said Ermoli, who notes that there are several projects in the works. "SCAD students are full of imagination."
The SCAD School of Design, which has received praise and top nationwide rankings from publications such as BusinessWeek and DesignIntelligence, includes world-class programs in design for sustainability, design management, fibers, furniture design, industrial design, metals and jewelry, and service design.